Community Supported Agriculture, in Paris
About a year ago, I was having supper in a friend's apartment and everything we ate was simple, and tasted really good. He'd lived on a farm near Toulouse for many years, where he worked for one of France's agricultural organizations. Now he lives in Paris and I was surprised when he told me that the onions we were eating on the tart he'd made were from a panier, or a Community Supported Agriculture (CSA) box.
He gets a weekly panier from Les Paniers du Val de Loire. I kept hemming and hawing, thinking how nice it was to shop at my local market and pick out everything myself. But I finally signed up a couple of weeks ago, and got my first panier yesterday.
Living in San Francisco and working closely with a lot of farmers and small-producers in my restaurant career, I have a weakness for hard-working small producers who are trying to do the right thing. I remember a woman showing up at our back door with a box of amazing French butter pears, asking us if she planted more trees, would we would buy them? (We took a bite and said that we'd take any and all that she wanted to bring us, a promise we made good on.) I remember an organic dairy sending us their first samples, and customer reaction made us realize that people weren't ready for the strong taste of farm-fresh dairy products.
And there was Mr. Hadsell, a frail old man who could barely walk, who'd open the kitchen screen door and shuffle inside, balancing a few flats of just-picked raspberries from his backyard. You could feel the warmth of the sun radiating from each basket of plump, perfect berries. Those were the best raspberries I ever had in my life and I hope the lucky customers that got them felt the same.
But elsewhere, it can be an uphill battle to find just-picked, fresh produce, even in a country with strong ties to its agricultural traditions, like France.
People have forgotten what real food tastes like. Romain spent part of the summer with some people who had an organic potager (vegetable garden), where they ate mostly raw foods they grew themselves, and I remember him calling me, telling me he'd never felt better. I couldn't wait to go down there myself. And when I got there, it was true: the food was delicious, the platters we put on the table were absolutely gorgeous.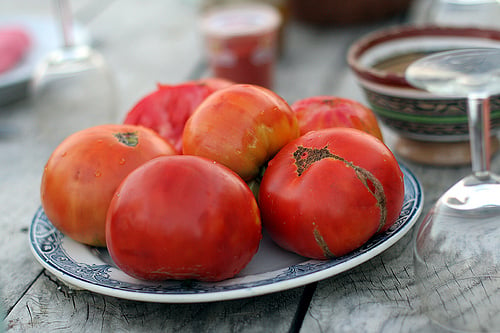 I love shopping at my local market. I enjoy seeing what's new and in season, talking to the merchants who I've gotten to know well, discovering and picking up beautiful cheeses, and rifling through the bins of wonderfully-tart apples from a farmer in the Picardie. But a lot of the produce is also flown in from far away, and France, like so many other places, is in danger of losing its agricultural identity to foreign imports. There are a couple of producteurs, people who raise and sell their produce directly, but much of it comes from Rungis, which has bragging rights as the largest wholesale market in the world, located in a big, metal gray building, next to the airport.
I had a discussion with someone this past summer, bemoaning the lack of good tomatoes in Paris, as most of the tomatoes were industrial ones. Like those on-the-stem tomatoes, which are meant to convey the idea of a real tomato, but are basically orbs of flavorless pulp with stems on them. It was odd to me, since there are excellent tomatoes bursting forth all summer long in Provence. After a lengthy discussion, I'm still not clear why we get tomatoes from greenhouses and shipped across oceans when amazing tomatoes are less than three hours away. Surely les tomates anciennes must be better tasting, and even less expensive, than the ubiquitous tomates cerises?
(To dispel the perception that fresh vegetables are too expensive, this is a notice stating that for the price of a coffee, you can buy 600 grams, about 1 pound, of vegetables and make a liter of soup.)
For all the silliness of books and stories about French women magically staying slim, or that everyone eating local and fresh produce, isn't necessarily the case, even in the countryside. Huge hypermarkets have taken over. And if you drive anywhere on the autoroute, you'd be hard-pressed to find any real food unless you took a very lengthy detour off the highway. On a recent trip, after driving for nearly a half an hour after we took the exit to find lunch, the best choice, believe it or not, was McDonald's.
This isn't a criticism of France: it's something that's become a problem everywhere. Eating well is a priority to me, so I've constructed my life so that I can take advantage of as much good food as possible, given my circumstances. Which sometimes get stretched when I just can't resist something like tiny wild fraises des bois strawberries, œufs with brilliant-yellow yolks from chickens that get to run around and eat stuff that chickens are supposed to eat, or a runny, ripe brie de Meaux that's so good I want to marry the person who made it and dedicate my life to somehow returning the favor.
All the produce in my panier is organic. And if you've ever shopped for organic produce at the markets, the prices can make you gasp. (Last summer, organic cherries were €24 per kilo, #2.2, while their conventional counterparts were around €3 per kilo.) I'm more of a "local trumps organic" kind of guy, because I have a hunch that people farming small-scale in local communities are less-apt to douse their produce in pesticides. But I might be wrong.Still, it's my health and well-being I'm paying for, and my CSA box is certainly affordable.
The contents of this box, which was actually a bag (easier for us city-dwellers to handle) cost €13.50 ($20, although keep in mind that locals are paying their equivalent of $13.50, not $20). The inscription said the contents would feed "2 adults for 5 or 6 meals". I know that French people eat smaller portions than we Americans, but it doesn't seem like this would make 10 to 12 meals, even as side courses. But still, it was kind of a thrill to see what was in my first bag.
As I unpacked the heavy brown paper sack, I found one potimarron, a plump orange squash named so because it has a chestnut-like taste. There was a small bag of knobbly potatoes, two bulbs of fresh fennel, a head of Batavia lettuce, and a nifty mesh bag of lingots, dried white beans, which I think are destined to become soup this weekend.
There was also a larger bag of very ripe kiwifruit, each one no bigger than a walnut. There was also a note that said they should be eaten right away. (It probably wasn't a great idea for them to pack them at the bottom of the bag, under the volleyball-sized potimarron.) But it's difficult to find fault with farmers who get up very early every morning, dig holes, pull weeds, and work hard to grow all this food when I'm dozing comfortably. And it really is a great feeling to do something to support local farmers when, according to the New York Times, 30,000 farms are disappearing each year in France.
So I'm happy to spend a little extra, walk a little out of my way, and be in for a few surprises now and then, even if that means having kiwifruit for dinner—three nights in a row.
Paris & Regional CSA-Style Organizations
In the United States, you can find a CSA supplier through Local Harvest


Related Posts & Links
Greenmarket Alternatives (Secrets of Paris)
The Sustainable Seafood Dilemma (Chocolate & Zucchini)
La Cucina di Terresa (Organic vegetarian cooking classes in Paris)
WWOOF (Program to live & work on an organic Farm)
Food Beware: The French Organic Revolution (DVD)