Cooking On Rue Tatin: Part 2
Since man, and woman, cannot live by chocolate alone (although wouldn't it be nice if we could?), our group spent the rest of our time slaving away putting together sumptuous meals, and learning about wine the hard way: by tasting it.
One of my favorite snacks of the class On Rue Tatin turned out to be these golden-brown, eggy gougères enriched with gruyère cheese and a dusting of freshly-toasted, fragrant cumin powder.
While it was a bit chilly to sit out in the garden overlooking the cathedral, enjoying our apéritifs and goûtes, we had plenty things to cook up indoors…
Winter in the countryside seems to cry out for soup.
As a soup disliker, though, I never look forward to a soup course. It's always too heavy to eat before dinner, and to me, just kills the appetite. Let's face it: soup is a meal in itself, not a course. Discuss.
And there's something scary about the way Patti's holding that clever. That intense look and determined hacking combined with her assuredly hitting her mark each and every time made me double-check my door nightly when I hit the pillow after class.
However I do like squash soup (and Patti) very much, especially if the soup is made with potimarron, the small gourd-like fruits that I'm seeing more and more in Paris, that have the sweet taste of chestnuts, hence the 'marron', which means 'chestnut'. What clever mulitasking—in one piece of fruit.
And yes, squash is a fruit…don't argue with a woman with a cleaver…or a chef with a blog.
Or else I'll sic Patti on you.
This little appetizer is a real winner in my book, and was put together in minutes. Tiny rectangles of salty feta cheese are rolled up in half-slices of proscuitto with a sliver of fresh sage. One rolled up, they're doused with extra virgin olive oil and allowed to marinate.
Did you know that soon you won't be able to call anything 'feta' cheese anymore unless it's from Greece? Just like real Champagne is only from Champagne, and real bagels are from New York, feta's gaining Greek guardianship.
Sugcarhthria! to our feta-making friends in Greece.
I don't know all that much about wine.
So whenever I get a chance to do a tasting with someone who knows more than I do, which is about 99.98% of the population of France, I jump at the chance. So our second evening, we had a wine-tasting with Hervé Lestang of Les Feuilles des Vignes in Honfleur.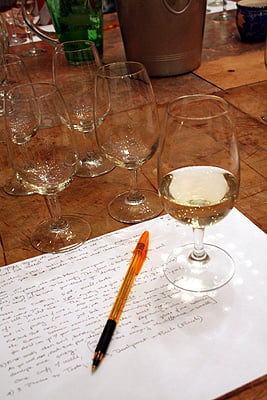 Hervé is a real character and unlike any other wine 'expert'. His primary goal is to demystify wine and make it friendly to everyone.
His first rule is to stop thinking about the grapes or the region or the château where it's produced. This, Hervé says, prevents people from concentrating on the taste of the wine and the person who made the wine, what their emotions and feelings are. He also talked about how each person is different and will respond to a wine differently. While this may sound like a bunch of mumbo-jumbo, he had us take a sniff from our glass, then pass our glass to the person next to us, take a sniff of their glass, and compare the difference. We were all pretty amazed at the difference.
Hervé also talked about the three phases of tasting: the sight, the smell, then the taste. While I was happy to explore the first two, it was the third that pulled in my attention, which Hervé called the 'attack'. So attack we did, taking a nice swig, then thinking about it.
As you can see, I starting taking lots of notes, but as I started tasting more and more (for some reason…) I became less interested in the note-taking, put down my pen, and decided to focus my attention on the 'attacks'.
People often wonder how my mind works.
I've have several professionals look at the problem and no one was ever able to come up with an answer. But these are the beautiful pan-friend duck breasts we cooked on the stovetop, getting crispy in their own fat, which makes a decent mess but is worth the trouble. It's the kind of dish to make the day before your cleaning lady's coming.
(Someday I will write about mine, who is complètemente folle.)
Or if you have someone like Carolyn, who, thank goodness, cleaned the stove afterwards…and built the fire morning…and kept the espresso machine humming for me…and tried to comprehend the difference at the supermarket between crème entier, crème fluide, crème liquide, crème fouettée, crème eépaisse…Like I've told you…the French have ten words for the same thing.
Although I shouldn't really say anything since today, I translated raifort, or 'horseradish' for a vendor at my martket, and he couldn't stop laughing for like 10 minutes. That totally cracked him up.
But Carolyn and I are not alone: Once at my local Monoprix, this poor Frenchwoman, standing in front of the refrigerator, completely perplexed at all the creamy options, finally asked, "Excusez-moi, monsieur…which cream do I buy for whipped cream?"
Anyhow, back to my mind (not the French mind)…why is it that when I see a few punky, already-juiced oranges that we've used for orange sauce, which are destined for the garbage, that I have the overwhelming desire to candy them? Why is it I see a cake batter I have to throw in a handful of cocoa nibs? Why did I spend all day yesterday in my apartment pulling out everything from the cabinets and doing a complete clean-out when I should be working on the final edit of my book, which is due today?
Why am I blogging about my cooking week when I should be…oh, never mind…
Finally, this is the lovely Dried Fig and Hazelnut Bread that Susan made to snack on after the wine-tasting. A reader asked for the recipe, and it's in her book Cooking At Home on Rue Tatin. Of course, I snuck in a handful of cocoa nibs, on a hunch that their slightly chocolatey crunch would be terrific with the toasted hazelnuts and crackly figs…and I was right.