Baking Class On Rue Tatin: Butterscotch Pecan Cookie Cups
What do you get when you take eight dedicated bakers, put them in a country kitchen (one that's professionally equipped), and put them to work for three days of cooking and baking with chocolate?
You get a whole lotta chocolate!
If you didn't come along on my three-day cooking class with Susan Loomis at her home On Rue Tatin, here's a run-down of our week…
The first morning, our guests arrived to a fire blazing in the fireplace, to counteract the chill in the brisk Normandy air outside. A bit bleary, and not sure of that they'd be making that first day, each student would choose several recipes and find a 'mise-en-place' waiting for them.
Although it's often said that 'mise-en-place' means 'everything in place', it really means 'David gets up at 6 am to make sure everything is in place when his guests arrive'.
And as a warning to everyone out there: David at 6 am is not a pretty sight. (Although some would argue that holds true for the rest of the day as well.) Luckily I was fueled by several cups of espresso beforehand, and put my best, most cheery face forward while at the same time commandeering the eager cooks into action.
Okay, well it takes more than a few tiny cups of coffee to make me happy in the morning. So by the second day, I was brewing up cups of Parisian Hot Chocolate everyday. I learned several years ago the best way to get through the cold winters here in France was a thick, rich cup of le chocolat chaud whenever you can find one.
But even though you can take the boy out of his country, I require a marshmallow, preferably homemade, floating in my hot chocolate. And really, who doesn't? So we whipped up these marshmallow hearts.
See, I do have a softer side. I'm not always an evil slave-driver in the kitchen.
Making marshmallows isn't hard, but you need a good, strong mixer to do it. Or a good strong person to beat all those egg whites. Did you know that you can substitute homemade marshmallow mixture for meringue in any meringue pie recipe? It solves that weeping problem. In stops you from weeping too, when you discover your Lemon Meringue Pie floating a few hours later in an unappetizing pool of sticky goo.
Mary was a champ and took over marshmallow-duty for me.
Tough work, but someone had to do it.
For a snack after our wine-tasting with Hervé Lestang, Susan baked up loaves of Fig and Hazelnut Bread with Cocoa Nibs (amongst other things to nibble on). After two hours of tasting wines, you need something to eat, believe me
"Spit wine?" Er…well, I guess I should have, but…um…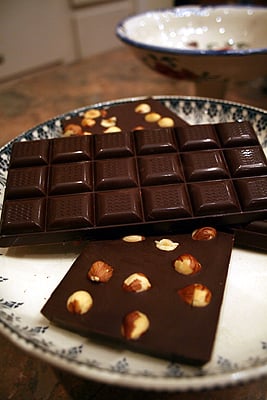 Perhaps the most astonishing thing for our guests to make were homemade chocolate bars. We used dark chocolate along with hazelnuts from the tree just outside. Can you imagine a fresher chocolate bar? Bittersweet chocolate was melted, then tempered, and poured into the professional molds I brought along. Then we studded each with just-shelled, toasted hazelnuts. So professional looking, aren't they, and I was so proud (and relieved) when we popped them out of the molds. They tasted as good as they look. Great job everyone!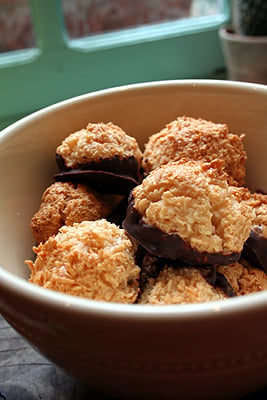 This is one of my favorite recipes: Coconut-Chocolate Macaroons. I decided it would be fun to make them, along with the French version of macarons, and we'd see which we preferred in a side-by-side tasting after the wine tasting. I forgot who won…perhaps I do need to learn how to spit.
Being hopelessly frugal, when a basket of oranges were juiced for Duck Breasts in Orange Sauce, I immediately set to work candying the peels, which were destined for the trash bin. I first blanched the skins in salted water, then set about candied them.
Years ago I made a whole bunch of candied orange peels for a local bakery owned by a friend, who stored them in their refrigerator in anticipation of lots of holiday baking. When November rolled around, he went to open the container, pried off the lid, and discovered almost all were gone. Seems everyone making a trip into the walk-in would help themselves to a few strands, and by baking season they'd all disappeared, one-by-one.
For dessert one afternoon, I wanted to show something fancy, so we made Butterscotch Cookie Cups. Each one was carefully baked then formed using overturned teacups. We couldn't resist adding a drizzle of white chocolate (no one complained), then filled them with Chocolate Sorbet, and topped them with Candied Almonds.
Butterscotch-Pecan Cookie Cups
4

tablespoons (60g)

butter

,

salted or unsalted

1/4

cup (60g)

brown sugar

1/4

cup (60ml)

light corn syrup

1/4

cup (25g)

pecans (or walnuts)

,

lightly toasted and very finely chopped

6

tablespoons 60g)

flour
Preheat the oven to 400 F (200 C) degrees.

Melt together the butter, brown sugar, and corn syrup in a small saucepan over low heat.

Stir in the nuts and the flour.

Line an unwarped baking sheet with parchment paper. Bake the cookies one baking sheet at a time, four cookies to the sheet, allowing 1 rounded tablespoon of batter per cookie. Put 4 spoonfuls on the baking sheet, spaced equally apart, and flatten them slightly with damp fingers.

Bake for about 7 minutes. For even baking, rotate the baking sheet midway through baking. When done they will be a deep, golden brown.

Remove from the oven and cool briefly, about 1 minute. Using a metal spatula, lift each cookie off the baking sheet and drape over overturned teacups to form the cookie cups. If they cool too quickly, before you have time to shape them, they can be softened by putting them back in the oven for 1 minute.

Allow the pan to cool, then continue baking additional cups.

Store the cooled cups in an airtight container until ready to serve. These are best eaten within a few hours of baking.
Notes
Cookie cups can be drizzled with melted bittersweet or white chocolate once cool.