I had to put a moratorium on jam-making this year because I realized I had enough jam to last a normal person, who doesn't have a French partner, at least ten years. (I'm not naming any names, but one Frenchman in particular can go through half a jar at one breakfast alone.) But one thing I can't make is honey, in spite of the fact that I am certainly capable of giving a nasty sting every once in a while. It wasn't until I moved to France that I fell in love with the stuff.
When I led tours, I'd bring guests to honey shops and people would just kind of look around – or look over me, perhaps wondering when we were getting to the chocolate – as I started to explain fabulous wonders of French honey. And am not sure how convincing I was, but since I have a captive audience here (don't touch that mouse!), as well as a cabinet-full of the stuff, I decided that as I started to clean out my honey larder, I'd also come clean about my love for the stuff.
Various honeys are said to have various properties. I don't sit down to breakfast and think about all the polyhydroxy phenols and bioflavonoids, or how my body is going through phagocytosis or endocytosis while I eat my toast and sip my orange juice and wonder how the heck I'm going to make it through another day. (And I have nothing against polyhydroxy pheols or phagocytosis, it's just that they're not popular topics at my breakfast table.) On the whole, I eat pretty healthy stuff and am not one to think about the health benefits of food. I don't need justification, ie: antioxidants, to eat chocolate. I just eat it – and thinking that you're going to get healthy from eating cheesecake because you put a tablet of vitamin C in it is kind of ridiculous, if you ask me. So geez, just eat!
My philosophy is to eat a variety of things, avoid too many packaged foods, and always choose butter over margarine. (And wine over soda.) So when someone tells me that a particular honey may be good for my urinary tract, it's kind of the last thing (or place) I like to think about when eating. I'd rather think about how good it tastes. However before I step down off my soapbox, honey is a good, healthy, pure food, and adding a generous spoonful to your diet every once in a while will make you a happier person. At least it does in my case.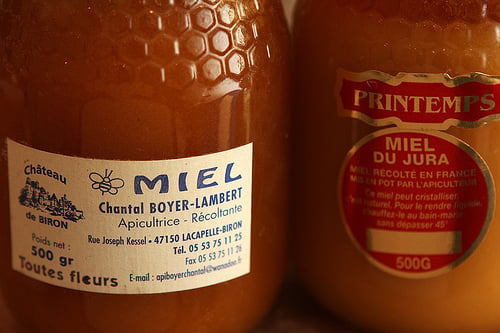 The French love honey and give it a lot more respect than most of us do in the states. It's sold by variety, where it's cultivated, the terroir, by producer, and if it's crystallized or not. Because it was recently revealed that a great deal of honey is mislabeled, or worse, adulterated, one has to look at labels. Fabriqué en France or Recolté en France (Made in France, or Harvested in France) are different from Elaboré en France or Transformé en France (Processed in France) – and not just on honey, but on other food products. I once bought what I thought was honey at a Middle Eastern market and when I got home, and have my glasses, I looked at the label carefully and saw that it was glucose aromatisé (flavored) with honey.
The one on the left, up above, is one I get from a favorite apicultrice who is at the Marché des Producteurs that takes place annually in Paris, and her honey is the first thing I pick up. Ok, I lied. It's the first booth I go to, but I do the rest of my shopping, then stop back there just before leaving because the amount of honey that I buy isn't all that light. And the other jar is from a trip to the Jura, which I haven't opened, but I loved the dark color and since I have a crush on that region, I like having a souvenir in my kitchen of my last trip there.
Oddly the two things in France that you're practically expected to taste before you buy them are wine and honey. Not in stores, per say, but at the outdoor markets or food fairs; if someone has either, there are usually tastes on offer. (I was once at a wine expo and bought a bottle of wine without tasting it. The seller was rather shocked, "Don't you want to taste it first?" he asked, before ringing me up – I was so in the habit of not getting a taste of anything.) But don't go into a French supermarket and pop open a bottle of wine and take a swig (although whenever I have to brave a Monoprix, sometimes I feel like I need a belt), or open a jar of honey and dip your finger into it.
But you shouldn't really be buying honey from the supermarket when there are so many great honeys to choose from that are the same price, or less, sold by the apiculteur or apicultrice (beekeeper, male and female, respectively – beekeepers are not gender neutral.) I have a friend, an apicultrice, who has less than 10 beehives – in France, you can only have 9. If you have 10, you're considered professional and have to deal with all sorts of paperwork and fees, I'm told (talk about getting stung, not once, not twice..but three times!) I haven't yet visited her but I hope she has less than 10 because I don't want to be associated with the wrong element, if you know what I mean.
My favorite two kinds of honey are chestnut and sarrasin (buckwheat), which is a bit harder to come by. (If you read the label, a lot of it comes from overseas. But at least it's not honey-flavored glucose.) Both are quite brusque, and I use mille fleurs (multi-flower) honey for baking projects, like pain d'épices and honey-flavored ice creams. Other varieties I stock up on are tilleuil (linden) and bourdaine (alder buckthorn), both dark and musky. In once bought dandelion (pissenlit) honey, knowing that it's pretty hard to come across and was happy to snag a jar. And while I didn't mind the flavor so much, it did remind me of why the French use the word pis in the title.
My friend with (less than ten) beehives gave me this curious honey which is unfiltered and thick, and slightly waxy. And, well, some kind of amazing. I also got a disk of honeycomb, which I've been living with on my kitchen counter for a couple of months. I still haven't figured out why the edges are red, but it sure it fun to look at and someday, I'm going to do something with it other than just admire it. (Any ideas?)
But the vintage Hermès Birkin bag of honey in my collection, the one that no one is allowed to touch – including me – I got on a trip to Brittany where I picked up this magical jar of honey made by bees which feed on wild savory that grows in the dunes on the rugged, harsh Atlantic coast.
Perhaps because the bees live in such a unique place, the exceptionally dark honey has the scent of wild savory with the deep, musky flavor of the bee juices. I got it thinking that I would drizzle it over some Roquefort, but it seems to have fallen into the Too Good to Use category around here. But I'm convinced that I'm going to cycle through it soon, with my jam-making going en grêve (on strike), and it's on the docket along with all the other honeys.
And what am I going to do with all those honey jars, once I've scraped them clean? Well, I'm sure I will fill them with jam in the future, to eat while I replenish my French honey larder next year. And the cycle begins, again.
Related Posts
Jams, Jellies and Preserves (Recipes)
Honey Sources in Paris
At most of the outdoor markets, there is usually at least one stand that is selling honey. Those are good places to taste and purchase French honey. There are many small shops, or épiceries, scattered around Paris that sell honey from the various regions. One good address is La Graineterie du Marché, which sells grains, specialty products, and very good honey, and there are stores that specialize in honey, such most notably La Maison du Miel, Les Ruches de Roy (37, rue du Roi de Sicile), and Les Abeilles (21, rue de la Butte aux Cailles.)
L'Épicerie Breizh Café has honey from Brittany, including buckwheat, and La Campanella has honey from Miellerie de la Côte des Légendes, in Brittany, which can also be ordered online.
For honey that is cultivated in Paris, there is a UNAF boutique in the Marais (26, rue des Tournelles), the Luxembourg garden honey is available at the Fêtes du Miel during the final part of September, and the honey cultivated on the Paris Garnier Opéra is available occasionally at the boutique in the opera house. There are also a round-ups of Paris beekeepers at The Honey Gatherers (in French), with photos, and Les abeilles parisiennes at Paris.fr.