Here I am in Torino, or Turin, if you're familiar with the shroud.
Being on the road means that I'm in unfamiliar hotels with less-than-ideal access. When I attempted to change the thermostat in my hotel room, the digital display read 'PARTY'. I don't know what the 'party' mode is, but when I pressed the switch again nothing exciting happened.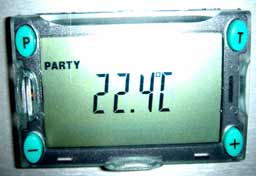 I'm leading a fabulous chocolate tour as I write. Torino is not on the tourist route. But it should be if you're into chocolate. Gianduja is the star chocolate attraction here, a blend of milk chocolate and hazelnuts ground until smooth then formed into a paste. Hazelnuts are a specialty of the Piedmonte region and during wartime, cocoa beans were scarce so someone had the great idea to blend them with chocolate, and gianduja was born. (If you've had Nutella, you know what a terrific alliance chocolate and hazelnuts can be.)
Once the gianduja paste is made, it's formed into mounds that are molded into a flat peak, then wrapped in gold foil. I'm not much of a fan of milk chocolate, but when mixed with hazelnuts, it's dreamy and truly delicious. The best gianduja that I've had was at A. Giordano (Piazza Carol Felice, 69.)
The other chocolate treats of Torino are Bicerin and gelato. Bicerin is great, and something that deserves to be better known outside of Torino. It's a hot drink made with espresso, chocolate, and just enough whipped cream to make is smooth and creamy. It's a fabulous combination, and each afternoon residents of Torino line up at bars for a warm Bicerin.
The gelato here is thick, gooey, and delicious. Like nothing you've had in your life. Flavors include caffe, gianduja (my favorite, of course), pistacio, tangy yogurt, and torrone loaded with almonds and sweetened with honey. Here's my favorite gelato maker at the Caffe San Carlo (Piazza San Carlo, 156). He is perhaps my new favorite person in the world.
At least in Italy.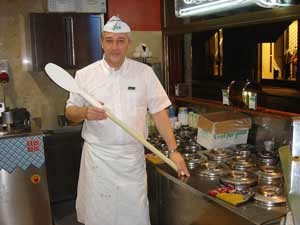 Italians in Torino walks down the street eating gelato all hours of the day. Businessmen at lunchtime slurp cones while avoiding dripping on their Armani suits. Afternoons, swarms of teenagers with low-slung jeans send text-messages in between licks, and elderly women wander through the passages and window shop savoring gelato.
So I'm off tomorrow with my group for the mountains of Biella, where we'll dine at an Agriturismo, a farm that serves meals made from ingredients only grown on the land. Then onward to Genoa, where we'll stop along the way at Domori chocolate, one of the world's great chocolate manufacturers.