Wait just a minute. It's been about a week since I got back from Torino, and I told you about all the stuff I managed to jam in my craw at the Salone del Gusto, but I also spent a fair amount of time visiting some of the chocolate shops and caffès in this great city. Man cannot live by cured pork products and sheep's-milk cheese alone, can he?
He must eat ice cream, and on occasion, drink.
The day of my arrival, I didn't wait a minute. Moments after I tossed my suitcase in my hotel room, I made a beeline for Caffè San Carlo (Piazza San Carlo 156) for a couple of scoops of gelato, which I remembered so fondly from a previous visit. They didn't remember me, even though I thought I'd made quite the impression that last time, when I stood over the giant gelato machine and tried to climb in.
Or maybe they were trying to forget?

And I even used their gianduja gelato for inspiration in The Perfect Scoop. But alas, I had to be content to remain on the street-side of the ice cream counter.
I don't like to speak in superlatives, since I think if you're gonna say something, you'd better really, really mean it. So when I say that the hazelnuts from Piedmont are really the best I've ever tasted—believe it. If you've been lucky enough to grab a handful yourself, you'll likely agree. And when they're toasted so they're crunchy, highlighting the roasty hazelnut flavor, you'll understand why the hazelnut-chocolate paste Nutella is the most popular spread on the planet, even surpassing peanut butter. Although in peanut butter's defense, I think it might have a chance if they added chocolate to it.
Because Torino is laid out in a square grid, it's pretty hard to get lost. Still I managed to do it. Twice. The first was when I arrived. Because I hadn't been to Torino since the Olympics, when I got off the train, I was awestruck at how the city had changed.
It was like a completely different city!
Because actually, I was in a completely different city. Well, I was in a different part of the city, and after wandering around for about an hour, looking for something even vaguely familiar, I realized I'd landed at the Porta Susa train station, which isn't as centrally-located as the Porto Nova train station, which was 4 blocks from my hotel. When I passed all the French people waiting for taxis at the Porta Susa station, I strolled pass them with my suitcase, thinking, "Suckas!…I'm walking to my hotel!" Until I realized later that I really needed a taxi, too.
I'm not sure what the French word for "sucka!" is, and I don't think I want to know. But they probably said the same thing about me as they drove past in their comfy cabs. Although I don't think I really do want to know the French word for "sucka!" because if I was aware of it, I'd probably start hearing it a lot more than I realize around Paris.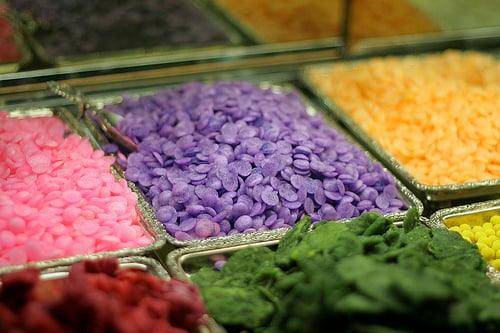 Being a good traveler, I planned well in advance for my return to the train station, and I dutifully noted there was a direct bus from my hotel. Yay! But I didn't realize that it didn't come during the daytime hours, and arrived at the station that crazy morning, sweating profusely, with 157.8 seconds to spare before my train back to Paris.
Ooops. Now where was I? Oh yes, beautiful Torino. It really is a lovely city and just 5-ish hours from Paris by train. And being close to the border, the city is somewhat French-influenced, with the exception of the chaotic, hard-for-Americans to-figure-out bus system. Aside from its stately beauty and its fantastic hazelnuts, gianduja, and gelato, its got quite a reputation as the home of the aperitivo. And drinking one (or two) was a habit I quickly adapted to.
I took a tour of the Torino caffès with a local guide, who was a whirlwind of information about the bars and apertivi. For some reason she took a special interest in me and my traveling companion, and wanted to tell us—in private—about a "special bookstore" in Torino that she was sure we'd be interested in visiting, followed by a wink. I didn't quite understand what on earth she was talking about and I must be slow on the uptake, until we passed it later, and she winked at us again. It wasn't the kind of bookstore where one needs a roll of quarters, which I'd assumed it was, thank goodness. But there were a few racy books discreetly placed in the window.
Good gosh, do I really look that desperate?
She probably took her cue from when I got all excited and began photographing a poster for an upcoming Liza Minelli concert, and she presumed we were "Friends of Liza"..wink…wink…
Drinks, especially aperitifs, are important to Torino, as many were invented there, including vermouth—even though the chauvanistic French Wikipedia site shows a bottle of Noilly Prat, French vermouth.
Going out for an aperitivo means that one can stroll around the city, stopping from bar to bar, and drink a Punt e Mes, Campari, or Cinzano and stock up with the copious nibbles at the bar, enough to make a meal, albeit one composed almost entirely of carbohydrates. Still, you can't complain about food that's free, especially when your mouth is full of it!
Not all are free though, so don't be sticking your grubby hands on anything you see lying about. This ain't The Olive Garden, boys and girls. I take a cue from the locals, and if they're grabbing, so do I. The bars and caffès also make tiny sandwiches that aren't free, but are inexpensive and delicious, and are the perfect little bite with something to drink. Curiously, the dainty white finger-sandwiches were an idea imported from America, since the plain tea-sandwiches do marry rather well with drinks. At least I think so; I'm not sure if marriage between a drink and a sandwich is still legal anymore. But if it's not, let me know when it is so I can sign up for a ménage-à-trois.
In addition to being a wealth of knowledge about the local "bookstores" (wink…wink…), my guide also took us to a very special aperitivo spot, Mulassano, (piazza Castello 15). It had the most gorgeous water fountain I'd ever seen, delicious coffee, and a special wall-clock where the undecided who are fighting over who pays the check can push a button and if the hand lands on an even-number, you pay. If it lands on an odd-number, the other person pays. Or vice-versa. Since the Torinese are very discreet, which thankfully means you won't see many Versace or Dolce&Gabanna duds around here, it's a little vulgaire to be seen in Torino arguing about something so trivial as money.
Aside from a lack of clothing with gold chains, sexually-charged slogans sprayed across the back, and zippers in totally inappropriate places, Torino is known for chocolate, and there are some great chocolate shops around town. Guido Gobino and Peyrano are the best-known, each representing the new and the old guard, respectively. Plattì is lovely, too, although the prices have soared and my friend almost passed out, rightfully so, when they went to ring up his two jars of gianduja paste, and the tally was a whopping €30 ($40).
I offered to buy one off him, to cut his losses—at €10 a jar, but he wasn't having any of that. I was just trying to help out a friend…sheesh!
But you can't leave Torino without having a mug of the sensationally-smooth and rich hot chocolate the city prides itself in. Many of the caffès in Torino are considered historical monuments, with museum-like status, which means it's perfectly acceptable to just go in and take a look without buying or drinking anything. But with hot chocolate this gorgeous, why not indulge in a cup? History is overrated, anyways.
Even more famous than the chocolate itself is il bicerin; a glass of hot chocolate with coffee topped with a plateau of whipped cream. Being an ugly American, and one who is less-interested in history than in eating chocolate, I kept calling glasses vasos, which is Spanish. In French, they're les verres), so it's natural to assume that the word in Italian would be similar. No dice.
A wine-like drinking "glass" in Italian is "bicchiere", which is quite a stretch, if you ask me. Not to quibble about the quirks of languages, no one could quibble with a steaming-hot bicerin, served in a stemmed glass, especially when the temperatures were dropping day-by-day and we needed something to stave off the winter chill.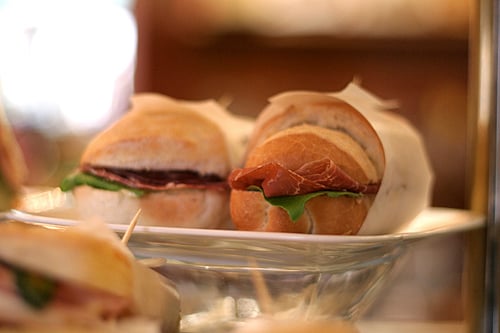 Even though we were totally stuffed after eating everything at the Salone del Gusto, we managed to make it to Eataly on the last day. And even though I was already loaded down with Italian goodies to bring back (hooray for train travel with no luggage restrictions, but boo for city buses that don't come when you expect them to), I'm glad we did. For when we arrived, out front, there was four blazing ovens, manned by men baking farinata.
Like my dearly-beloved socca, they were fire-roasting the giant crêpe-like pancakes, made of chickpea flour. We had one, and it was pretty great. Not as great as the ones in Nice, though, since it was missing the obligatory glass of rosé over ice as an accompaniment. Still, I wasn't complaining. (It was that overstuffed mouth, again, which was preventing it.)
Eataly is a big, multi-leveled shop full of great artisanal foods from all across Italy. I did notice a few items that didn't quite fall into the category of "small-producer", but for the most part, it was pretty interesting and a must-visit in Torino. I kept thinking it'd be great if they opened Francily, in Paris, but it doesn't roll off the tongue the same way, does it?
So I'll just have to go back from Torino from time to time. Although it's going to be a while. I unpacked boxes of pasta made with coarse farro flour, some crazy heirloom polenta I'm going to try making ice cream out of, enough coffee to keep me awake for a full year, solid, and two luscious jars of chocolaty gianduja paste, which'll probably last me through this week. If that.




Related links:
Molto Gelato (Gelato in Rome)
Slow Food's Salone del Gusto: Part I and Part 2
Torino Official Tourism Site: A good portion of their site is about the great food & drink in the city