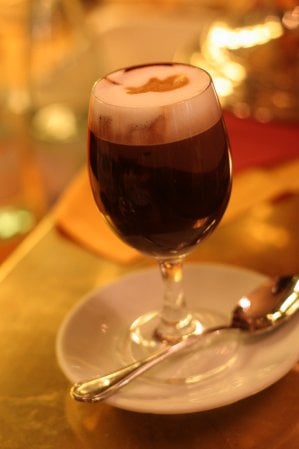 The city of Torino (or Turin) is one of the great centers of chocolate. In the early part of 1500, a Italian named Emmanuel Philibert served hot chocolate to celebrate a victory over the French at Saint-Quentin. And in 1763, Al Bicerin opened it's doors and began making a celebrated coffee-and-chocolate drink called il bavareisa. The hot drink was a soothing mixture of locally-produced chocolate, strong Italian coffee, and topped with a froth of whipped cream.
The drink was often served in a small glass, called a bicerin (bee-chair-EEN), hence the name got changed to what we know now today as il bicerin.
Just across the border from France, Torino is the city where chocolate is an integral part of life, and where ice cream on a stick, the pinguino popsicle, was invented in 1935. Now there are exceptional chocolate-makers throughout the city, such as Peyrano and A. Giordano, who still make gianduiotto by hand, selling it at their historic chocolate shop on the Piazzo Carlo Felice.
The Piedmontese region is famous for a few other things than just chocolate and hazelnuts, most notably white truffles, but also for their exceptionally delicious hazelnuts. Back in those days, cacao beans were very expensive and rare, so a local chocolatier named Michel Prochet began blending hazelnuts into the chocolate to extend it, inventing gianduja (gee-an-DOO-ya) and is now perhaps most famously consumed as Nutella, which has become the most popular sandwich spread in the world.
But even now, every afternoon you'll find the locals stand in one of the city's historic caffès, sipping a hot bicerin from a small, stemmed glass. Or sitting at a marble-topped table and letting one of the waiters present them with your bicerin, savoring the atmosphere.
My favorite place is the overly-ornate Baratti & Milano, where I like to sip my bicerin surrounded by crystal chandeliers and bronze sculptures. And I always am sure to pick up a few bars of their handcrafted chocolate or gianduja at the gilded-and-mirrored confectionery counter on the way out. Here's my recipe…
Bicerin
It's important to use a clear glass; you need to be able to see all three layers.
To make a bicerin, warm one cup (250 ml) whole milk in a medium-sized saucepan with 3 ounces (90 gr) of chopped bittersweet or semisweet chocolate. Whisk the mixture until it begins to boil, then let it boil for 1 minute, whisking constantly (the chocolate mixture will foam up a bit.)

Afterward, remove it from the heat and set aside. Make a small pot of very strong coffee, or good Italian espresso.

Fill the bottom third of a clear, heat-proof glass with the warm chocolate mixture. Pour in some coffee or espresso. (If you want to help it create a definite layer, pour it over the back of a spoon, into the glass.)

Top with a nice swirl of sweetened, freshly-whipped cream.
Places in Torino/Turin, specializing in local chocolates, gianduiotti, or to find an authentic bicerin:
A. Giordano
Piazzo Carlo Felice, 69
Tel: 011.547121
Al Bicerin
Piazza Consolata, 5
Tel: 011.4369325
Baratti & Milano
Piazza Castello, 29
Tel: 011.4407138
Caffè Torino
Piazza San Carlo, 204
Tel: 011.545118
Gobino
via Cagliari, 15/b
Confetteria Avvignano
Piazzo Carlo Felice, 50
Tel: 011.541992
Peyrano
Corso Vittorio Emanuele II, 76
Tel: 011.538765
Platti
Corso Vittoria Emanuele II, 72
Tel: 011.5069056