Interview: Frederick Schilling of Dagoba Organic Chocolate
David: Hey Frederick, I remember meeting you years ago at a Food Show, and was really impressed with both you, and your exceptionally good chocolate. You were so friendly and open about what you were doing, and I saw in you such a passion for producing high-quality chocolate from organically-grown beans. I'm so glad we've kept in touch since then, and you're happy to answer some questions about Dagoba chocolate.
While it's everyone's dream to open a chocolate factory, what made Frederick Schilling do it?
Frederick: I come from a mixed background of music, religion, professional ski-bumming and a passion for food. I actually never liked chocolate as a child or a young adult. It wasn't until I was cooking at a higher end restaurant in Boulder Colorado that I experienced what a higher quality chocolate was. At the time we were using Valrhona and El Rey and I started to nibble on the bricks back in the pastry corner. It was the bittersweet that managed to maintain my attention and interest. When I started to look into chocolate further and learning of the rich history and lore of cacao, I was hooked. I have a deep appreciation for religion and culture and when I learned of the Aztec reverence for cacao, it really opened my mind to wanting to explore this bean much deeper. That was what got me going.
David: I know how you feel about getting hooked. Those innocent little nibbles can really lead to something much larger.
Why did you decide to go organic?
Frederick: From the beginning of my young adult life, I have been very passionate about sustainability and organics. I was already philosophically aligned with the organic movement before the inception of DAGOBA. So naturally, since I was exploring the idea of creating a food product for the market, it had to be organic.
Aside from chocolate bars, you also have a line of other products, all organic, including chocolate chips, cocoa nibs, hot chocolate mix, and chocolate-covered coffee beans. Where are Dagoba chocolates produced, and why did you choose to open your production facility there?
Our factory is located in Ashland Oregon. It's a small town in Southern Oregon, just over the California border, in the Rogue Valley. It's absolutely gorgeous here; and that's why we chose to have the factory here. The quality of life is pretty uncompromised. I'm able to ride my bike to work, go mountain biking right out my front door, skiing, hiking, kayaking, rafting… there are a plethora of outdoor activities to partake in around here. The town also has the nations largest Shakespeare Festival, so there is the element of theater wafting thru the streets. Interstate 5 goes right by the town so access for shipping product, while not as easy as being located in a major city, is pretty good.
We just purchased 3.5 acres of land in town and will be building a new factory this coming year with completion in the summer of 07′. It's going to have many 'green' aspects to the structure; solar panels up top and permaculture landscaping as a couple of examples. This factory will be open for tours, so make sure you stop by when you're driving thru!
David: Well, you still look pretty young to me. Must be all that chocolate.
After being in business after a few years, in reflection, what's been the most difficult part of making chocolate?
Frederick: We just turned 5 in June and it has been one interesting ride. I started the company in my kitchen, hand made the product for the first 1.5 years and have been pretty much making it up and learning as I go along. So while it's been extremely fun and interesting, the whole experience has a shadow of difficulty because it was founded with blind ambition.
Starting a company is just difficult. It takes a lot of time, hard work, patience, faith and a little ignorance too. The ignorance, while makes things a little difficult, also acts as the catalyst for pushing me. I don't know something, so I'm going to dig into it. That ignorance eventually turns to skill and knowledge. Then, with that knowledge and skill I start to create more things, usually burying myself in the process, digging up more things that I'm ignorant on, then learning more, then creating more, realizing how much I don't know, then learning, then creating more, realizing how much I don't know and so on. It's a great cycle and one that the creative mind needs in order to maintain itself. We need elements of difficulty to push us.
Yet, as the organic chocolate market starts to gain legs, sourcing enough high quality organic cacao may become very difficult; sooner than later. It's all about the source, right? As more organic chocolate companies start to spring up around the world, or as current companies come out with organic chocolate, a lot of them will be going after the good beans. It's already becoming tight. That's why I'm leaving for Central America in 2 days; to maintain and create new relationships with growers.
In 5 years, it's going to be very interesting indeed.
David: We leave in two days? I don't think I can get packed in time. I'll have to wait for the next trip.
When researching The Great Book of Chocolate, I met a lot of 'characters' in the chocolate world…and not all of them were particularly nice. Without naming names (my editor wouldn't let me, but you can…) can you tell us about any clashes you've had?
Why is the chocolate world so competitive?
Frederick: For the most part, everyone I've met in the industry is really nice. For the most part, everyone has always spoken to me with openness and really helped me figure this industry out. Yet, I've never been a threat to them. I was always considered as this little organic chocolate company – "Oh, how sweet, he's making organic chocolate". The chocolate makers/companies that I always spoke to were not making organic chocolate so they were willing to share their knowledge. YET, now that things are changing, DAGOBA is growing and more companies want to move into the organic chocolate market, lips are tightening a bit and vest are being buttoned.
As for being competitive, I don't think it's any more competitive than any other industry. Company secrets are company secrets. A lot of the hush-hush attitude that does permeate our industry probably has its roots from the Mars and Hershey dysfunctional relationship from years ago.
The thing is though, when you're talking about pure chocolate, there aren't any real secrets. Everyone knows how to make it. Everyone knows what kind of equipment the others use. Everyone knows where cacao comes from. Now, companies are even saying what farm the cacao comes from! So, transparency is actually becoming the "new thing", right?
David: There's a lot of talk lately about the 'corporate' organic movement, and we're seeing organics at chain-stores and supermarkets. On the other hand, there's also increased interest in buying local at farmer's markets, which are often organic. Obviously you can't use locally-grown cacao, but where does Dagoba fit in to all of this? And will we see Dagoba at Wal-Mart?
Frederick: A very good question.
This is a huge question David and one that I think of everyday, literally. I don't think there is a right or wrong answer, to be honest; it's an experiment in the making. Although, like you state, the best choice for food is to buy from the local organic farmer, or better yet, grow it yourself.
On the corporate organic movement; is it wrong to have organics at chain stores? Big box stores? Isn't this what we, the believers of true food, wanted? To get rid of the artificial food chain? Just because the stores that we now buy our food from are larger than most South Pacific islands, is it wrong that they are providing the people with organic food? This is what the people want. Now I personally don't shop at the large box stores, but ultimately, I believe this is a move in the right direction. Would I rather see an industrial farm being grown conventionally or organically? The industrial farming model isn't going away anytime soon, so in my opinion, it's a move in the right direction; to cut back on the amount of chemicals being applied to the soil. Perhaps in 10 years, the consumer will 'urge by purchase' the corporate growers to move back to a "biodiverse" farming model, which is more sustaining to the land. Ultimately it's up to the consumer to dictate what happens in the marketplace. In 10 years, if the big box consumer, after being educated on what organic means, wants food that comes from an even more sustaining farming model, the big boxes will respond as will the industrial farming operations.
Cacao grows in the tropics, so I'm forced to rely on fossil fuels to get our raw material to us; until I'm able to charter a fleet of large sail boats to transport my cacao to port and then move the beans via biodiesel fueled trucks to our new solar powered factory. As you know, DAGOBA is a company that makes every effort to be as "eco-minded" as possible. We use 100% alternative energy at the factory; use 100% recycled content paper for our wrappers and office paper, we compost our kitchen waste and many other small things. Are we perfect? Far from it. Yet, we're making the conscious decision to be aware of what we do and how we can improve upon it.
DAGOBA in Wal-Mart?
I actually just had this conversation on Thursday at our employee meeting. This very question was raised. My response; would it be a bad thing? If more people want organic chocolate, which is made from organic cacao, isn't planting more trees in the tropics a good thing? Would it be a good thing to go to Central and South America and convert deforested land to fields of cacao trees? I say yes. If we, DAGOBA, can have a positive impact on the tree situation in the tropics, I have no problem going into box stores. For me, it's not about preserving the ego of the brand perception. Some of our core consumers may be upset if we sell to Wal-Mart, but I would ask them these very questions. I think our core consumer, once they understood the potential good that could come out of selling more organic chocolate, would sympathize with such a decision.
As you know David, cacao is very different than other crops. The vast majority of cacao is grown on small family farms, where they also grow many other crops and fruit trees. Cacao, by default, is already being grown very sustainably in bio-diverse settings. If we can further this model, because of consumer demand, by replanting deforested areas then I can only say I'd be a hypocrite if we didn't do business with box stores.
We all need to be the Lorax in this day and age.
David: Another chocolate-maker, not a Lorax, told me that most cacao beans aren't sprayed much since the locals can't afford it, but I've also heard otherwise.
What's the truth?
Frederick: Both are true.
As I just noted above, the vast majority of cacao is grown on small family farms and yes, most of them are too poor to afford chemicals. It's on the larger plantations that spraying will occur and most often it's the "premium" brands that will buy plantation grown cacao because it's often of better quality. I believe the government of Ghana will do aerial sprayings from time to time, as cacao is such as important export to that countries economy.
Methyl Bromide is the fumigant of choice for cacao, and this is where the pesticide gets applied. The cacao doesn't get sprayed on the farm level; it's at the ports where the cacao gets sprayed. When a container of cacao leaves a countries port, there's gonna be insects in that cacao, so they fumigate. When the container arrives into port, say in the US, and there is any sign of insects, they fumigate again. I've heard that cacao is actually one of the most heavily fumigated commodities in the world. I have a friend in the industry that used to work at a very large chocolate company and his job was to, every Thursday, fumigate the cacao warehouse with Methyl Bromide. He had to have a special handling license to carry out this task. I hear murmur in industry that methyl bromide may be getting phased out of use, which is a good thing, as it's nasty stuff.
David: I read somewhere that professionals don't use organic chocolate, since it doesn't taste as good as 'regular' chocolate. What are your thoughts on this and who's the biggest market for Dagoba chocolate, home cooks or professionals?
Frederick: To the professionals that say this, I would say, in a blind taste test of the San Francisco Chronicle, we beat Scharffenberger and Valrhona. We were awarded 'best dark chocolate' – the first time an organic chocolate ever won this award. Taste, is of course, subjective. I personally don't like a brand of French chocolate that people do back flips over for. To me, it tastes over roasted and the particle size is actually too small, therefore making it feel slimy on my palate. Other people go gaga over it. No right or wrong. I personally don't enjoy it.
There really is no difference between conventional and organic chocolate when it comes to quality. Taste is taste and conventional chocolates all taste differently. Organic chocolates all taste differently. I would be more than happy to sit down with the professionals that say that organic isn't as good as conventional and conduct a blind taste test and have them tell me which is organic and which is conventional.
Our biggest market is thru retailers. Our retail bars are what drive our business. We're a small company and we just can't compete on price with the big boys for food service business. We do sell our chocolate to a great many elite restaurants who brand us on the menu. But outside of that tiny niche, we don't sell much in the food service sector. Plus, for the retail bars, it allows me to create more and experiment with flavor infusions, which I really love doing.
David: And are there any pastry chefs that you know who are using your chocolate?
Frederick: Honestly, not off the top of my head. I don't pay attention to this, even though I probably should. I like what I do and often times get very tunnel visioned in my passion, meaning I don't pay attention to the "who's and the what's" as much as I probably should.
David: Lately, everyone's obsessed with percentages, which signify how much cacao is in the chocolate. Why do you think that is and do you think percentages are important?
Frederick: I think it started erupting when the health benefits of dark chocolate started to get announced by the media. This is when the public really started to pay attention to the cocoa content, as they were all looking for 70% or higher, regardless of what it tasted like.
I think percentages are important as they act as a kind of barometer for how dark chocolate is. It will rest on the flavor of the chocolate for me, but I'm much more apt to purchase a 65% or higher, so I personally appreciate knowing how much cacao is in the bar.
Yet, we must also remember that cacao percentage is defined as how much cacao is in there, not just cacao solids. So the percentage can include cocoa butter, which will dilute the flavor. So we can have a 85% dark bar that has an extra 20% cocoa butter added, making that 85% bar very mild; and probably pretty nasty too.
David: To be honest, Frederick, I never really liked milk chocolate until I tasted your Dagoba Milk Chocolate Chai Bar with candied ginger and spices, and a whole new world opened up to me. So I tried some of your others, including the Brasilia Bar with coconut and Brazil nuts, and Latté, scented with coffee beans and cinnamon, and now I'm hooked on milk chocolate, as well as dark! Who came up with all these exceptional flavor combinations? (And how can we become tasters?)
Frederick: I create the products, usually after a bottle of really good wine. The Chai is actually one of my favorites too. Some people say it's too strong on the spices, but it's the way I like my chai tea – spicy! I like a lot of cardamom, nutmeg, ginger, anise in my chai tea, so that's how I wanted to create this bar. I experimented with a dark chocolate chai bar, but the bitters of the dark bar really suppressed the spices.
Once the new factory is up and running with the tours, I'm sure we'll have the "tasting trial table", where people can try some of my new creations and write comments.
Ever had a milk bar with bacon bits and sun dried figs? It's so good.
David: Bacon and dried figs? Sounds like a nice breakfast! I can't wait for that one, Frederick. I noticed you've concocted cacao 'elixirs'. Who came up with these and what does one do with them?
And what the heck is 'horny goat weed'?
Frederick: What we did is use vegetable glycerin as the solvent base instead of alcohol, so there is an inherent sweetness to the elixirs. Then, the primary botanical in the elixir is cacao; which we extracted from organic Ecuadorian Arriba Nacional nibs. From there, we built on the botanicals for each formula. THEY ARE SOOOOOOO GOOD!!! The plain Cacao Elixir is like getting your chocolate craving without eating chocolate. There is no cocoa butter, so you're not eating the fat (nothing wrong with cocoa butter though!). The Antioxidant Elixir is made with copious amounts of berries, so it's really rich in flavor.
Horny goat weed? Exactly!
David: If someone's serving a chocolate dessert, what beverage do you think goes well with it?
Frederick: If it's got a cork in it, I like it.
David: I'm very excited when I learned that you've found a source for rare and special Ocumare cacao beans and you're going to start selling it soon. I've had a few Ocumare chocolates and they're exceptional. Why did you choose to pursue Ocumare, which is rare and frankly, rather costly?
Frederick: Ocumare is expensive and rare.
We were able to secure the majority of last springs harvest and the next harvest. It's exceptional cacao and the post harvest handling is top notch. I was really impressed with their facility. Ocumare is also certified organic, which many people don't know. As we grow as a company and my desire to continue to create world class chocolate matures, sourcing the best cacao has to be the primary focus. Without the best cacao, we can't create the best chocolate.
We'll also be bringing in some other very special cacao from Venezuela. I happened to be at the right place at the right time and secured some cacao from Puerto Ayacucho. A few times a year, Indians from the Cepai tribe come down from the headwaters of the Orinoco River with wild harvested cacao. It takes them about 15 days in their canoes to bring the cacao to Puerto Ayachucho. If the river is low, they have to go over land on donkeys, which takes about 30 days – one way! They only bring about 3,000lbs per trip, so the supply is extremely limited. The flavor is very unique and I'm really excited to be able to make chocolate from this cacao and offer it to people.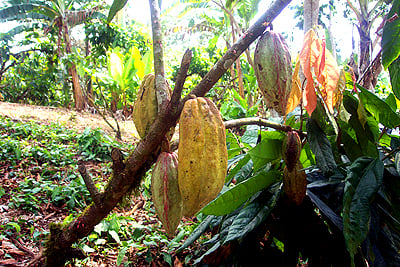 David: I love your Xocolatl bar, a wickedly-dark bittersweet chocolate with chilies and cacao nibs, which is in my personal Top Ten Chocolate Bar category (actually, my top five.) People think adding chilies to chocolate is new and exciting, but it's been done for thousands of years. You're following a long-standing tradition. If that isn't your number #1 selling chocolate bar, can you tell us what is?
Frederick: Yes, it is actually our #1 selling bar. And yes, it's paying homage to the Aztecs beverage, Xocoatl. I never expected it to be our #1 selling bar, to be honest. I just wanted to show respect to what had come before me and for allowing me to make chocolate. I think it's great that it's our #1 bar, as it just shows that consumers are wanting to try unique things.
David: What's in the future for Frederick and Dagoba chocolate that readers can look out for?
Frederick: Oh boy, that's a big question and even bigger answer. People can always go to our website and sign up for our monthly e-newsletter. We report on everything that is happening in our universe and what new products are coming out.
In short, I'm really looking forward to coming out with some really unique single origin chocolates. I just secured some amazing Criollo-Trinitario cacao from the Philippines, so that should be out by the first of the year. A bar made from cacao of Bali. A single estate chocolate from Nicaragua. A bar made from cacao from the Napo of Ecuador. Right now, I'm all about digging down as far as I can go with source and bring these unique origins to the people; instead of blending it. I so love the ability to taste the terroir of cacao from each region, as it is so truly distinct.
It's a great journey and I'm having fun doing it. And thanks to our customers for giving me the opportunity to do what I do.
Thanks David!
David: Thanks for taking the time to chat, Frederick.
Have a great trip, and I'm looking forward to visiting your factory when it opens next year, and tasting your new chocolates…especially that Ocumare.