I met Gale Gand a few years back at a culinary conference. I love meeting other bakers since we all share an unspoken bond, and we're generally the nicest people you're likely to meet (if I do say so myself). And I was happy to discover that Gale was no exception.
Gale's the author of four highly-regarded books on baking, Just A Bite, Butter Sugar Flour Eggs, Short & Sweet: Quick Desserts with Eight Ingredients or Less, and her latest, Chocolate & Vanilla, aside from all the other hats she wears.
Gale was also the host of one of the few baking programs on television, Sweet Dreams, and is the Executive Pastry Chef and co-owner of TRU restaurant in Chicago. Gale also (whew!)) won the James Beard Award for Outstanding Pastry Chef of the Year in 2001 and she owns a coffee shop…and a soda company!
We've kept in touch over the years, and I was really happy when my copy of Chocolate & Vanilla arrived so I could tackle some of Gale's recipes. (And for regular readers who've followed my problems with getting deliveries, you can imagine I was really, really happy just that it arrived at all!)
But it also gave me an excuse to take a moment to chat with Gale about her career in baking, and everything else that she's involved with…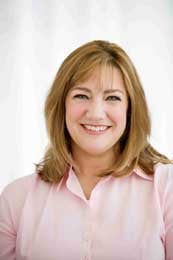 David: How did you get your own program, Sweet Dreams on Food Network?
Gale: They called ME!
I used to call them when I was going to be in New York to be on Sarah Moulton's show and they'd give me a show date. Then one time I called to get a date and they said they didn't have any for me. I was shocked (and pouting)! Then there was a pause on the phone and then they said, "Because we'd like to offer you your own show!"
So I got super lucky. No try outs.
D: It sounds like your appearances on Sara's show were your try outs. So you probably weren't a jangle of nerves.
Speaking of nerves, what's the hardest thing about doing a television program?
G: Leaving my husband and kids for 2 weeks to stay in New York while I film…and leaving my restaurant staff too.
D: Is there anyone on Food Network that you really liked cooking with, and anyone you didn't?

G: I love cooking with Bobby Flay. He's just very fun and loose on set. Emeril is a prince to work with too.
D: I guess we'll skip over the part about who you didn't like. (Funny, no one ever wants to answer that one.)
Who were your influences as a pastry chef when you were starting out?
G: Lionel Poilâne, Maurice Bernachon, Pierre Gagnaire all of whom I've worked with. But also my mom and grandmother's home baking.
D: Many readers, who are considering careers as professional pastry chefs, ask if I think they should go to cooking school, or do an apprenticeship. What do you think?
G: I went to La Varenne in Paris for school but only for 2 summers. That's all I could afford. I think if you have the bucks go to culinary school, you might want to do, but this is still one of the few fields you can work your way up in.
It's less about your resumé and more about your drive and desire to cook and bake, your eye-hand coordination and your ability to work in a team sport.
D: What culinary trend drives you nuts?
G: Kids who go to culinary school because they want to be TV chefs. So few of us get to do TV so I hate for that to be the goal, because the chances that they'll make it are so slim.
D: And which do you find the most interesting?
G: I love how American's are getting more educated as to what's good food and quality ingredients. I'm excited that grocery stores are stocking better quality items like imported and artisan cheeses, good vanilla extract and chocolate.
D: Why is Garrett's popcorn in Chicago so f%$&ing good? I am addicted to that stuff, although last time I was there before Christmas, the line was 2 hours long. I tried to wait but couldn't justify it. What's their secret?
G: I love there caramel corn and their cheese popcorn too. Have you ever tried them mixed together. Yuuuummmmmy!
But it's just as you said, a secret. No one knows the secret.
D: I had no idea you owned a root beer company. Good God, girl…I love root beer! What made you start the company, and what goes into making root beer?
G: I've been making root beer since 1993 when I returned from the root beer deprived country of England. I was living there for 3 years and could barely find it so when I returned home I taught myself how to make it. My grandfather made it too so maybe it's genetic, but I just need it!
The one I make the most right now is cinnamon, ginger and vanilla flavored so I'm doing an infusion of those ingredients then schlepping it to my bottler on the south side of Chicago to mix in the rest of the ingredients and bottle it. I just did my second batch of my new soda pop flavor, vanilla cream soda this week.
I do a reverse root beer float at our new restaurant, Tramonto's Steak and Seafood using vanilla cream soda and root beer ice cream.
D: Are there any desserts you hate?
G: I hate fruit cake.
D: Good thing that your most recent cookbook avoids fruit!
And speaking of your new book, it's called Chocolate & Vanilla, and it's all about my two favorite subjects: Chocolate and Vanilla. I had an editor tell me vanilla wasn't a sexy enough topic for a whole cookbook (like fruitcake.)
What makes vanilla such a worthwhile subject for a book?
G: It's in everything in American baking. You don't bake without getting the vanilla out so I think it could be a whole book.
D: Well, this time you made it a half of a book…so we vanilla-lovers will be looking forward to your next one.
Speaking of your newest book, I made your White Chocolate Sorbet, which wowed some of my French friends, who are not easily wowed. It was simple and not too rich, which some people have a problem with when making desserts with white chocolate.
Which are your favorite recipes in the book?
G: I love the Upside Down Chocolate Almond Cake. Really moist cake with a good crunch from the nuts and gooey caramel. Also, I love the Mini Chocolate Pavlovas, the Almond Macaroons and the Buttermilk Panna Cotta.
D: I notice there's a lot of 'gooey' desserts in your book, like the Chocolate-Almond Upside-down Cake with a rather enticing picture of buttery caramel oozing down the sides, or the Chocolate Praline Cakes in a Jar, which is a pretty fun idea.
Is this because you live in Chicago and need the rich sustenance of caramel and butterscotch to get through those brutal winters?
G: I think I just like goo.
D: Go goo!…I'm all for lots of goo. But who in their right mind isn't?
In your books, your style is pretty 'Gale-At-Home', and not what I think of when I think of swank restaurant desserts. How do you combine that sensibility to making things fancy enough for your restaurant TRU, where you're the executive pastry chef?
G: It's easy to dress things up especially with fancy pants china. What hard it to get something to be sublime and delicious, so I do that part first, then work on the look.
D: What's your biggest complaint about restaurant desserts served elsewhere?
G: That chefs don't eat or taste their food. I've been served some really mediocre desserts and I always think if they just ate this they'd see it's not that delicious.
D: Ok, last question.
You're on television. You're the executive pastry chef of TRU, considered one of the best restaurants in the world. You have a root beer company, your own line of heavy-duty professional-quality bakeware (and thank goodness, since I hate lousy bakeware) and you're about to open four new restaurants. Oh yeah, and you have three children.
How the heck do you do it all? I can barely manage to take care of myself.
G: I have a really involved, supportive husband, a smartphone, a Franklin Covey Planner system, a great assistant named Jeffrey, and a family who gets it. Plus the 4 new restaurants are three minutes from my house so working close enough to home to ride my bike helps too.
D: Well, I want one of those planners…or better yet, I want me a Jeffrey!
(So if you're reading this Jeffrey, give me a call…)
Merci beaucoup Gale, for taking the time to talk to chat.
I can't wait to come back to Chicago and see how you mix up one of those bags of Garrett's popcorn…although I should warn you—I don't share.