LA is a Helluva Place
Way back when, hotelier Leona Helmsley was charged with tax evasion and she became Public Enemy #1. A clever ad campaign lured guests back with the line…
"Say what you want, she runs a helluva place!"
That's the way I feel about Los Angeles.
I don't know why, but I used to harbor suspicions about the place, that it was all just a big phony façade.
But a peek underneath that glittery surface, like Jessica and Nick's marriage, and you'll find there's more going on beneath that slick exterior than you might imagine.
Aside from the gorgeous fruits and vegetables available in markets, there's terrific restaurants, easy parking, the World's Best Movie Theatre (which also has freshly-made caramel corn), abundant sunshine, and some of the best examples of facelifts gone wrong to gawk at (Skip the Polo Lounge…the Whole Foods across the street from The Grove is by far the best place to get a closer look.) But the real LA, to me, is found in the juxtaposition of incredible wealth and over-the-top excess, just next to small Mexican food joints, and chest implants (on both men and women) so big they're in another zip code.
And smack dab in the center of LA is the old Farmer's Market. You'll find old-fashioned ice cream parlors, candymakers pouring and slicing giant slabs of hot toffee, powerful mixers grinding deep-fried salty peanuts into peanut butter, and jovial butchers with a rather fine sense of humor.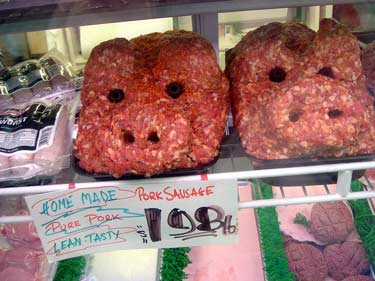 But the best attraction at the market is the Loteria Grill. Tiny Mexican women, barely able to reach the griddle, spend hours chatting and patting out fresh corn tortillas, tossing them on the hot grill, then piling on savory fillings such as cochinita pibil, or pulled pork with pickeled red onions.
My dining companions had the most beautiful plate of stuffed chilis I'd ever seen…
Unfortunately, I hate chiles (when cooked, they taste like acrid, wet cardboard to me), but I was convinced to have a bite of the filling, which was a mix of pork and almonds. It was very, very good, but I was getting full since I almost I single-handedly polished off a jumbo platter of chips and guacamole.
And like the crowded freeways, there's lots of directions to go for something sweet…
Nibbling some crisp, buttery almond toffee, my friend Anne and I, took her big 'ol Cadillac out for a spin in search of more.
Our first stop was boule.
Since I needed permission from the manager to take photos (permission denied!), I had to take our stash outside to give you a look.
But our first impression, before going in, was the place seemed to have a patina of something foggy on it. The ultra-modern interior perhaps needed a good Windex-ing.
Few of the sleek chocolates looked interesting; most were painted with edible colorings and the contemporary fruit tartlets failed to excite. The dude serving us was very nice and offered samples of the ice creams, such as Cocoa Nib (good, but the custard needed more oomph0, Caramel-Cardamom (nice), and bitter Chocolate Sorbet (a bit grainy.)
My fascination, of course, was with les macarons…
I liked the dense, creamy chocolate macaron the best, and had high hopes for the Pecan Pie, but the taste was no improvement over the real thing…so why bother? I ordered an espresso, which seemed to confuse everyone behind the counter. One little cup was made, then was passed around amongst the staff, while they discussed at length whether it was right or not.
It didn't give me much confidence. (Pet peeve #85: Espresso not served immediately after it's made.)
We then took a ride over to a Mateo's ice cream shop, where we were literally dazzled by the selection of ice creams and fresh fruit ices our south-of-the-border neighbors come up with. In spite of all the weird crap that people are calling food these days, I'll bet you've never seen…
Although the flavor was faint (perhaps thankfully?) I think it would be intriguing paired with sweet, juicy-ripe strawberries. I tried the Cajeta ice cream made from caramelized goat milk and a scoop of cafe con leche. There was also Queso (cheese) and Guanabana (or, cherimoya…which I had an regrettable experience with on a trip to Mexico some time back and was not to eager to, um, re-taste it, since I tasted it for several days after the trip…if you know what I mean.)
The last stop was in Beverly Hills to sample some treats from Sherry Yard, the pastry chef at Spago.
Sherry's one of the brightest lights in the pastry world and never fails to impress me when the dessert is presented. On my last visit, she sent out tiny chocolates filled with a gelée of Concord Grapes. There was also a Huckleberry Custard that showcased the intensity of the tiny, powerfully rich berries that was memorable. When I stepped in the kitchen, Sherry was crushing peppermint sticks and wearing a pink chef's coat in support of Cook For the Cure. When I asked where she got it, she described how she filled her hot tub with pink dye… tossed her chef's coats in, then turned the jets on!
I can't imagine anyone in their right mind doing that.
Except someone from LA.
Loteria Grill
6333 West 3rd Street
Mateo's
4222 West Pico Boulevard
boule
420 North La Cienega Boulevard