Menu For Hope III
Welcome to Menu For Hope III, an online auction to raise funds for the United Nations Food Programme, which provides hunger relief to needy people worldwide. Last year we raised over $17,000 during this auction, and this year it's bigger and even better!
The following donations are from the European food blogging community and related sites. There's over 30 great prizes, including food baskets, gastronomic tours, language and cooking classes, professional web design, wine tastings, cookbooks, and meals in private homes, restaurants, and culinary schools.
In each entry you'll find links that you can follow to the individual web sites and blogs to learn more about the prizes from the donors. Should you have any questions, please ask the donor prior to bidding.
For more information and to view the other prizes from around the world, visit Chez Pim.
So How Can You Bid?



1. Go to the donation page on First Giving.

2. Make a donation!
Each $10 you donate will give you one raffle ticket toward a prize of your choice. Please specify which prize you'd like in the 'Personal Message' section in the donation form when confirming your donation. You must write-in how many tickets per prize, and please use the prize code—for example, a donation of $50 can be 2 tickets for EU01 and 3 for EU02. (Please use the double-digits, not EU1, but EU01.)

3. If your company matches your charity donation, please remember to check the box and fill in the information so we could claim the corporate match.

4. Please also check the box to allow us to see your email address so that we could contact you in case you win. Your email address will not be shared.
5. Check back at Chez Pim on January 15 when results are announced.
Le Petit Print:
Some of the prizes, such as tours, have expiration dates. Other events are based on the donor availability; contact donor well in advance if you win a tour or tasting to make sure of their availability before you confirm travel plans.
Culinary tours don't include transit to and from the city offered, nor do they include hotels or meals, other than what is specifically mentioned.
Prizes will be shipped at the expense of the donor.
Whew!
Okay. Now that the boring stuff is out of the way, let the fun begin!…
Grand 7 Wine Tasting in Paris with Oliver Magny of Ô-Chateau
Whether you are a wine novice or a connoisseur, the Grand 7 Tasting is for you! You'll sip a lovely variety of French wines, from Alsace to Bordeaux, from Burgundy to Chateauneuf du Pape…with a refreshing approach in English by French sommelier Olivier Magny of Ô-Chateau in Paris. You'll learn much about the great wines of France in his hip wine loft. There will be 7 different wines offered during this spectacular 2 hour tasting. Tastings must be taken before December 31, 2007.
Olivier has generously donated five different pairs of tastings, so there are 5 chances to win. Please select any one of the following prize numbers with your bid:
(Prize EU01) (Prize EU02) (Prize EU03) (Prize EU04) (Prize EU05)
Florence Market Tour with Judy Francini, The Divina Cucina
The most sought-after culinary experience in Tuscany can be yours, as part of a small-group shopping tour with Judy Francini, of Over The Tuscan Stove. Tour the sprawling Central Market in the heart of Florence with Judy, sampling Tuscan specialties like aged Pecorino, aged balsamic vinegar, and Tuscan olive oils, then return to her kitchen to cook up an authentic Italian lunch using the best from the market.
Included in the class is a Divina Cucina apron and cookbook. This has no expiration date, but note that classes are offered on Tuesdays, Wednesdays, and Thursdays and there are no classes in July and August. Class should be reserved on a date in advance with Judy.
(Prize EU06)
Eclectic Food Hamper from Just Hungry
Reflecting the eclectic nature of the site, Just Hungry is offering a superb box of gourmet food and kitchen items from Maki's favorite culinary regions; Japan, Switzerland and Provence.
Actual contents may vary depending on what can be shipped to the winning bidder's country, but expect things like a selection of artisanal chocolates from small Swiss chocolatiers that are not available outside of Switzerland (no Lindt or Nestlé!), the finest quality 'new' green tea and dashi stock 'tea bags' from Japan, plus olive wood kitchen wares, and sweet or savory delicacies from Provence. A jar of Cenovis, the Swiss Marmite, is optional. All items will be accompanied by descriptions and tasty recipes.
(Prize EU07)
Paris Gastronomy & Chocolate Tour with David Lebovitz
Explore the fabulous culinary city of Paris with David Lebovitz, tour guide and author of The Great Book of Chocolate in this amazing culinary adventure. Begin at David's favorite outdoor market, learning about the fabulous raw-milk cheeses, sun-ripened fruits, hand-harvested salts, and other specialties of France. Afterwards we'll head to chocolate shops and bakeries to swoon over the finest pastries and chocolates in the world!
This private, customized tour will last approximately 3 hours, and will be an unforgettable and delicious gastronomic indulgence. Tour will take place on a date that's mutually agreeable in advance with David and some samples will be included, although transit within the city is not. (There are no tours May 6-12, June 5-31, or in August). Your tour can include up to four people and must be taken before December 31, 2007.
(Prize EU08)
Baking From My Home To Yours by Dorie Greenspan, and Belgian Chocolate Truffles from What's For Lunch, Honey?
From Meeta in Germany, here is something that every true foodie, cook, or baker must have on their shelves: The latest by Dorie Greenspan…Baking From My Home to Yours. Here's a peek at the mouthwatering treats Meeta created from this book: The Classic Brownies were just the way Brownies are supposed to be, melt-in-your mouth and chocolate-y, and the Cranberry Upside Downer was simply heavenly.
This wonderful book has more than 300 incredible and easy-to-follow recipes. This is not just any other baking book; each recipe has a wealth of interesting information and you'll feel like Dorie's right there in your kitchen helping and encouraging you along. The stunning photos and divine recipes will captivate you for hours. And to sweeten the pot, Meeta will include two boxes of fabulous truffles from her local chocolatier!
(Prize EU09)
Naughty Paris Tour from Secrets of Paris
Writer and tour guide extraordinaire Heather Stimmler-Hall offers a tour from her upcoming guide, "Naughty Paris: The Good Girls' Guide to Being Bad in the City of Light". During your half-day tour you'll visit some of the naughtiest hidden boutiques of Paris, including an upscale corset and fetish clothing shop, an erotic literature store, and even a naughty perfume maker whose scents will make you blush!
And to keep up our energy, we'll stop between each boutique for naughty indulgences, maybe a handful of heavenly French pastries, a shot of sinfully strong absinthe liqueur, or a mug of wickedly thick hot chocolate or creamy Italian gelato, depending on the season. Guests can pick Heather's brain during the tour for the best nightlife recommendations, from the sexiest cabarets to the best clubs to check out the local singles' scene. This tour is good for up to four people, boys or girls, and includes guide & transportation, but not purchases made during the tour. Subject to guide availability; good until January 1, 2008.
(Prize EU10)
London Food Tour from Eat The Right Stuff
Abby from Eat The Right Stuff is offering a customised foodie day (4 hours) in London with her as your guide. Depending on what aspects of London's culinary abundance you're interested in, you'll visit the world-famous Borough market, Soho's China town, or North London's Oriental City.
Or maybe you'd prefer the fabulous food-halls in London's famous department stores, stopping off at some of their in-house food destinations: Laduree at Harrods, chocolate shops, or Obika mozzarella bar at Selfridges. Let Abby know what you fancy and she'll create a special day just for you! Transit costs in London are included, maximum 2 people, and tour can be transferred to someone else as a gift. Coffee and cakes, or similar snack, is included. The date is dependent on her availability and must be taken before December 1, 2007.
(Prize EU11)
Apples for Jam Cookbook, from Peppermint Tea
This lovely gift from Beccy in Ireland is a cookbook called Apples for Jam by Tessa Kiros. It is Tessa's third cookbook to be published, full of recipes for the entire family, from young children and those with eclectic palates. The recipes are well written and easy to follow and the photography is tantalizing. Beccy loves the personal touches Tessa has brought to this book, from heartwarming anecdotes, including the one where Tessa talks about shrinking crisp packets in the oven, as Beccy and her sister did as children, to personal photographs of family life and lovely hand-drawn illustrations.
(Prize EU12)
Private Sunday Brunch Cooking Class from Eat Drink Talk Cooking School
This prize is from Jennifer for a special, private Sunday Brunch cooking class at her Eat Drink Talk cooking school in London. The voucher is good for you and up to 7 friends to attend your own private class where you and your friends will get to help prepare and eat a notable brunch feast including:



Champagne-Mimosa Cocktails

Bottomless cups of Freshly Brewed Monmouth Coffee

Pain au Chocolat

Soufflé Omelettes with Goat's Cheese and Chorizo

Spiced Carrot Frites

Mango Salad with Ginger-Lemongrass Syrup

(*Menu can be made entirely vegetarian if requested.)
The voucher is valid to June 30th 2008 and can be redeemed for any mutually agreed Sunday between February 15th and June 30th. The class will take place from 12 and 2:30 pm.
(Prize EU13)
(A Note From David: If you need an extra person, I can be in London in two hours.)
Lunch & Tour at the Ecole Superieure de Cuisine Française from Movable Feast
A lunch for two persons in the gastronomic restaurant of the prestigious Ecole Superieure de Cuisine Française-Ferrandi in Paris, a school that provides the highest culinary training available in France. Included will be a guided tour of the school and its training kitchens to see where and how France's future Michelin starred chefs learn their craft. This will truly be a special, once-in-a-lifetime experience!
Reservations should go through Ulla of Movable Feast, who's donating the lunch with director Monsieur Leclaire, and are subject to available seats in the restaurant (early reservation very highly recommended), as well as the availability of the 'anglo'-program coordinator for the guided tour. Lunch and tour must be taken by June 15, 2007. (Prize EU14)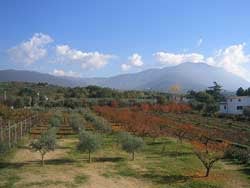 Choice of Italian Artigianale Products or Italian Cookbooks from Ms. Adventures in Italy
The basket is full of products from "micro" manufacturers throughout Italy, from Sara at Ms. Adventures in Italy in Milano. Many are hard to find outside their local areas, including White Truffle Oil from Frascati, Bronte Pistachio Cream from Sicily, Ragù di Cinghiale (wild boar pasta sauce) from Tuscany, jar of Nduja "pepperoncino & salame" spread from Calbria, Pate di Olive from Liguria, half liter of extra virgin olive oil from her family friend in Puglia, 5 packs "Pepperoncino" Hot Chocolate mix from Borgaro Torinese, and 1 pkg of Sara's favorite handmade Taralli from Dolciaria Monte in Puglia.
Or…
Try a new cookbook in the new year! You're bound to discover and learn something delicious to make with a brand-new copy of Il Cucchiaio d'Argento or The Silver Spoon, the most successful cookbook in Italy, in English for the first time. Also, Giada makes it all look good; if her looks don't rub off on you, maybe her cooking will! So included is a copy of Everyday Italian: 125 Simple and Delicious Recipes by Giada DiLaurentis.
Food products will be mailed early in 2007. Please only bid on food if you are sure your country doesn't have any restrictions on these items. Cookbooks will be shipped from Amazon only to countries they service, so check that your country is available on their site. Anyone that comes in person to pick up the basket in Milan will be treated to Sara's favorite way to enjoy espresso, the Marocchino, or to a big gelato at one of her favorite Tour del Gelato stops!
(Prize EU15) Winner can choose which gift they want at conclusion of auction.
Wine & Dine in Munich from Food Vagabond
Do you ever wonder how and what the locals really eat at home in a town you're visiting?
Hande of Food vagabond invites you and your partner to have dinner with her, her husband, and some local friends at their home in Munich. You'll share a multi-course dinner with matching wines and you'll get to meet some serious blogging and non-blogging foodies from Munich in their natural habitat.
They might even consider wearing Dirndls and Lederhosen if you're very nice!
Dinner is subject to availability. The winner and Hande will work out a date during 2007 and they'll accommodate any possible allergies or the like.
(Prize EU16)
Swedish Tea Kit and Cookbook from A Cat In The Kitchen
This fabulous Swedish Tea Kit is donated by Dagmar in Stockholm of A Cat In The Kitchen. She's including four unique and delicious tea blends from cozy Old Town in Stockholm, a pot of Swedish blueberry honey, archipelago sweets, a cute tea infuser, and a copy of the cookbook Swedish Cakes and Cookies for your baking pleasure. This is the perfect kit for dark winter nights when you need some Scandinavian-style comfort to curl up with.
(Prize EU17)

Three Italian Food Photographs from Lucullian Delights
From Ilva of Lucullian Delights in Pistoia, Italy, comes a set of three stunning food photos (27 cm x 20 cm, approximately 10″ x 8″), suitable for framing. One is of early spring asparagus, one depicts thyme-marinated black olives, and one of a delicious-looking Certaldo onion. This set will look great in your kitchen and transport you to the Italian countryside, no matter where you live. This is definitely a tasty set of photos from Tuscany!
(Prize EU18)
Paris and Italy Tour & Travel Gift Certificate from Context Paris
Context Travel in Paris and Italy is offering a 150€ gift certificate to be used towards any of its world-reknown travel services in Paris, Rome, Florence, or Naples. Context Travel is a network of scholars living in those cities who organize small-group walking seminars of the cities and their monuments.
Context Travel has been called one of the best tour organizations in the world by Travel+Leisure magazine and are featured in Rick Steves' guides, although what they do is far more than ordinary tours. They're like seminars or an in-depth conversation and walk with one of their specialists, who may be a local art historian, artist, or gastronomes. Services must be taken before June 30, 2008. (Prize EU19)
Swedish Candy and Chocolate from Clivia's Cuisine
Here's your chance to sample a sweet selection of Swedish candies and chocolates including the famous Daim candy bar, kexchoklad (delicious wafer-layered chocolate), salty licorice, and above all, Sweden's most popular car. Hint: It's not Volvo or Saab…but it's edible. Ten different items will keep your sweet tooth satisfied for weeks in this package of goodies from Kristina in Sweden.
(Prize EU20)
French or English Language Workshops from LetThemTalk
LetThemTalk in Paris is offering one month, 4 sessions of two hours (need not be taken consecutively), at their Saturday Conversation Workshops in either English or French. These small group workshops are a great way to polish your English or French, and meet new people in the City of Light. In addition, the lucky winner is welcome to join them for the recording of one of their brand-new Paris audio tours. Check LetThemTalk web site for expiration.
(Prize EU21)
Signed Copy of Chocolate & Zucchini Cookbook from Chocolate & Zucchini
Popular food blogger Clotilde Dusoulier is offering a personally-signed copy of her upcoming cookbook, Chocolate & Zucchini.
This charming book contains recipes and photographs, and is packed with tales of her culinary adventures in Paris. There's everything from savory Cumin Cheese Puffs to Mustard Chicken Stew, ending on a sweet note with a Chocolate and Caramel Tart. Cookbook will be mailed after May 2007, when book is released.
(Prize EU22)
Original Watercolor Food Illustration from Lobstersquad
Here's your chance to own the original watercolour of the illustration that appeared in Metaphore magazine, in Spain, in their food section. It's 25 by 40 cm, and will come framed, and will make a wonderful addition to any kitchen or dining room, no matter what country you live in! Ximana from Madrid Lobstersquadis a noted professional illustrator, and her designs on her blog have made her famous as well.
(Prize EU23)
Magazine Subscription and Handmade Lunchbox from Travelers Lunchbox
Are you a foodie who loves to travel, or a traveler who loves to eat?
This two-part gift is a 12-month subscription to the British magazine Food and Travel, generously donated by the magazine and valued at £69/$135. Food and Travel is a sleek and sophisticated monthly devoted to feeding the eye and stomach, combining exquisite photography from the furthest corners of the globe. Whether you're a frequent jet-setter or hungry armchair traveler, you'll find plenty in this magazine's pages to whet your appetite.
But in case you are inspired to set off on the road less-traveled, you'll need something to carry your lunch. And for that, what could be better than the original traveler's lunchbox? That's right, the second part of this prize is a unique, handmade, one-of-a-kind sticker-covered green aluminum lunchbox, based on the logo of Melissa's Travelers Lunchbox banner! This nearly perfect replica is stylish, durable and just the right size to hold a few snacks to sustain you as you traipse through the Malaysian jungle or amble down country roads in Provence. And to get you started it'll be filled with a selection of some of Melissa's favorite edibles, several of which have been featured on her site. You'll be the envy of your traveling companions…and perhaps your co-workers too!
(Prize EU24)
South African Cookbook and Native Foods from Cook Sister!
Ever dreamed of a trip to South Africa? It's the Rainbow Nation, where warm and cold oceans meet, where Europe and Africa live side by side, and African, Dutch, Malaysian, German, Middle-Eastern, French and Indian cuisines all collide to form a rainbow of tastes. Well, here's your chance to send your tastebuds on a trip to South Africa!
Jeanne is offering a copy of Rainbow Cuisine, a fully illustrated hardcover cookbook on the multicultural dishes that make up the Rainbow Nation's cuisine. The book, by renowned food writer Lannice Snyman and photographer Andrzej Sawa, contains not only traditional recipes, but beautiful photographs and descriptions of the provinces that make up South Africa. And to get you in the mood, she's adding a few South African goodies too: Lemon-flavoured Rooibos tea, Ina Paarman black olive and rosemary seasoning, dried guava and fig rolls, and Peppermint Crisps…her favourite South African chocolate bar. Here's your chance to pack your tastebuds' little bags and send them off to South Africa!
(Prize EU25)
Paris Gourmet Itinerary from Edible Paris
Imagine your perfect food day in Paris.
Now imagine that you don't have to plan it yourself! Just contact Rosa Jackson, describing your food tastes and let this long-time noted Paris food writer design a written itinerary, including personalized maps, that are perfectly adapted to your needs. You'll feel like an insider as you visit Rosa's favorite open-air markets and off-the-beaten path food shops…all at your own pace. If you'd like restaurant reservations for lunch and dinner to complete your dream Paris food day, Rosa can take care of those too. Let Rosa at Edible Paris make your personalized food day the most memorable part of your trip to Paris! Offer good through June 2008.
(Prize EU26)
Catered Canapé Party From Cook Sister! and The Passionate Cook
Picture the scene: A summery evening with the sun just touching the horizon; a collection of your dearest friends, all immaculately dressed; the sound of clinking champagne glasses and tinkling laughter; plate after plate of exquisite and expertly-prepared canapés being carried out of the kitchen and served to your guests. A fantasy? No – in fact, this could be your house this summer!
The source of those exquisite canapés is two award-winning bloggers working away in your very own kitchen in the London area. As the lucky winner, you'll get the opportunity of having Johanna of The Passionate Cook and Jeanne of Cook Sister! catering a canape party for up to 20 lucky guests just for them! (Another David Note: Remember, I can be in London in 2 hours!) Included in the prize is their catering skills for the duration of the party, at least 12 canapés per person, and all serving equipment. Not included is the cost of the ingredients; after your consultation on which canapés to serve, they will do the grocery shopping and all you need do is pay for the groceries and select a date – leave the rest to them! Visit their websites for availability prior to bidding.
(Prize EU27)
Meal At L'Atelier de Joël Robuchon from The Passionate Cook
L'Atelier de Joël Robuchon is one of the hottest tables in London at the moment—with sleek, modern design and an open-plan kitchen. It's gourmet cuisine in a casual, yet refined atmosphere and is the talk of London…and you could be one of the first to try it, courtesy of Johanna, The Passionate Cook!
If you dream of treating yourself to an array of what Robuchon's world-famous kitchen excels at, this voucher for a tasting menu at the Atelier is tailor made just for you. But you can also redeem it against any other selection of dishes when you visit. All you need to do is either book a table yourself or show up on the day (reservations are only taken until 7pm). Go on – spoil yourself rotten…it's for charity, after all! Voucher is for £65 and only valid at Joël Robuchon in London, and must be redeemed by June 5, 2007.
(Prize EU28)
Professional Logo or Header Design & Complete Blog Makeover from Lobstersquad and Bluebird Blogs
Need a brand-new header, banner or illustration for your blog or site?
Want a new look for your blog?
Let Ximena's internationally-appealling design make your web site really stand out, like at At My Table.
In addition, if you're tired of the look of your blog, let Susie from and Bluebird Blogs redesign your blog (for Blogger and WordPress only) with a full makeover! Even if you don't have a blog, this makes an excellent gift for that someone special who does.
So if you need a drawing for a letterhead, an invitation, or even a screensaver. Whatever it is, you've got Ximena's professional services on your logo assured any time during 2007. And Susie can re-do your blog too!
(Prize EU29)
Handmade Stoneware and Israeli Food from Mud Pies in Jaffa
This prize includes one handmade stoneware plate from Amanda in Jaffa, Israel at Mud Pies in Jaffa. This 29 cm (about 12″) plate with sloping sides is decorated with your choice of either a drawing of a tasteful nude, or a father holding his daughter (as shown), using non-toxic glazes. This high-quality piece is suitable for baking, serving, or just for display. Microwave, dishwasher, and oven safe (just don't use it on open flames) this would be perfect for a pie or tart. This is a collectors item of the future; think Israeli Clarice Cliffe..it shouldn't be missed.
And not only will you be getting this one of a kind dish, but it will be accompanied by some special spice mixes and foodstuffs that are unique to the Middle East: 3 different kinds of Hawai'ij-for savoury food, baking, and coffee, Baharat, genuine zata'ar, sumach, Persian dried lemons both black and white, dried roses for cooking, and very special string halvah unique to Jaffa.
The prize also includes shipping, handling to wherever you are, and duty (up to $50). Please check that there are no restrictions in your country for the import of any of these items.
(Prize EU30)
Amai Tea & Bake House Sweets from Keiko of Nordljus
Keiko of Nordljus is offering one box each of



Tea Sweets cookies (12, gift boxed)

Botanical Brownies (4, gift boxed)
Champagne Brownies (4, gift boxed-limited holiday special!)
from Amai Tea & Bake House which fellow food bloggers Kelli & Andrew at Lovescool started about a year ago.
Everything from Amai is handmade, using only the highest quality, all-natural ingredients. Their cookies are moist, crumbly, and full of flavour—the combinations are absolutely spot on: Chai Almond, Earl Grey & Currant, and Green Tea flavours, which are Keiko's favourites. They're so good, in fact, their green tea cookies were recently featured on the Rachael Ray Show! And their wonderfully moist dark chocolate brownies are studded with exotic fruits, like luscious lychee and perfumed white peach…Keiko loves them so much, and says "They are so rich, chocolatey and delicious!"
(Prize EU31)
Set of 8 Walking Tours and Custom Itinerary For Your Paris Vacation from Paris Trip Tips
Let Lesley's Paris Walking Tours take the guesswork out of managing the busy streets and neighborhoods of Paris! Included in the 8-tour package: One tour for each of the main neighborhoods of Paris (Latin Quarter, St. Germain des Pres, 7th arrondissement, Champs Elysées, Montmartre, Le Marais, and "Chic Paris"). Each tour includes detailed directions, highlighted places of interest, historical information, great spots to take a coffee break, shopping opportunities, and detailed maps with the highlighted route.
Lesley's also including a Custom Itinerary Plan for your Paris vacation!
Many people become overwhelmed when they try to fit everything they want to do during their Paris vacation into a certain amount of days. Your Paris Trip Tips Custom Itinerary will be written specifically just for you! Keeping your tastes and interests in mind, a day-to-day Paris itinerary will be created including museums, shopping, dining, etc. All reservations for hotels and restaurants are included in her custom itinerary plan for your stay in Paris, so you can just relax and enjoy your vacation. Price includes all travel planning, but not the cost of hotel or restaurant meals.
(Prize EU32)
Country Lunch From Susan Loomis, On Rue Tatin
Come to Normandy and enjoy a luxurious, three-hour country lunch prepared by and enjoyed with Susan Herrmann Loomis, proprietor of On Rue Tatin, Susan's exclusive cooking school located just one hour from Paris. Susan will greet you with an aperitif which you will enjoy either in the courtyard or in Susan's gorgeously appointed kitchen.
You will then retire to the 15th century timbered dining room for a relaxed meal prepared with the finest local, seasonal ingredients, and accompanied by small production wines and local cheeses. This is truly an unforgettable experience and a terrific way to experience life in the French countryside, in the famous kitchen On Rue Tatin, of cookbook author Susan Loomis. Offer valid through December 2007.
(Prize EU33)
Signed Chef Jacket from Food Network's Gale Gand
Gale Gand host of Food Network's Sweet Dreams is offering a signed chef's jacket that she wore on her television program. In addition, Gale is the executive pastry chef at Tru restaurant in Chicago and was named 'Pastry Chef of the Year' by the James Beard Foundation in 2001. This jacket is bound to be a collector's item.
Gale, who trained in Paris at La Varenne is a honorary Parisian, and her latest book, Chocolate & Vanilla will be featured on this site next month along with her scrumptuous recipes for all things chocolate…and vanilla too! Wear this jacket yourself, while whipping up some of her fabulous pastries!
(Prize EU34)
Gastronomic Tour of Barcelona with Silly Disciple
Come along on a full-day tasty tour of Barcelona!
You'll start early in the morning with breakfast in the famous Mercat de Sant Josep de La Boqueria, followed by a walk through the market. Then visit the Barri Gothic, the old neighborhood next to the Ramblas, where there's a few hidden gems, like a cozy little cheese shop, an all-sausage store and an old coffee and nut roasting house. Hopefully the walk will whet your appetite because Silly Disciple himself will treat you to lunch at his favorite tapas and montaditos bar…with a particular twist!
After lunch you can decide to take a nap like the locals, or keep on moving and visit a wine store, pastry shop, chocolate factory (depending on availability the day of the visit). Or maybe one of the 40-something markets in Barcelona, a classic "Colmado", and quite a few other delicious options in this amazing culinary city.
Visit his site, Silly Disciple, for details and availability.
(Prize EU35)
Good Luck With Your Bidding Everyone!…