Eating and Dining in Bologna, Italy
"It's not your fault!" she laughed.
I had just walked in the door of my hotel, clutching my stomach in a bit of a panic, unable to fit in another morsel of food, no matter how small or appealing. Halfway through my 10 day eating trip through Italy, I felt like a plump, overstuffed ricotta-filled cannoli, bursting at both ends. I told the woman at the front desk at my hotel that I could not eat one more bite of anything, or I would surely die.
"It's not your fault." she told me, "The food in Bologna is too good!"
And indeed, she was right. We'd eaten very well, from simple trattorias, slurping up Tagliatelle al Ragú and Tortellini with Ricotta and Zucchini Blossoms floating in brodo, to filling up on pizza bianco, stuffed with everything from roasted potatoes and fragrant rosemary to gooey, stringy Italian cheese and thin-sliced prosciutto. Although I could easily point a finger at the restaurants for the gustory overload, I did have a role in the matter, since between all these meals, I consumed a rather indecent amount of gelato. So I'll share the blame, mezzo-mezzo.
Fresh-churned Gelato di Cioccolato
Eating gelato in Italy is a national pastime. Like Americans who tote oversized paper cups of coffee wherever they go, Italians walk around lapping up cones of gelato instead. You never hear anyone complain about their weight, calories, or anything like that. They just love their gelato and its enjoyment is an integral part of life in Italy. And as they say, "When in Rome…"
(A theme which began a few days earlier, when we actually were in Rome. But it's not so pretty to say, "When in Bologna, do as the Bolognese do." Is it?)
But one thing that is pretty incredible is the gelato that's churned up in Bologna.
Gianni Figliomeni of Il Gelatauro
Just a short walk from the center of Bologna, is where you'll find Il Gelatauro, where Gianni Figliomeni makes what many consider the best gelato in Italy. Although I think the cookies deserve an award as well, and just looking at the picture makes me wish I hadn't been so polite when they offered me a bag to take back with me.
Stupid Boy! What was I thinking?
Krumiri cookies and Mondorletti al Cioccolatto Fondente
Above are the chewy, excellent cookies that I had from Il Gelatauro. The krumiri are vibrant-green cookies made simply of pistachio paste and honey mixed together and baked. But what pistachio paste that is! Unlike ordinary, dull-flavored pistachios, Bronte pistachios from Sicily are brilliant-green, and not-so-delicate, filled with intense pistachio flavor. You simply can't make cookies like these without them, nor can you make Pistachio gelato without them as well, so don't even bother. The other cookies, Mondorletti al Cioccolatto Fondente, are made by mixing ground nuts with rare manna syrup (when Gianni can find it), then dipped in sublime Amedei Chuao chocolate from their plantation in South America.
Most gelato has less fat than regular ice cream, but it's denser since less air is whipped in while churning, generally just 20-25%.
But what I came here for was the gelato, which not only didn't disappoint, but after eating gelato non-stop the previous week in Rome, I wasn't prepared for how special these gelatos are. Il Gelatauro uses mostly organic ingredients, so when you order a cone of Creme (and they have gluten–free cones), you can taste the fatty, golden-yellow egg yolks used to enrich the gelato base. And although it would take a rather big Italian dude with lots of muscles and a crowbar to pry me away from my beloved Cioccolato gelato, the Yogurt gelato had the fresh tang of yogurt combined with the slippery, lickable texture of gelato. It was the best, freshest-tasting Yogurt gelato I've ever had.
Once the gelato is scraped from the machine, chunks of cake crumbs are scattered over and soaked with liquor, then mixed in.
Other flavors included Principe di Calabria, scented with bergamot and Calabrian jasmine flowers, rich Mascarpone, Zucca e Cannela, made with squash and cinnamon, and Semi di Finocchio, a gelato flecked with sugared, candied fennel seeds, which were originally given to pregnant women to increase milk production. Since I'm neither pregnant, nor lactating, I'll have to take their word for it.
But it's not just esoteric or the unusual that tempt, delight, or whatever they say in Italian (Hey, lay off—I'm having enough trouble with French…let's not toss Italian into the mix.) His Chocolate-Brownie gelato was an amazingly right-on recreation of an all-American idea, although that should come as no surpise since his wife is American artist Angela Lorenz,whose artwork is shown on the walls of the gelateria. Perhaps she also had a hand with the creation of the Baked Apple and Cinnamon gelato and Caki, or the creamy, autumnal Persimmon gelato with a soft orange hue as well. If so, I suggest they revoke her American passport so she has to stay in Italy.
As they walked me through the gelateria and the spotless laboratory I learned much about his gelato-making techniques. Many gelaterias make just one base, then add flavors to build them up. But at Il Gelatauro, each base is made separately and to certain specifications, then frozen at the start of each day. All Gianni's gelatos are made with fresh, organic cream and milk, unrefined cane sugar, and a touch of the highest-quality powdered milk to increase the milky-smooth flavor and mouth-feel without increasing the fat. He confided in me that many of the thick gelatos we taste at other places have added vegetable fat to make them thicker and smoother. But there's nothing like that done here, and as I watched and tasted a spoonful of each and every flavor they had to offer (how could I resist?), I finally made my way back to my hotel.
To do—what else? Make plans for dinner!
Il Gelatauro
San Vitale, 98/b
Tel: 051 230049
(More food photos of my trip to Italy are here.)
Other Gelato in Bologna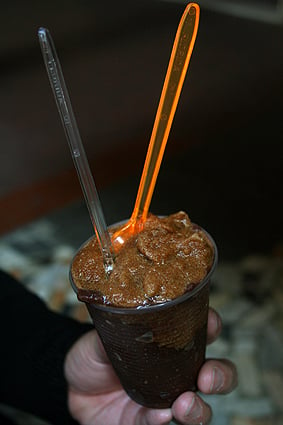 Stefino
Via Galliera, 49/B
Tel: 051 246736
Sicilian-style granite, or shaved ice. I can't imagine anything better in the summer (or even in the winter) than espresso and chocolate granita piled into a cup.
la Sorbetteria
Via Castiglione, 44
Tel: 051 233257
Rich, thick gelato in flavors such as ricotta with caramelized figs, dulce de leche, and chocolate-studded straciatelle. Make sure to visit their chocolate shop, il Coccolato at Via Castiglione, 44/B, just down the street too.
Restaurants in Bologna
Trattoria Tony
Via A. Righi, 1/B
Tel: 051 232852
Simple basic Bolognese fare. Great pasta, tortellini en brodo, and bollito misto. Friendly service, but the food requires a grappa chaser afterwards if you plan to sleep that night. Seriously.
Trattoria Anna Maria
Via Belle Arti, 17/A
Angela from Il Gelatauro was so rapturous about the barely-there, super-thin strands of tagliatelli that I knew if I didn't go, I'd regret it for the rest of my life. I followed my Tagliatelli Ragu with roasted, fork-tender Guinea Fowl. Be sure to reserve.
Enoteca Italiana
Via Marsala, 2/b
Tel: 051 235989
Lovely, lively wine bar with an amazing selection of Italian delicacies for sale as well, including well-stocked shelves of Domori, Slitti, and Amedei chocolates.
A.F. Tamburini
Via Capriarie, 1
Tel: 051 234726
Glorious shop featuring all sorts of cheeses and salumi. Casual cafeteria if you wish to sample their fare on the premises.
Hotels in Bologna
Two reasonably-priced hotels in the center of town, just a 10 minute walk from the train station, and just minutes from all the gelaterias listed above!
Hotel Paradise
Vicolo Cattani, 7
Tel. 051 23179
Hotel Metropolitan
Via dell'Orso, 6
Tel: 051 229393