Teo Gelato
Every time I go to Austin, it seems like I'm running into town, doing a class, then racing on to the next city. So this last time, I slipped in under the cover of darkness, and arrived a day early. Sure I wanted more time to gorge on Texas bbq and Mexican food.
But what I really wanted to do was spend some time at Tèo, lapping up gelato.
The Lee family has become, I'm sure much to their chagrin, part of my extended family. Or more likely, I've become part of theirs. I've known Matt Lee's mom for years and when she told me her son owned an authentic gelato parlor, I dialed my lawyer and had him draw up the adoption papers.
Let's hope they sign.
Matt, aka Matteo…aka, Tèo…learned his craft in Florence at Vivoli, and his gelato is the real deal. You won't find him in the back dumping mixes into a machine.

His gelati are made fresh daily and low in fat; most of the flavors he churns up are made with whole milk, no cream or eggs. He opened his shirt to show me his defibrillator, so I knew he was telling the truth. (Sorry, no pics on that one.)
With plenty of time on my hands, I had beaucoup d'opportunities to taste everything. And taste I did. I was a kid in a candy store, wielding a wooden spoon. I loved them all, but my favorite was the Peanut Butter and Nutella gelato. Yowza, was that good!
There's nothing like a frozen scoop of peanutty gelato swirled with ribbons of hazelnut-chocolate paste to get me going. And although it's been a while since I unscrewed a jar of Nutella, I'm going to start swirling it more and more into my ice creams, I predict. Unless I spread it all on my toast instead. Am I the only one who thinks it dangerous to keep that stuff around?
Since it was pretty hot, I was happy to try all the sorbetti—or is that sorbetto? Irregardless of my less-than-competent Italian, I had no trouble understanding how pure flavors of fresh fruit make the best frozen desserts. There was also a Pink Lemonade sorbetto that was…and don't be jealous of me yet…out-of-this world good. And so refreshing that I would've lapped up a whole cup of it if it wasn't for…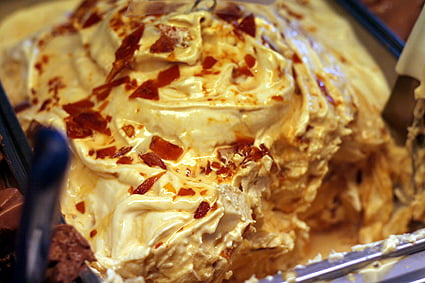 …Salted Butter Caramel gelato!
I was bowled over when I saw the big, caramel-covered mound of ice cream (ok…so this one's not a low-fat selection), and Matt told me he loved my recipe so much, that he was churning it out as fast as he could. Apparently his customers liked it as much as I do, and he told me they could barely keep it in stock.
Which I can understand. A scoop of great gelato with a expertly-made cappuccino?
I can't think of a better way to while away an afternoon in Austin. When can I go back?
Tèo
26 Doors Shopping Center
1206 W. 38th Street
Austin, TX
(512) 451-9555