The ActiFry
When I read about the ActiFry Fryer, a machine that uses new cooking technology to create crisp fries and other foods with virtually no oil, I immediately wanted one.
Normally I'm not one to hop on the bandwagon and rush out and get a new gadget, especially when my apartment is bursting at the seams and if I put one more thing on my kitchen counter, I'm going to wind up cooking on the ceiling.
So I sent a message to a friend who works with the company and she arranged to have an ActiFry machine sent to me, not expecting or in exchange for a review, but because I'm a wonderful person worthy of low-fat frites.
I went out and bought a sack of potatoes, then came home, plugged in my ActiFry, and made a big batch of French fries with just a spoonful of oil.
I followed the instructions, peeling then cutting the potatoes into bâtons, rinsing them, drying them thoroughly before putting them in the machine. Then the user adds one tablespoon of oil, closes the lid, and sets the timer for thirty minutes.
Every few minutes, I peered into the machine, and nothing much seemed to be happening – at first. The potatoes were being stirred by the revolving arm, very, very slowly.
And as the machine turned, skeptical me was surprised as the sticks of potato soon turned a golden-brown color. And after stopping the machine to pluck one out, a sprinkle of salt was all that was needed, and I had to admit the French fry was very good, somewhat mottled, but crisp!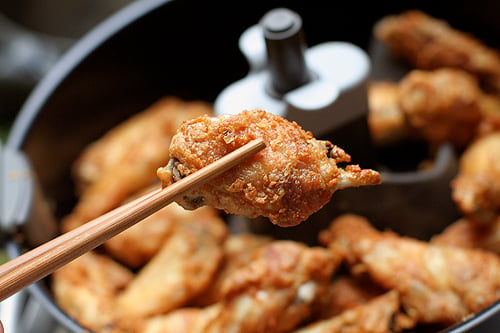 So next on the docket were Korean chicken wings, which were a success as well.
A few pros and cons of this machine:
The pros of this machine are that you can make crisp, fried foods with just one tablespoon of oil or fat, and that the machine does what it says it does: crisp-fried food with a minimum of oil or fat. Or mess: the machine comes apart easily so the non-motorized parts can go in the dishwasher.
The cons are that the machine is not inexpensive (partially due to the fact that it's made in France, rather than China, and there's currently an unfavorable exchange rate) and although there are included recipes for curries and roasted meats, those tasks could be done using a standard stove or oven. And because of the cooking time and method, batter-fried foods like tempura likely won't work in this machine. The ActiFry is also fairly large, about the size of a football helmet for a medium-size gorilla, and the parts, especially the metal non-stick pan, are thin and lacking in heft.
Related Links
ActiFry (Official Tefal Website)
ActiFry Fryer (Amazon)
ActiFry Fryer (Amazon UK)
Making French Fries in an Actifry (Video of the process, in Dutch)
ActiFry Review (Gizmodo)
Sweet & Crispy Chicken Wing Recipe
*Disclosure: This machine was sent to me by the company with no expectations or promise of a mention. I tested five different dishes with the ActiFry: chicken wings, two batches of French fries, and fried rice (which ended up like crispy sizzling rice—happily), and I was pleased with the results.