The Not-So-Sweet Smell of Excess
Something around here stinks.
And it's not just my neighbor.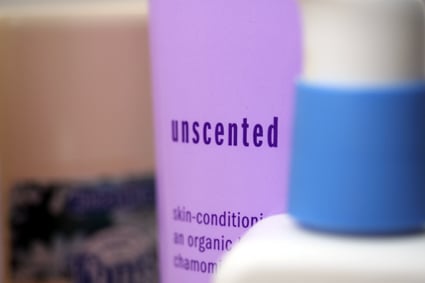 When I moved to Paris, I remember my first load of laundry that I proudly pulled out of my little machine tucked in the corner.
After I figured out the seven different dials and nine different buttons on the machine (actually, I've still only managed to figure out what about a third of them do), I remember extracting my clothes from the machine and hanging them all out to dry on my shiny new rack that took me a few hours to buy at the BHV. In Paris, few people have dryers since it's verboten to cut holes in buildings to vent to the outside. And even though each load of laundry takes me the better part of 3 days instead of…say, an hour…I'm happy to report I've reduced my carbon footprint.
And I've also reduced my productivity at doing anything else.

But after I hung the clothes to dry, I sniffed and almost gagged on the forceful floral fragrance that filled the flat. I thought it would dissipate, but I was wrong. It only got worse.
As my clothes hung there, within a few hours my apartment reeked of something almost as bad as my neighbor. It was the artificial smell from the laundry detergent. It was so bad that I had to set the rack on my roof and pray the wind didn't carry away my unmentionables and scatter them to the denizens of Paris.
So I went to the supermarket in search of unscented detergent, which I thought would be a breeze. In the United States, considered by many to be the land of additives, one would think they'd would be hard to find. But there's many choices and most of the major brands of detergent offer unscented varieties. Yet in France, there are none.
I opened the bottle of the stuff for babies, labeled 'hypoallergenic' and…good God!….I was almost knocked over by the acrid floral stench. My eyes started watering, my throat closed up in protest, and I could almost feel my privates breaking out in a burning rash if I washed my undies in that stuff.
(At least I hope that's what it is…)
But think of the children. Especially those poor French babies! No wonder everyone here sometimes seems so crabby. Imagine growing up with that horrible, viscous liquid searing you down below.
I swear, I opened every single bottle and took a whiff, even those labeled 'douce', and if that odor that came out of those is considered 'soft', well now I know how they tolerated that French toilet tissue from those painful days of yore.
I haven't quite figured out why there are hardly any unscented products and I have to import many of them from the states. On my last visit, I raided the aisles at Whole Foods for shaving gel since I have sensitive skin. If I use the commercial stuff here, a few scrapes of the razor and my face looks as though it's gonna start screaming "Hold the anchovies!"
As a cook, I wash my hands a lot. But I need to use unscented soap since I don't want the smell of faux flower-powered products to interfere with what I'm tasting and smelling. The natural food stores do offer stuff with 'natural' scents. And I've resigned myself to pay the stiff premium for laundry detergent from our fragrance-forward friends from the land of les frites.
Next month I'll be in Florida doing a television shot and I hope there's time to fill my suitcase with all-things unscented. If I get stopped at the border, it won't be because of sniffing dogs, that's for sure. Still, they're going to be quite surprised to find a suitcase filled with everything sans parfum: shaving cream, soap, deodorant, moisturizer—you name it. If it's not stinky, I'm hoarding it.
And for all those babies in France. I wish I could help them too. Really I do. But they're going to have to look out for themselves, I'm afraid, since I've got my limits as to what I can carry. I sense at some point there may be a change in the air and the French will start introducing unscented products.
But I wouldn't hold my breath.
Or I should say I can't, since I'm holding my nose at the same time.
And I don't think it would be a good idea to do both at once.