It's finally spring in Paris. And springtime is when a young man's fancy turns to…yup, you guessed it—chocolate.
As the temperature starts climbing higher and higher (although I'm still not putting away my gloves and scarves quite yet…), I realize that it's time for me to use up all those bits and pieces of chocolate that I have lying around all over the place, tempting me all winter, but which will soon turn into molten blobs if I don't act fast. There's chunks leftover from tastings, samples sent to me from companies, and pieces I've acquired from my travels here and there.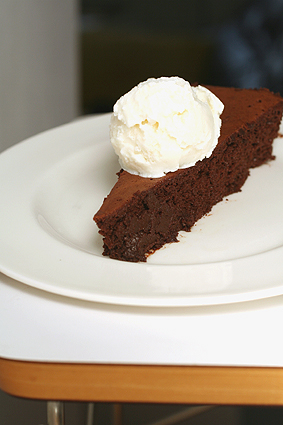 So I thought I'd create a recipe for Chocolate Espresso Mousse Cake to use 'em all up. This is one of my favorite types of ways to serve chocolate in a cake: strong, bittersweet, and creamy-smooth with a soft, luscious melt-in-your-mouth texture that's so tender it practically evaporates seconds after you take a bite, but the intense chocolate flavors lingers on and on and on. Bliss.