If anyone of you has been planning to go to Portugal, I'd say "Don't walk…run!" to get there. Except that's perhaps only possible if you live close by, in Spain. And in which case, you'd probably take the train.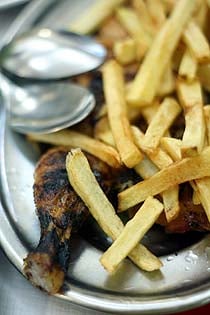 Here's some various and sundry impressions and images from my trip. Apologies to any Portuguese folks for mangling their language. And thanks to the readers who offered ideas for places to go and things to eat. I would agree that Lisbon is a terrific place to spend a few days, but if you go, it's worth either renting a car or taking the train to explore some of the beaches and small towns outside of the city.
And if you don't learn any other word in Portuguese, the most important word in the language is churrasquiera….or 'barbeque'.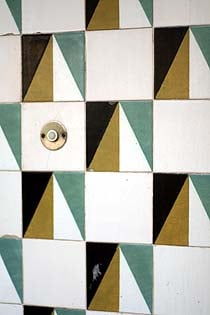 What I love most about Lisbon is that there's still plenty of relics from the decades of the recent past, namely bits and pieces of art nouveau and art deco everywhere. And the tilework, which you can find all around the city is marvelous, constantly surprising and very colorful.
Equally marvelous, and edible to boot, are natas; small custard-based tartlets meant to be consumed en masse. Believe me, if I could've fit all three into my mouth at once I would have. No one is shy in Lisbon: you simply belly-up to the counter and order a plateful.
Although they vary in quality from place to place in Lisbon, some of the best natas and other pastries are at Pastelaria Versailles.