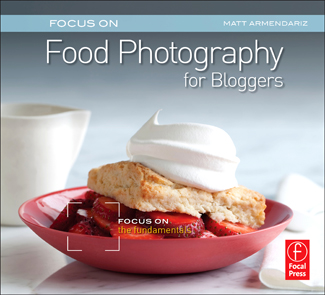 Matt Armendariz is one of my favorite people and my biggest regret it that we live about 6000 miles apart. We've had fun trips to Provence and Mexico together, and he even invented a cocktail after me. Although I have to clarify that I invented it, but he gave it wings – and a name. But no one can take credit for the beautiful photography on his site except him. I've been incredibly fortunate to spend a few vacations with him, and we've also pulled up at the same table more times that I can count (and I'm not complaining!)
Matt is a self-taught photographer who made a name for himself by shooting light-filled photos of food, amazing portraits, and working with national magazines, major retail stores, and cookbook authors. He's also been really helpful giving advice to a number of non-professionals (like me) about photography, and his advice is always spot-on and he's especially good at explaining things that even I can understand. So I'm thrilled that he's finally written it all up for everyone to benefit from in his book, Food Photography for Bloggers.
In addition to gorgeous photography (and a few not-so-gorgeous ones to help you see that you see how a subtle change can turn a mediocre photo into something sensational), there are tips about how to shoot food – and chefs – in restaurants, how you can get the best shot by moving the food you're shooting to find the right light (which isn't necessarily where we think it is, I learned from teh book), and a chapter on equipment subtitled "Using What Ya Got!" focusing on how to get better shots without buying any additional equipment. I loved reading and seeing in action how just by changing an angle or your perspective, you can dramatically improve the shot, and make the food look extra-enticing.
I wanted to ask Matt a few questions to share with you. So here we go…
Continue Reading Food Photography for Bloggers: Interview with Matt Armendariz…