I met Gale Gand a few years back at a culinary conference. I love meeting other bakers since we all share an unspoken bond, and we're generally the nicest people you're likely to meet (if I do say so myself). And I was happy to discover that Gale was no exception.
Gale's the author of four highly-regarded books on baking, Just A Bite, Butter Sugar Flour Eggs, Short & Sweet: Quick Desserts with Eight Ingredients or Less, and her latest, Chocolate & Vanilla, aside from all the other hats she wears.
Gale was also the host of one of the few baking programs on television, Sweet Dreams, and is the Executive Pastry Chef and co-owner of TRU restaurant in Chicago. Gale also (whew!)) won the James Beard Award for Outstanding Pastry Chef of the Year in 2001 and she owns a coffee shop…and a soda company!
We've kept in touch over the years, and I was really happy when my copy of Chocolate & Vanilla arrived so I could tackle some of Gale's recipes. (And for regular readers who've followed my problems with getting deliveries, you can imagine I was really, really happy just that it arrived at all!)
But it also gave me an excuse to take a moment to chat with Gale about her career in baking, and everything else that she's involved with…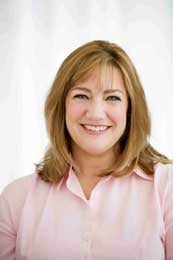 David: How did you get your own program, Sweet Dreams on Food Network?
Gale: They called ME!
I used to call them when I was going to be in New York to be on Sarah Moulton's show and they'd give me a show date. Then one time I called to get a date and they said they didn't have any for me. I was shocked (and pouting)! Then there was a pause on the phone and then they said, "Because we'd like to offer you your own show!"
So I got super lucky. No try outs.
D: It sounds like your appearances on Sara's show were your try outs. So you probably weren't a jangle of nerves.
Speaking of nerves, what's the hardest thing about doing a television program?
G: Leaving my husband and kids for 2 weeks to stay in New York while I film…and leaving my restaurant staff too.
D: Is there anyone on Food Network that you really liked cooking with, and anyone you didn't?