10 Things I Just Learned About Coffee
1. One espresso has 2 calories.
2. The word 'coffee' is pronounced almost the same in every language around the world.
3. After water, coffee is the second most widely-consumed beverage in the world. (Tea is a close third.)
4. When you drink coffee, your brain shrinks a little, which is why some advise drinking coffee if you have a headache.
5. When making an espresso, 65% of the caffeine is extracted from the beans, whereas the French-press method of making coffee extracts 98% of the caffeine.
6. There are two hundred flavors components present in raw (green) coffee beans, but roasted beans have over two thousand present.
7. The first steam-pressured espresso machine was invented by a Frenchman in 1901.
8. In Italy, 80% of the coffee consumed is espresso while the other 20% are milk-based coffee drinks like cappucino.
Outside of Italy, those numbers are reversed.
9. The espresso-pod of coffee was invented in 1973 by Illy coffee.
10. 52% of all coffee imported into Italy comes through Trieste, whose harbor is almost entirely dedicated to coffee importation.
Speaking of coffee, I just returned from a visit to Illy where I was their guest at their Università del Caffè where I learned the art of making espresso. I had hands-on lessons from their expert barista, Michele Pauletic and delved into the craft of extracting the perfect little cup of true Italian espresso. Excuse the little bit of hyperbole, but it was truly a life-changing experience. And although I merely scratched the surface of understanding this complex drink, I have a much better understanding of what coffee is and how to get the best cup possible.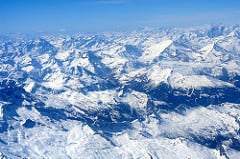 My view flying into Trieste, over the Dolomite Mountains
As soon as I come down from the buzz I got from all that coffee (one day I counted I had 9 cups of espresso), I'll be focusing more on what I saw and learned…and I invite you to come along in the next few installments here, from my trip to Trieste.