10 tips for a tasty weekend in Biarritz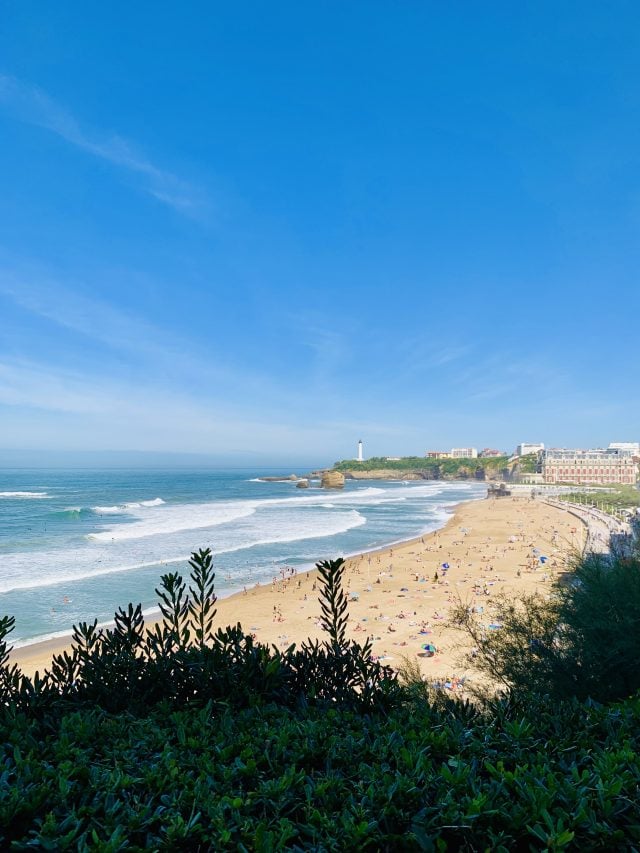 Hello – it's Emily. For those of you that haven't heard of me, I normally help David behind the scenes with some things on the blog. I recently visited Biarritz and David asked me to share with you some of the great things we did while there.
Biarritz had been on my travel bucket list for as long as I can remember. In my 20s, working the office grind in London and going for days without seeing any discernible sunshine in winter, I dreamt of buying a van and moving there to surf the endless waves and drink Ricard (pastis) around a beach bonfire. Instead I stayed in my safe job and displayed the surfboard my friend left behind our sofa in the living room (being Australian by birth, it is a shame that I cannot actually surf).
When I finally got around to visiting the ship had well and truly sailed on the camper-van fantasy, however it was still very easy to embrace the surf town vibe that Biarritz offers. Built on the Atlantic coast with a view to the Pyrénées, in the French Basque countryside, it is around 35 kilometres (22 miles) from the border with Spain. There's a vibrant food scene and the town is a mix of high-low with luxurious boutiques (there is a Hermès boutique just behind the seafront) and chic homeware stores next to surf rental outlets and oyster shacks.
At just over an hour's flight from Paris (or 4-5 hours by train) the airport is a short 8-minute drive from the center of town, which really allows you to make the most of your precious time there. My family is already planning our next trip, and will explore the region further, including San Sebastian, Hossegor, St. Jean de Luz, and the Frank Gehry museum in Bilbao. 
1. La Grande Plage (The Big Beach) and Biarritz Lighthouse
This beach stretches from the center of town, past the very grand Hôtel du Palais, and all the way to the Biarritz Lighthouse, set on the boundary between the sandy Landes coast and the rocky coast of the Basque Country (the 248 steps to the top are worth it for the view of the ocean and surrounding hinterland.) Watch enthusiastic surfers endlessly wipe out during the day before taking in the impressive sunset with a cocktail. There are a few food options along the boardwalk but we just sat on the green park benches enjoying our ice-cream cones.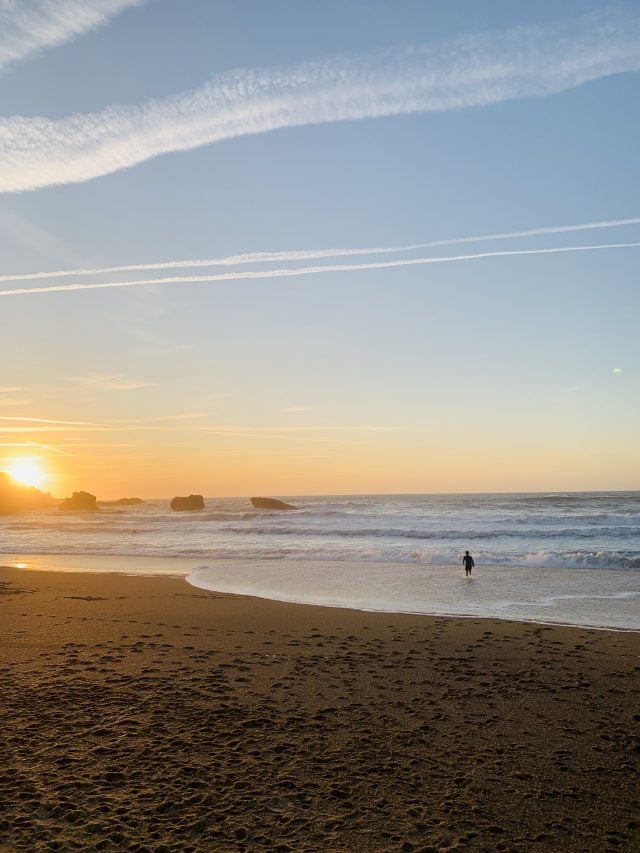 2. Ice cream with a view to remember
Miremont must have the best views of any ice-cream parlor in the world. From the entrance on the street you can see straight through to the plate glass window overlooking the sea, and Wes Anderson would feel right at home with the decor. Opened in 1872, it was appointed to the Royal House of Spain by King Alphonso XIII and Rostand once wrote that "at teatime, there are at Miremont fewer pastries than Queens and fewer rum babas than Grand Dukes." It has a splendid display of beautiful pastries but the ice-cream is the real drawing-card, with refreshing flavors that aren't commonly found, such as peche de vigne (red vine peaches) and nougat, filled with vivid green pistachios and flavored with honey. 
1 bis, place Clémenceau, 64200 Biarritz
3. Surf lessons
While it is best to leave La Grande Plage to the more experienced surfers, there are various surf schools that offer lessons on the Plage de la Côte des Basques. Both Biarritz Paradise Surf School and Biarritz surf Training were recommended to us by locals and offer classes open to all levels. The water is crowded but the foam boards are specially designed for learners and you should get up during your first lesson (if only for a few seconds!). Be sure to rent a wetsuit as the water is chilly.
4. Rocher de la Vierge (The Rock of the Virgin Mary)
The story behind this iconic statue is that once, during a terrible storm, a divine light guided sailors back to Biarritz port and in gratitude the survivors erected a statue of the Virgin Mary. Napoleon III cut a tunnel through the rock and had a bridge built to make it accessible from the seafront. The current bridge was designed by Gustave Eiffel in 1887 (the same year construction started on the Eiffel Tower) and in good weather it is possible to walk out and enjoy the wonderful view. The rocks erode by approximately 70 centimeters each year and a few minutes watching the wild waves will show you why.
Esplanade de la Vierge, 64200 Biarritz
5. Eden Rock Café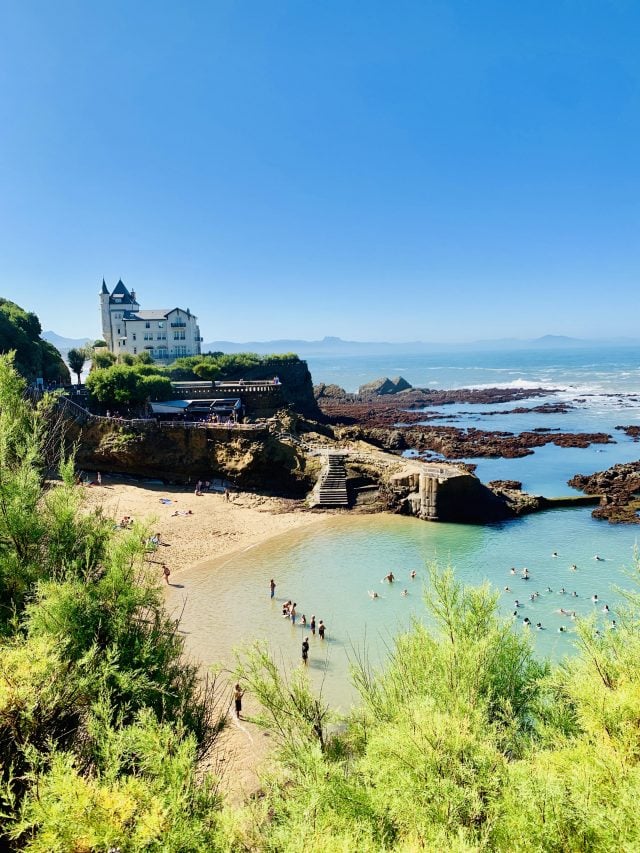 Built into the rocks overlooking Plage du Port Vieux (old port beach) is Eden Rock Café. It is a tiny hideaway where you can share plates of fresh seafood, cured local ham and chilled champagne while watching the sunset. It is also a dreamy place for a relaxed lunch, with lots of shade and stunning views. It's the sort of café that makes you consider selling your home and starting a new life by the sea.
2-4 Esplanade du Port Vieux, 64200 Biarritz
6. Le Petit-train de Biarritz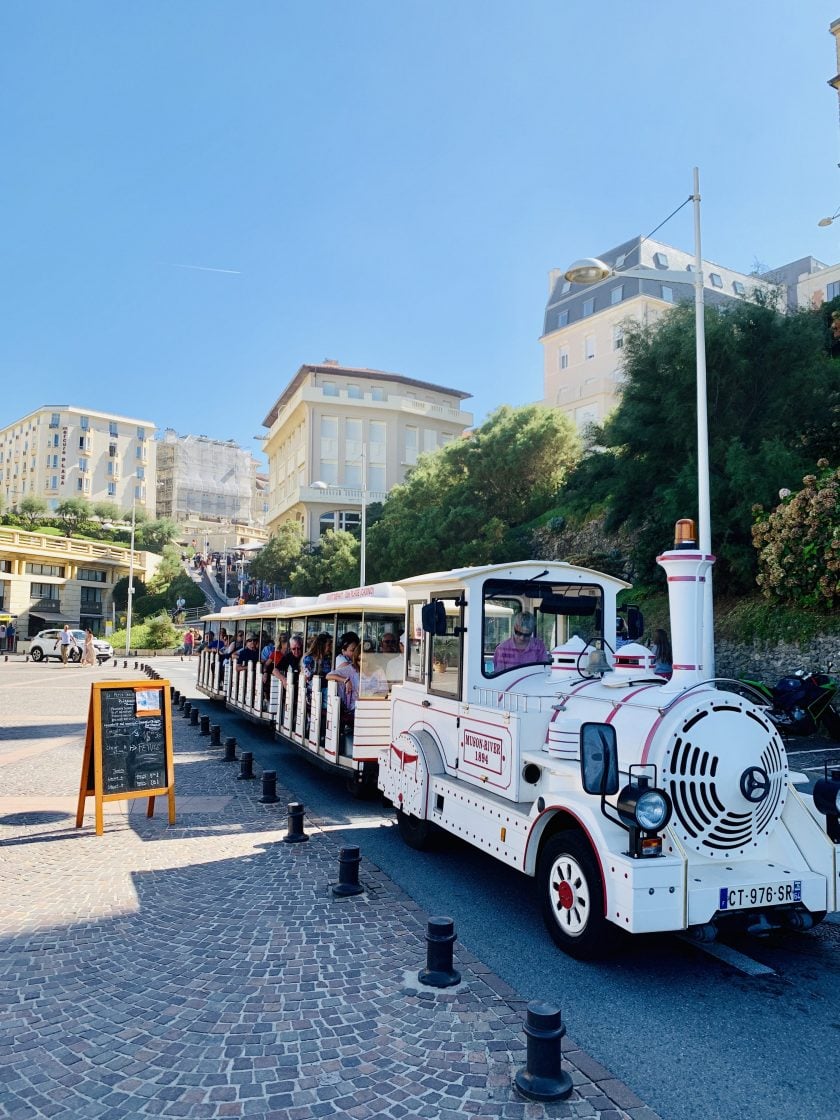 Much to my husband's embarrassment, I absolutely love the little tourist trains that can be found in seaside towns across France (there is also one in Paris called the Blue Little Train, not to be confused with the Train Bleu, and one in Montmartre).
In Biarritz, Le Petit-train (the little train) collects passengers from the beachfront by the casino, with a second stop in front of the Rocher de la Vierge, and follows a simple loop up over Plage de la Côte des Basques and then around town. The views are stunning and there is ample opportunity to embrace the spirit of the train and wave at strangers as you chugg by.
Boulevard du Général de Gaulle, 64200 Biarritz
7. Gâteau Basque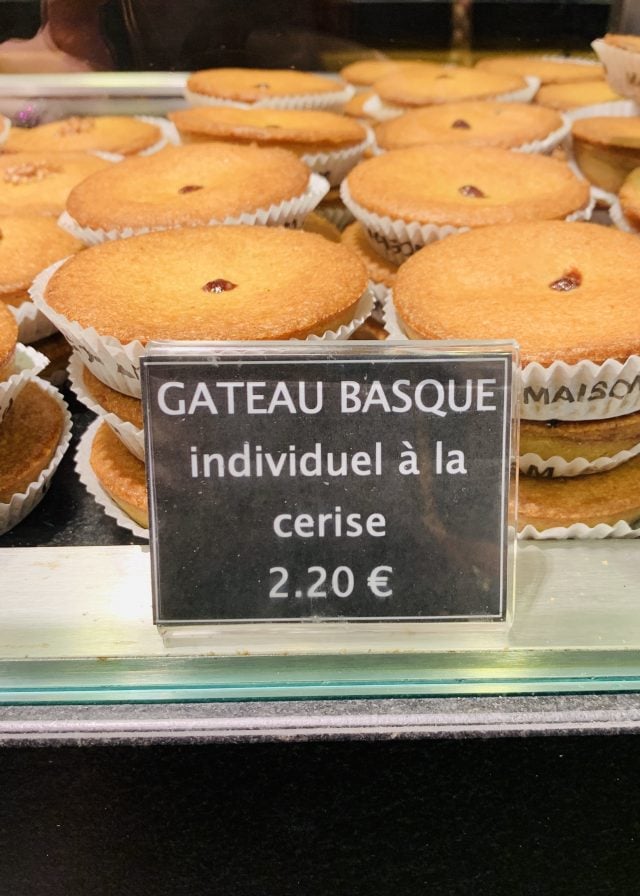 In a region which embraces bold flavours, this local cake stole the show. A ribbon of fresh cherry jam sandwiched between two layers of an almost shortbread pastry, it is dense and light at the same time and, like most regional recipes, everyone has their own rules and traditions when making it. We ate some, warmed by the sun, in the local market and picked up a beautifully box of them from Maison Adam to bring back to Paris. David's version can be found in Ready for Dessert (which I made the day after we got back, having eaten all the other ones immediately).
8. Les Halles de Biarritz
We visited the Biarritz market on Sunday morning and, despite being able to buy almost all of the same produce at our local market in Paris (and travelling with hand luggage only), everything was so enticing that I couldn't help making a few purchases. Locals were picking up take-away plates of oysters and shellfish from a stall called L'Ecaillerie, enjoying them on the steps outside, soaking up the late summer sun with a glass of white wine. Stall holders were friendly and offered up a range of bite size Basque cheeses and locally cured ham to taste as we wandered by. Open everyday from 7.30am until 2pm.
11 rue des Halles, 64200 Biarritz
9. Tapas
The streets surrounding the market are filled with lively tapas bars and restaurants. Dine at Bar Jean, where you can choose anything from light tapas to a whole roast lamb, depending on how hungry you are. The rosé was fresh and crisp, and we spent the lunch people watching.  I was especially enamoured by a table of glamorous older ladies trading tidbits of gossip.
5 rue des Halles, 64200 Biarritz
10. Basque ham tasting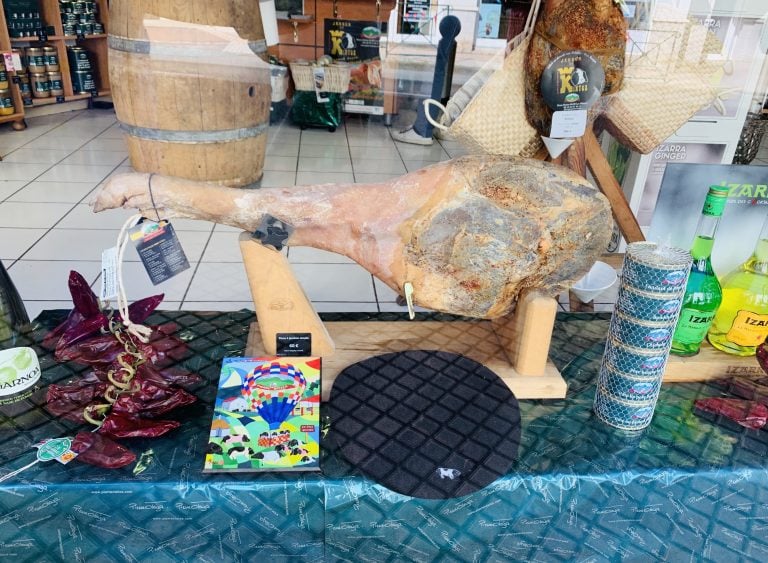 We were gently drawn into the Pierre Otezia store by the window display with the goal to buy some gifts for the grandparents (who were at home, taking care of our children and dog while we enjoyed our first grown up weekend since we became a family of four in January). Before we left with a lovely bag brimming with fromage de brebis (sheeps cheese), local black cherry marmalade to eat with it and dried sausage from the Aldudes Valley, we were presented with an assortment of ham and cheese to taste, with each different option explained by the knowledgeable shop assistant. A great way to taste some of the local culinary delights.
22 Avenue Foch, 64200 Biarritz
The Biarritz tourism website can be found here. I would love to hear your tips and experiences, if you've visited Biarritz (or ever wanted to), in the comments below.