Askinosie White Chocolate, Kallari Dark Chocolate & Hazelnut Whatever-You-Want-To-Call-It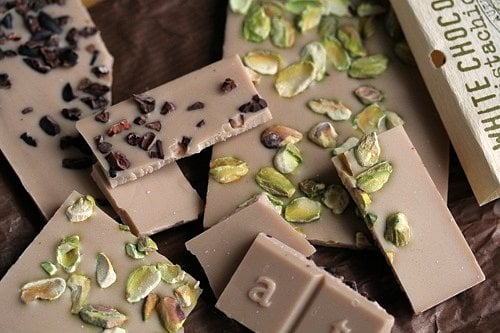 Askinosie White Chocolate
There's nothing odder to me than people who say, "I don't like white chocolate…because it's not chocolate!" Which is like saying, "I don't like white wine…because it's not Champagne!"
In each case, both are similar, but entirely different creatures and to compare them is kinda silly. I used the scoff at the losers who liked milk chocolate, until I started appreciating it for what it really was (not dark chocolate), and I joined the ranks and became a loser myself. (Although depending on who you talk you, it started sometime before that.)
Because I was recently scheduled to speak about white chocolate with the Evan Kleiman (who is anything but a loser) on her radio program Good Food, I asked Shawn Askinosie if he'd send me a few bars, via a friend who was en route to Paris, of his new bean-to-bar white chocolate, so I could sample them.
You could've knocked me over with a cocoa leaf when I slipped the bars out of their packages, as I wasn't prepared for them to be so gently coffee-colored; one studded with salted pistachios the other with nibs.
[UPDATE: Since this was written, Askinosie chocolate may have changed their chocolate line. Visit their website for the most updated information.]
Each bar takes three days of mixing under close supervision and the white chocolate gets its distinct color, and dynamic flavor, because the cocoa butter isn't deodorized. A dash of goat milk is added instead of regular moo juice, which gives the bars a pleasant tanginess, too. I loved 'em, and if you think you don't like white, after one bite, who knows? You just might.
Kallari Dark Chocolate
One of the most shocking things that most people don't think about, is that the people who grow and cultivate cocoa beans have never tasted an actual bar of chocolate. Like many commodities, cacao is sold on the global market then shipped to more industrialized countries than where it is grown and fabricated into chocolate bars. And when the equator is, like, a half-block away, you can imagine it's a little tough to keep solid bars of chocolate around for any length of time.
One frequent criticism of these types of products is the expense. Some people wonder why they should pay $5 for a bar of chocolate when another bar is only 69¢. And that's certainly a fair question. When the people of the Kallari cooperative were selling their beans to other companies, they were barely getting 20 cents/pound for their beans. Now they're getting upwards of nearly $2/pound. So there's the answer.
They make three bars of chocolate of various percentages. The 85% is a bit dry to my taste, but the 70% had a nutty, rye-like flavor and the 75% was smoother, with the taste of fennel, vanilla, and earth. Curious bars with a great back-story.
Hazelnut I-Don't-Know-What-You-Want-to-Call-It But-It-Sure-Made-Everyone-Go-Wild
On last week's Paris Chocolate Tour, we visited just about every chocolate shop in the city, watching them melt, dip, and wrap what many would consider the best chocolates in the world. However I think the hit of the week was what Monsieur Rochoux kept misnaming "Nutella", as it contained not one speck of chocolate. But no one said anything as we waited in anticipation while he slid the turgid jar into his waiting fist.
Soon afterward he twisted open the little pot of amber paste, slid his tool in, then jammed it into the mouth of each guest. And within seconds, everyone in the small shop stopped talking and began moaning with pleasure. Seeing as there were three times as many women than men in there, if it was anyone one else, that would likely have been many men's ultimate fantasy. And perhaps a few women's, too.
(Me? I was happy a gentleman and stepped aside, letting the ladies have their way with the jar…)
But—Oh. Mon. Dieu. The raptures and the heaving body parts and the loud sighs of pleasure rang against the mirrored walls of his shop as everyone who had any tension or stress in their body were rendered hopeless against the silky paste made only of Italian hazelnuts rolled in dark, slightly burnt caramel, then ground so glossy-smooth that one hesitates to penetrate the chaste surface. But violate it we did.
I'm not sure how many jars people bought since I wanted to be discreet, but I have my own (and I'm not going to share.) So if you'll excuse me, I have some tasting to do, which I prefer to do alone.
And I'd like a little privacy.
Related Links:
White Chocolate & Fresh Ginger Ice Cream (Recipe)
Kallari: When Chocolate is a Way of Life (New York Times)
Askinosie White Chocolate (Candy Blog)
White Chocolate Sorbet (Recipe)
Jean-Charles Rochoux (Website)
White Chocolate Rice Krispie Treats with Candied Peanuts (Recipe)