Moisan: Ficelle Apéritif
A ficelle is a small baguette, whose name actually means 'string'. But in French bakery lingo it means a thin little crusty baguette. A ficelle makes a perfect petit snack, especially one like this that's crusted with lots of poppy and sesame seeds.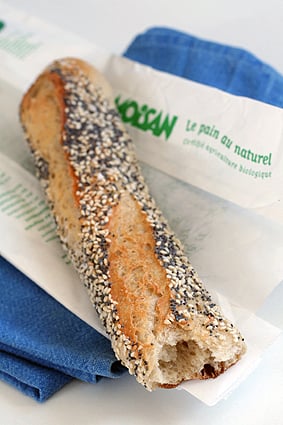 One of my all-time, tip-top favorite breads in Paris is the ficelle apéritif baked at Moisan bakery. Although primarily known for their large rustic pains biologiques, breads made with organic flour, these slender little loaves boast a prime ratio of crust-to-crumb, with a golden, crackly crust enclosing an earthy, slightly-tangy mie within.
But what makes this little devil so appealing to me is the heavy-hand the baker lavishes it with sea salt.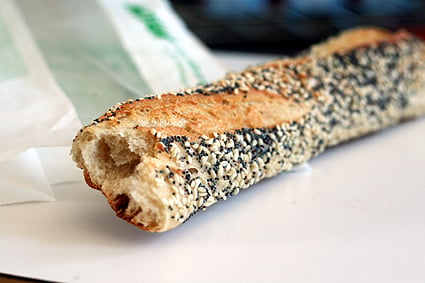 Each little bit I rip off has a generous amount of seeds. Not just a measly few, but just the right amount of coarse sea salt—enough to taste each grain but not enough to be overwhelming or salty.
(Which is a good thing, since salt can lead to thirst and thirst leads to water and…well…we all remember where that leads in Paris.)

Moisan also makes lots of pastries and other treats, which I usually bypass for my mid-morning snack when I'm shopping in the nearby Marche d'Aligre, since the little ficelle apéritif makes the ideal treat for me. And it's just the right size for one.
(If you're with me, apologies in advance, but I ain't sharing. I'm a creature of habit and have my system down pat.)
I tear pieces off while doing my food shopping, and if there's any left when I get home I finish the rest off with lunch. It makes the perfect accompaniment to a smear of lusty, olive-rich tapenade or a dewy-white crumble of fresh chèvre. Or both.
If I manage to save any for breakfast the next day (or I was clever enough to buy two), I toast it and slather it with a knife-load of life-changing Jean-Yves Bordier buerre demi-sel and a drizzle of spicy chestnut honey.
C'est extraordinaire!
Moisan: Le Pain au Naturel
5, place d'Aligre
Tél: 01 43 45 46 60
Other locations:
2, rue de Bazelles (5th)
7, rue Bourdaloue (9th)
6, boulevard de Denain (10th)
4, avenue de Général Leclerc (14th)
59, rue Foundry (15th)
74, rue de Lévis (17th)