Le Rubis
After all this time you'd think that I would have figured out how to go back to older postings here on the site, update them, then bring them up to the front. Because if things change on a subsequent visit, or if I hear something major has changed, I like to make sure we're all in the same loop. But not being so tech-savvy, I decided just to start with a clean plate after a recent visit to Les Rubis, even though not much has changed since my last visit. In fact, I don't think anything has changed since my first one, which was probably decades ago.
One thing I am better at, though, is keeping up with Pam Williams, who I met almost about ten years back when she was launching Ecole Chocolat, her online chocolate school. She lives in Canada, but comes to Paris annually with her students, and it has become our tradition to have lunch together. No matter what is happening, or how crazy my life is, Pam and her husband's visits have become one of the few calming presences in my life. (It might help that last time they gave me a spa gift certificate, since I was in the middle of a rather torturous remodel.) But I really mostly enjoy their annual visit because they're such nice people (trés canadienne) and are funny, we can openly talk about anything, and they're just all-around good dining companions. Oh yeah, and she also brings chocolate along.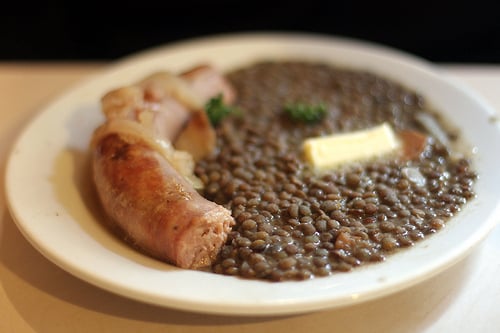 Because I'm not Canadian, it's I who usually has to decide where we're going to dine. (As the Canadian friend once told me, "I'm Canadian. I don't have an opinion.") And since I hadn't written about – or revisited, Le Rubis in ages – Pam liked my suggestion and definitively decided that we go there.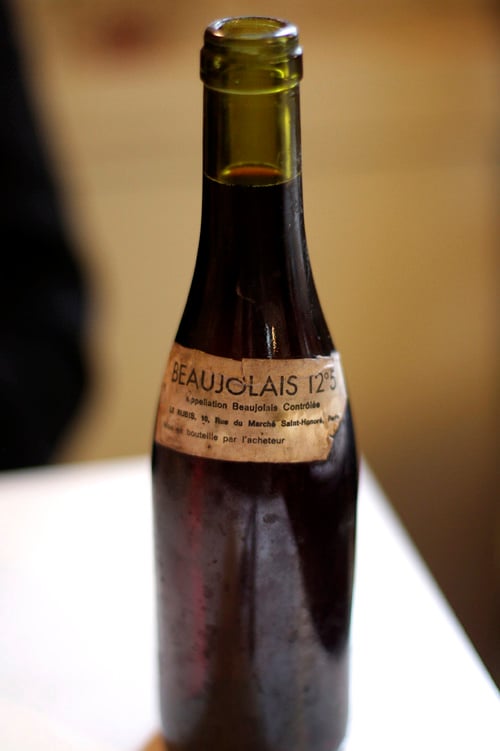 Le Rubis not the place to come if you are looking to shed a few kilos. Of the five main courses on our recent visit, three featured sausages. (The fourth was also sausage, but was wiped off the menu with a finger as it was sold-out.) The "vegetable-oriented" course was cabbage, stuffed with ground meat. But no problem – if you were avoiding sausage, there was a plate of tripe on offer. However I was feeling stuffed from too-many meals lately, so I ordered les œufs mayonnaise to start, a duo of hard-cooked eggs which arrived with quite a bit more mayo than anticipated, and herring salad with potatoes.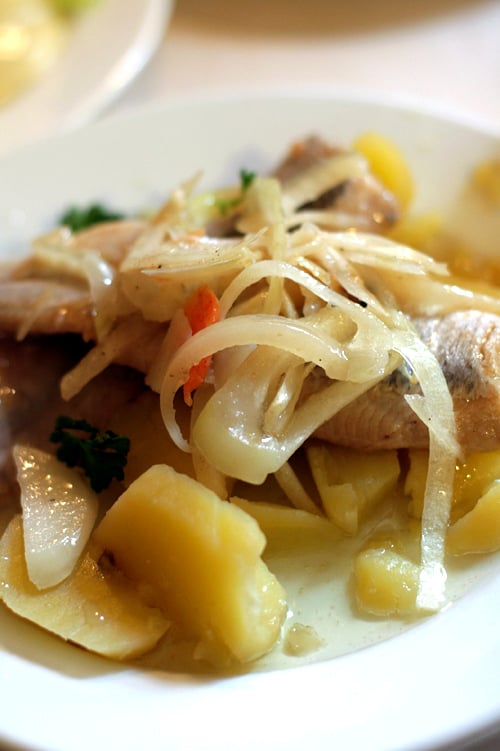 I was recently having a discussion with someone stateside about whether two hard-cooked eggs was too much, the quantity in which the French will often serve this bistro classic. And even though Americans are known for our copious serving sizes, my first course could challenge even the heartiest American, or French (or Canadian) appetites.
But no matter how much you like meat, or not, I can't imagine anyone feeling not welcome here. Les Rubis is one of the few places in Paris that I can think of that still exudes that old French charm; it's got a very convivial atmosphere, the café chairs and table are worn but shiny from years of use, and no-nonsense service that's cheerful, yet professional. They're not going to fawn all over you, and when you walk in, if the downstairs is full, they'll open up a rickety wooden door and ask you to climb the winding stairs and eat à l'étage, in the cozy dining room that's a good place to strike up a conversation with a neighboring table. And the upstairs bathroom is so small that you can't put the seat up (Sorry ladies!)
The wine list is heavy on reds, but there are plenty of whites and a few rosés to sip with a charcuterie plate late in the afternoon, if you come after the lunch crowd. In spite of the prices shown on the "Wines of the Month" list at the top of the post, there is an extensive list of wines by the glass and by the pot. And when we had a hard time deciding whether to have wine, and how much (that part of Canadianism has worn off on me, I guess – the being nice part, though, i'm still adapting to), the waitress decisively made the decision for us and plunked down a 37.5cl carafe of the house Brouilly, which was chilled and just the right wine for our afternoon lunch. Most wines are available in small or larger glasses, and hover at about €3 or so for a nice glass.
Le Rubis only serves hot meals at lunchtime and it's always filled with regulars from the neighborhood, as there are few options next to the decidedly swanky rue Saint-Honoré, the famed shopping street adjacent to the wine bar. But if you come in the early evening or late afternoon, you can have a nice plate of charcuterie and a glass or two of whatever wines that they happen to be pouring. And it makes a great stop before dinner elsewhere.
Many patrons finish their meal with coffee and a smoke outside. We shared a Tarte aux fraises, which probably would have more satisfying if it had been just a nice, juicy bowl of strawberries and perhaps a dollop of crème fraîche, as we left most of the crust behind. But in such a small, friendly place, the atmosphere is what counts the most. And there's no way you're going to leave hungry – whether you have dessert, or not.
Le Rubis
10, rue Marché Saint-Honoré (1st)
Tél: 01 42 61 03 34
Métro: Pyramides or Tuileries
(No reservations)


Paris Wine Bars