When I moved to France, one of the first things a friend said to me was "David, you need to get a good tire-bouchon." Seeing as an unusually large about of wine bottles were being opened on a regular basis all around me (and seeing the recycling bin on my street was constantly overflowing), it seemed he was right: one does need a decent tire-bouchon (cork-puller) if one is going to live in France.
The problem is that there are a whole bunch to choose from, from super-fancy ones that cost hundreds of euros, to those you simply twist-and-yank, which means that you have to ungracefully put the bottle of wine between your knees and pull with all your might. And for men, a particularly stubborn cork can mean a sudden and swift heel-of-the-hand blow to les bijoux de famille.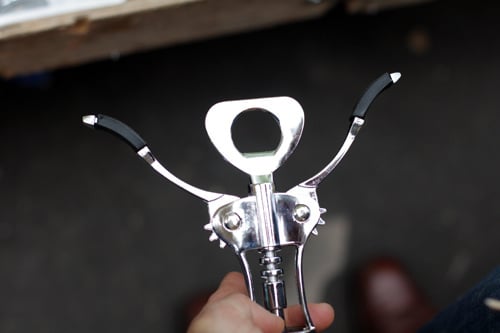 Some people like those Rabbit or screwpull-style wine openers, which I hear work pretty well, but it looks a bit inelegant to me to see a giant vise-like device fastened onto a wine bottle just to pull out an itty-bitty cord. And besides that, who the heck in a small Paris apartment has room for a wine opener the size of a hand drill?
On a previous trip to Bed, Bath & Beyond in the states, my stack of 20% off coupons was burning a hole in my pocket, so I picked up a wing-type wine opener made by a company known for it's user-friendly kitchen gadgets that always work well. In France, that kind of opener is also called a "Charles de Gaulle" because when you pull the screw part down, the two wing-like levels flying upwards to make a "V", similar to the iconic gesture that the former French president was known for.
Romain hated that contraption I bought (hmm, he didn't like something I bought, imagine that…), though, and the day the plastic shattered trying to open an unusually têtu cork, he was happy to toss it in the garbage for me. I miss it mostly because it was kind of my rosary beads when I had guests, and I would play with it, moving the levers up and down because I'm always a nervous wreck when I have company over for dinner. Which is funny because in the old days, I cooked dinner for 600 people a night. No problem.
I love my Laguiole knife, which some visiting friends bought me years ago, which some security agent at the Barcelona airport tried to take away from me (when the guard unfolded the blade and held it up a few centimeters away from my face, I got his point). But I read an article a while back that said that purists think you're a rube if you have a Laguiole with a wine opener because you've tainted the original, or something like that. Tainted or not, it's come in handy for opening bottles on the road. But still, it involved a buckling of the knees and a good, yet inelegant – and potentially painful – yank to get that cork out.
Taking my friend's advice, a few months into my stay in France, I steeled myself and braved the BHV department store and shelled out something €25 for a wine opener (the one with the dark wood handle), which is nicknamed le poisson because when unfolded, they say it resembles a fish. (Please don't ask me what kind.) Although it wasn't hugely expensive, after a few uses, the hinges started getting loose.
And worst of all, I don't know if they started making the lips on wine bars thinner or something, but I broke a few bottle rims trying to get them open since the metal thing that gives the corkscrew leverage wasn't long enough and would often slip when I tried to extract the cork and chip the rim. And I got wary of my French friends thinking that Americans had a weird habit of filtering wine through a coffee filter after opening it.
I know there are quite a few corkscrews out there and I seem to have tried them all. And the one that I've settled on, that seems to be the best (the black one), is from Nicolas, a chain of wine shops across France. And it cost just €4,90. Each store varies and they sell a lot of middle-of-the-road regular drinking wine, with a decent house rosé (Maures) that's pas terrible for summer guzzling if you ice it down. So thinking about it, they would have a good all-purpose wine opener. (And that rosé they carry comes with a screw top so it does come in handy when everyone at a picnic realizes that no one remembered to bring a wine opener.)
So far, it seems to be doing fine. I guess I could drop a lot more on a wine opener, or try a few other kinds. But I've been there and done that, and I think we're going to get along just fine. May our relationship be long—and fruitful.