Oatmeal and Pecan Brittle Cookies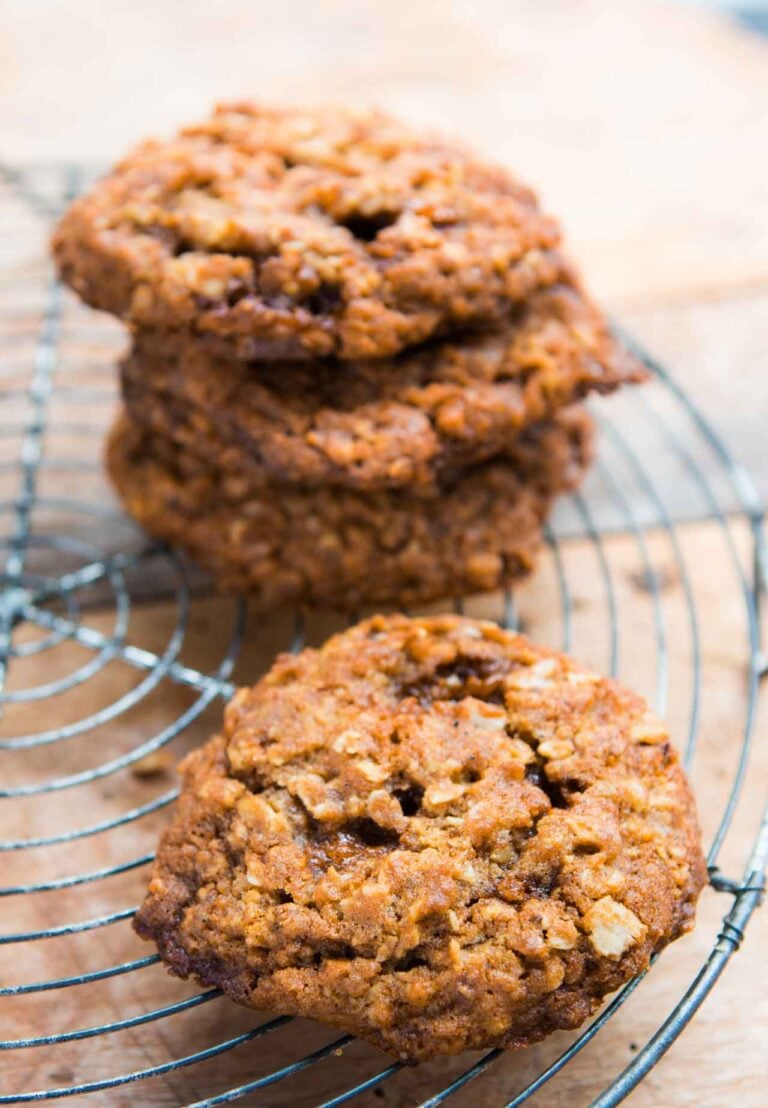 This year was a good year for baking books. I didn't get to see them all, or bake from them, but one that I got a preview of before it was released was Dessert Person by Claire Saffitz. She may be familiar to you because of her tenure in the test kitchen at Bon Appétit and more recently, her very popular online videos, but reading through the book, I learned that she just happened to have gone to Harvard, was a graduate student in French food history in Montreal, studied pastry at Ecole Ferrandi in Paris, and worked at the now-closed Spring restaurant, which jolted me back that era in Paris when a younger generation of chefs was opening restaurants and changing the game in France (sometimes, controversially), focusing on fresh ingredients and putting their own mark on French cuisine.
That's how I feel about her book. Claire pretty much changes the pastry game. Preserved lemons are added to a glorious-looking Lemon Meringue Cake, chocolate and hazelnuts enrich a Galette des Rois, and coffee finds its way into a Coffee-flavored Coffee Cake. (How come no one's thought of that before?) But these Oatmeal and Pecan Praline Brittle Cookies sounded so good to me that I decided to start off with them.
I should also note that I was surprised to get a shout-out in her book. I never dreamed any of those whippersnappers with their newfangled video programs even paid any attention to me. But Claire kindly gave me props (and James Beard) for inspiring her Spiced Persimmon Cake. So don't count me out yet!
Dessert Person contains mostly dessert recipes, of course, and like Claire, I am someone who is always up for dessert. I, too, am disheartened when people say "I can't bake" because it's really just measuring things out and following the recipe. One cup (100g) of oats is one cup (100g) of oats. To make things even easier, Claire talks you through all the recipes, giving lots of guidance and tips as you go, more than one might think is necessary. But when I made these cookies, I had some questions which…I found out, were answered in the very next sentence.
Not all the recipes in the book are easy, though. But she's extremely diligent in letting you know both the active time and total time it'll take you to put together each dessert. (I never know how people figure those out, but I'm glad someone else knows how to do it.) She also assigns a rating to each recipe, from 1-5, or Very Easy to Very Challenging. But flipping through the book, a majority of the recipes fall between "very easy" and "moderate." Even better, while some may call for an ingredient, like preserved lemons or turmeric, most of the recipes include things either you likely already have on hand, as I did for this recipe, or things you can find in any well-stocked supermarket. Thank you Claire!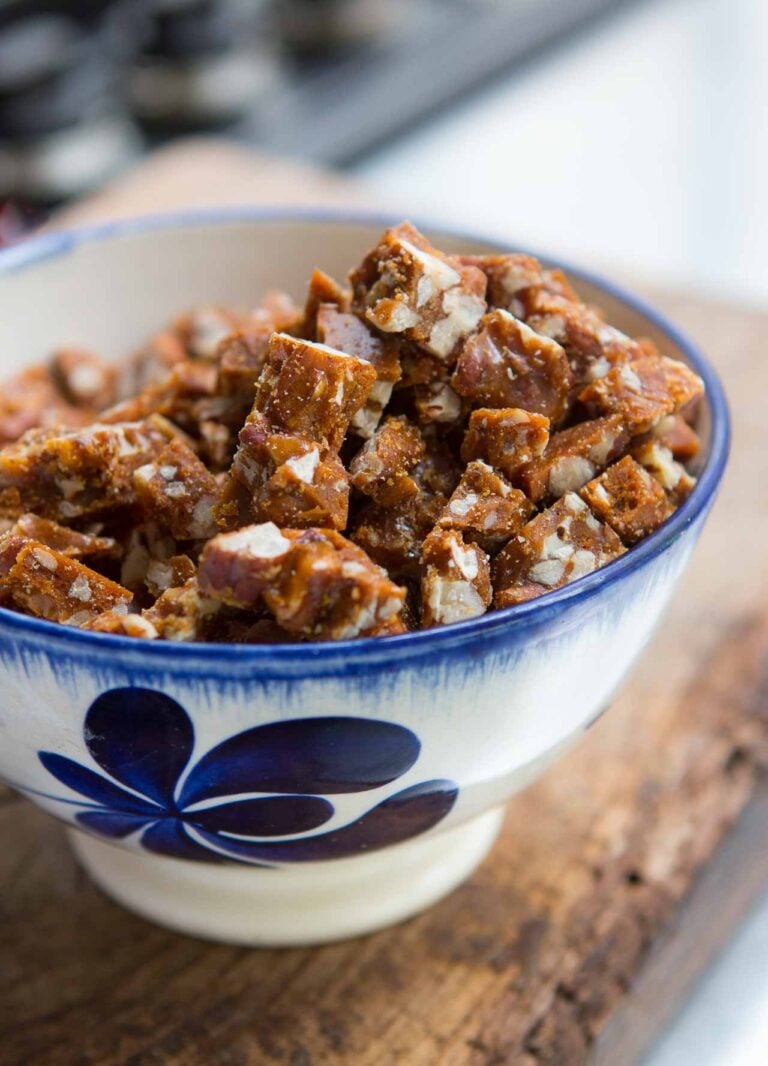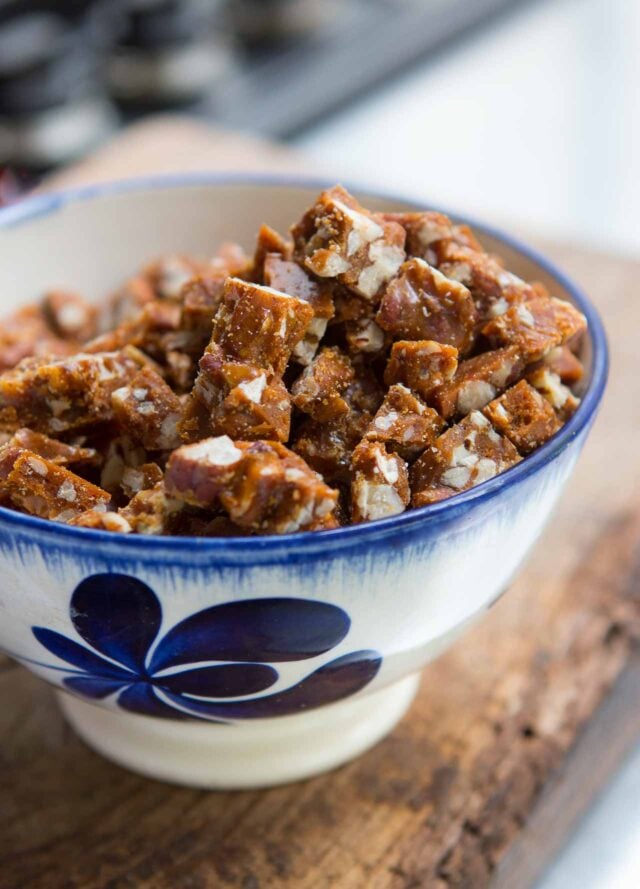 People ask me how I can tell if a cookbook is good even before I've made anything from it. From a baking standpoint, if an author is specific about certain details and tells you what to look out for, and sometimes what they've tried that didn't work, you can be assured the recipe was well-tested. And not to sound like a broken record, but when I test recipes I try them with various amounts of flour, baking powder, sugar, eggs, butter, cream, etc., before I land on the one that I consider the best version. When others say to people who want less butter or whatever in a dessert with "Just eat less!" I agree that's usually a better strategy than cutting back on things the recipe developer slaved over to reach their published conclusions, i.e.; the book.
(Sorry to take a moment here for just a little public service announcement: I made the pecan praline that you see above a few days in advance and it was impossible not to sneak a bit every now and then. Okay…it was more often than "now and then" so if you're okay with a little math, you may want to make a little more. Just so you know, you'll need about 2 cups/300g to make the recipe. You could probably sneak a few pieces for yourself which won't affect the recipe, but I was dangerously close to going over that allotment.)
These cookies require a few steps but as the headnote says, "…the point of jumping through all these baking hoops is that you'll be happy you put in the effort" when they're done. I knew I was on the right path after I made the brittle, which was easy, but yes – it was a step. The brittle requires you to heat up sugar and butter – but no thermometer is needed – then add the nuts and spread it out until the mixture is cool. Half the brittle is ground up with oats and flour and the other half is added to the cookie dough so there are melting pockets of praline running through the cookies.
There's also browning of butter and doing everyone's least favorite kitchen project: hauling out the food processor. I don't know why but I guess it's because it's something that's not used very often for most of us, so we store it away until we need it. Then, when you do need it, it's that big, bulky thing with the feed tube sticking out of the top and that overly long cord that seems to wrap its way around whatever is near it, that gets dragged out of the cabinet and you mentally calculate if the cord is long enough so you can safely haul out the food processor without yanking out the blender or sack of flour the cord is hooked around, or if you need to stop and free up the cord.
But yes, you'll need a food processor to make these cookies.
When I was portioning the dough, I thought, "Wow, these cookies are huge!" Then I remembered, "…oh, those wacky Americans" and realized they were American-sized cookies. After I made them, I saw Claire posted a video of making these cookies and she goofed and made them the wrong size, and started cutting the portioned cookie balls into thirds, etc. to get them to the size indicated in the book. I tested them using half the amount of dough recommended per cookie, making notes on the various cooking times (a few photos above) as I went, and they came out just fine.
Like Norma Desmond in Sunset Boulevard who was told, "You used to be big" when they counted her out, and replied "I am big. It's the pictures that got small."
In my case, even though my cookies may have indeed gotten smaller than Claire's, my conclusion is that both are wonderful. And I wouldn't count either of them out.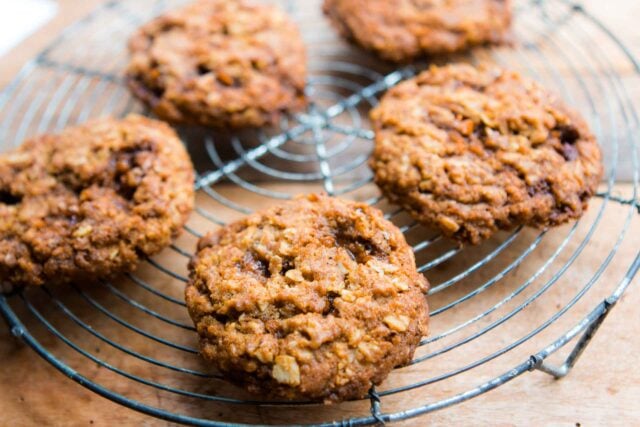 Oatmeal and Pecan Brittle Cookies
Adapted from Dessert Person: Recipes and Guidance for Baking with Confidence by Claire Saffitz
This recipe requires a few more steps than other cookies, but the pecan brittle can be made in advance and stored in an air-tight container at room temperature for up to a week, or in the freezer for a few months. For making the dough, you'll brown butter and mix it up, then chill it before baking. So you'll want to read through the recipe first to check out the timeline.
In addition, Claire's original recipe requires a few pans, a stand mixer, and a food processor. If you don't have a stand mixer, the dough can easily be made by hand, in a large bowl with a spatula. I haven't tried it but you may be able to use a blender to pulverize the oats and praline; it might be necessary to stop the blender a few times and stir things up to make sure it all gets crushed properly. If it's not absolutely smooth, I wouldn't worry too much about it. But if you use a blender, let me know in the comments how it works out
I baked the cookies in the full size that Claire recommends, and also in a smaller size, using 2 tablespoons of dough per cookie, which I baked for about 10 minutes.
Lastly, note that the cookie dough rests for 12 hours before baking. The world will not come to an end if you bake them sooner, but chilling them for a least a few hours is recommended for chewier cookies.
For the pecan brittle
1 1/2

cups (140g)

whole pecans

,

coarsely chopped

3/4

cup (150g)

granulated sugar

4

tablespoons (55g)

unsalted butter

2

tablespoons

water

1/2

teaspoon

baking soda

1/2

teaspoon

flaky sea salt or Diamond Crystal kosher salt
For the cookie dough
8

ounces (230g)

unsalted butter

,

divided (half should be cold) and cubed

1 1/3

cups (175g)

flour

2

teaspoons

flaky sea salt or Diamond Crystal kosher salt

1

teaspoon

baking soda

2

cups (200g)

old-fashioned rolled oats

,

(not instant or quick-cooking)

3/4

cup (150g)

(packed) dark brown sugar

1/2

cup (100g)

granulated sugar

2

large

eggs

,

(cold, not room temperature)

1 to 2

teaspoons

vanilla extract
To make the pecan brittle
Preheat the oven to 350ºF (180ºC) and line a small baking sheet with parchment paper, a silicone baking mat, or lightly greased foil. Spread the chopped pecans on another baking sheet and toast in the oven, stirring midway during baking until they're light golden brown and smell toasty, 8 to 10 minutes. Remove from the oven and set aside to cool.

In a small or medium saucepan, combine the granulated sugar, 4 tablespoons of butter, and water. Have the 1/2 teaspoon (each) of baking soda and salt measured out and close by. Bring to a boil over medium heat, stirring occasionally with a heatproof spatula, until the sugar is dissolved. Continue to cook, without stirring, but swirling the pan to keep the mixture cooking evenly until it turns a deep amber color, similar in color to a cup of coffee with a touch of milk added, which will take 8 to 10 minutes.

Remove from heat and immediately stir in the pecan pieces until well coated, then quickly stir in the baking soda and salt. Still working quickly, scrape the mixture on the prepared baking sheet and spread it as evenly as possible. Set aside to cool completely. Once cool, chop the brittle into pieces the size of large peas with a chef's knife. (If you plan to finish making the cookie dough later, store the brittle bits in an airtight container, preferably somewhere where you won't be tempted to snitch them!) You want to use all the brittle, including all the little tiny bits left on the cutting board too.
To make the cookie dough
Place half (4 ounces/115g) of the (cold) cubed butter in a bowl of a stand mixer and put the other half in a medium skillet or saucepan. Melt the butter over medium heat, stirring and scraping the bottom and sides of the pan frequently with a heatproof spatula. The butter will start to sputter and foam, and then begin to brown. Keep cooking the butter just until you see browned bits floating it in. Remove from the heat and pour it over the cubed butter in the mixing bowl, scraping any and all brown bits in the pan into the butter. Let cool for about 30 minutes, until the two butters start to become solid again.

While the butter is cooling, put the flour, salt, and baking soda in a food processor. Pulse it once or twice then add 1 cup (100g) of the oats and half (~1 cup/150g) of the chopped pecan brittle. Pulse until the ingredients are finely ground together.

Attached the paddle to the stand mixer and add the brown and granulated sugar to the bowl and mix for two minutes at medium speed but don't overwhip the mixture (which can cause the cookies to spread too much) until thoroughly combined and smooth.

Scrape down the sides of the bowl with a spatula then add the eggs and vanilla and mix 1 minute more, then stir in the flour/oat/brittle mixture and continue to mix until there are no dry spots. You may want to stop the mixer and do this final step by hand so the ingredients get combined properly. Add the remaining pecan brittle bits and oats and stir until they are well-combined with the dough.

Scoop the dough into 1/4 cup (2oz) rounds on a parchment covered small baking sheet. (You can also make them half that size. See headnote.) Cover the dough tightly and refrigerate for 12 hours, or up to 4 or 5 days.

To bake the cookies, preheat the oven to 350ºF (180ºC). Place the oven racks on the bottom and top third of the oven and line two baking sheets with parchment paper. Place 6 rounds of dough evenly spaced apart (by at least 3-inches/7cm) on the baking sheets and bake the cookies, rotating the baking sheets midway during baking, turning them from front to back, and switching the baking sheets from the top to bottom racks in the oven, until they are light golden brown across the top and deep golden brown around the edges, about 16 minutes. (In Claire's book, she says 16 to 20 minutes, so best to judge them by their color rather than rely on precise minutes.)

Let the cookies cool for 5 minutes, then transfer them to a wire cooling rack. Bake the rest of the cookies on the baking sheet, and it's okay if it's still slightly warm. Just be aware the cookies baked on a warm-ish baking sheet may take a little less time to bake.