Robert Steinberg
The first time I ever really tasted chocolate, it was from a man I'd met in a dark alley. Actually, it wasn't really a dark alley, but in a barren parking lot in a scruffy section of San Francisco.
I had taken a tour of an industrial bakery with a group of local baking enthusiasts, and afterward, a strange man sided up to me, pulled a wad of crumpled up foil out of his jacket pocket, and asked me if I wanted a taste.
Recoiling a bit, when he opened the crinkly foil, in the middle was a small nugget of something dark, sticky, and melted. When I stuck my finger in, then put it in my mouth, there was an explosion of flavor: dark and roasty, only slightly sweet, and very rich. It was pure chocolate, but unlike any other that I'd tasted before. I thought it was delicious.
He told me that he was going to start a chocolate company and make chocolate like this in small batches. I thought he was insane.

I didn't say anything, although in hindsight, I was the crazy one and should've handed over my life savings. What I had just tasted unleashed an astonishing wave of interest in American small-batch chocolates, one that I never would have predicted.
As Robert Steinberg launched his company, I became friendly with him and his business partner, John Scharffenberger, which coincided with my writing a book about chocolate. Before these two started making and selling their chocolate, most folks just bought chocolate from the store, unwrapped it, and either melted it down or ate it without giving it too much thought.
There were, of course, premium chocolates (mostly from Europe), but few people probably gave much thought to how they were made, who made them, or where. Living in San Francisco, here were two men making chocolate in our own backyard and San Franciscans quickly embraced their chocolate, as did the rest of America.
A lot of people liked Robert a lot. But there were certainly people that didn't. He could be cranky, highly-opinionated and famously stubborn. People with strong opinions tend to have detractors as well as admirers. I was an admirer.
Robert would call pastry chefs during their busiest part of the day and bellow, "Why aren't you using our chocolate? It's better than what you're using!"
He didn't do that because he was trying to sell them chocolate. He did it because he truly felt his chocolate was better and couldn't understand that if there was something better, how could they not be using it? I tried to explain that chefs are really busy people and calling them up, which he had an uncanny knack for doing at the absolute worst time in their shift, wasn't a way to endear anyone to him or his chocolate. One day, I took him into the kitchen at Chez Panisse during the lunch rush, and he got it.
(So if you're a pastry chef out there and were harassed by Robert, you have me to thank for the phone calls stopping.)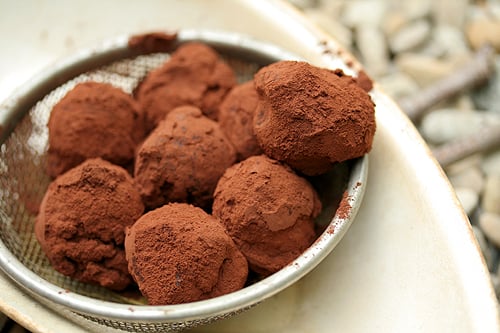 There's a lot of bs thrown around in the chocolate industry, which is common in any business where there's intense competition coupled with a lot of secrecy. (Roald Dahl got that right in Chocolate and the Chocolate Factory.) But whenever I had a question and needed a straight answer, without the spin, I'd call Robert.
Robert had been to the jungles to source beans, spent time meticulously roasting various varieties, ground them up, and carefully tasted each in search of a particular flavor profile. Robert wasn't a showman: he was truly interested in sourcing the best beans and making a product that he was very, very proud of.
Robert, who was also a medical doctor as well, and did this while battling lymphoma, which he lived with for well over a decade. When I'd visit San Francisco and call him for a get-together, he'd invariably say, "Let's meet for lunch at 1:00. I have chemo at 9, but I should be done in time." And sure enough, he'd show up, looking and acting more chipper than I.
This morning when I woke up, I had a flurry of e-mails with the words "Robert Steinberg" in the subject line. And I knew he'd died.
A few years ago, he and John sold their company is a very high-profile way, to a very big corporation for a lot of money. He stayed on for a while as a consultant, then left. In spite of all the online ranting, I knew Robert, and knew that it was an extremely difficult decision for him.
I'd asked him about a year ago to write an article for this site about fair-trade chocolate. As someone who'd spent time in the jungles of cocoa-producing countries, of course he had a lot of first-hand knowledge about it. It was (and is) an important subject that I felt uncomfortable spouting facts about, especially since he told me that some of the claims are rife with inaccuracies. Naturally, Robert had some very strong opinions about it, which I had hoped he would share.
A few months of unanswered e-mails, I didn't think he'd ever get around to it and gave up pestering him. Like the stubborn man that he could be, Robert took that information with him.
What he left behind was that he and John dedicated themselves to making chocolate on a very small-scale, which has not only become part of the mainstream, with artisan chocolates now available in supermarkets, but has spawned a steady stream of new chocolate-makers, following in Robert's footsteps.
When I'm asked, "Which country makes the best chocolate?" I always answer the same thing: America.
It's not necessarily because if asked, in a blind tasting, an American chocolate would come out on top. But I have great admiration for people who decide to become chocolate-makers and there's something about their pioneering spirit that really moves me. To this day, I'm far more interested in tasting a rough, coarse-tasting chocolate someone mashed up in their garage than a fancy imported chocolate, slipped from a shiny wrapper, that's smooth and flawless.
If it wasn't for Robert, the chocolate aisle in America would be a much sadder place than it is today. Even if you're not a fan of their chocolate, they changed the way we view chocolate. Now, one can pick up a tablet of chocolate and say, "Hey, I know the guy that made this!" Scharffen Berger always opened the doors to their factory to the public. And even after the sale, the tradition continued.
I was really fortunate to know Robert and had the pleasure of watching him make chocolate, swooning over a luscious spoonful of the sticky, half-crushed cocoa beans stuck to the spoon that he'd dip in the machine then hand over to me, and learning how to be a more perceptive and thoughtful taster. Perhaps he impacted many of you out there as well.
So thanks to Robert. Because of him, I, as well as many chocolate-lovers and pastry chefs, have broadened and expanded how we buy, taste, and enjoy chocolate. Although I'm still a little miffed about not getting that article, and I'm certain he'd be too.
He would have wanted the last word, especially when it came to something that he was so passionate about—chocolate.