Upcoming Appearances, Here & There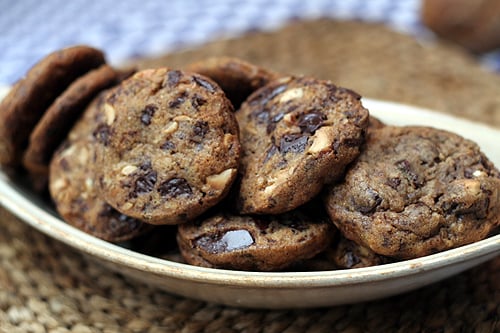 This Sunday in Paris
Since I'm determined to master all those numbers in French (…like what is up with that 20 x 4 + 10 + 9 = 99?), I'll be helping my friend Régis this Sunday morning, September 21, at the Bastille market from 10am to Noon. He specializes in hand-harvested salts from his family's marshes in Brittany, and you're welcome to stop by and say hi, and help me untangle some of those digits…
French Chocolate Indulgence
Due to currency fluxuations, we're offering a big price break on our upcoming French Chocolate Indulgence in Normandy, November 16-19. Join me and cookbook author Susan Loomis for three days of hand-on cooking classes, where we'll be cooking up a storm in her professionally-equipped kitchen, about one hour from Paris.
Included will be wine and cheese tastings, a visit to one of my all-time favorite outdoor markets in France, and..of course…tons of chocolate! For more information or to register, check out my Tours page, or On Rue Tatin.
October Get-Togethers in the US
I'll be in San Francisco and New York in October and will be at two get-togethers:
In San Francisco, the fine folks at Bi-Rite Creamery are hosting a book signing on October 4th, from 4-5pm. They're giving a free scoop of ice cream with every book purchased, so stop by!
And in New York, I'll be at the City Bakery for an informal get-together on October 12th. Here a chance to stop by and say hi. If you have a book you want signed, bring it along.
But don't get between me and those pretzel croissants—consider yourself warned!
I'll be doing a few guests spots on various radio & television programs, and you can find those, as well as updates on my whereabouts, on my Schedule page.
Back to Paris
And this week are two Paris-related book events that you might find interesting, taking place here in the city:
Alec Lobrano will be reading for his terrific book, Hungry for Paris at WH Smith on Thursday night (Sept 18th) at 7:30pm.
Heather Stimmler-Hall, will be launching her newest book, Naughty Paris on Friday evening (Sept 19th), beginning at 7:30pm at the Abbey Bookshop, where she'll be revealing sexy secrets about Paris.