I'm not one to easily back down from an argument, especially when it comes to anything food-related. (Well, except about whether brownies should have nuts or not. That's just something I just can't get worked up about, as much as some people do.) Recently I was having a bit of a disagreement with someone particularly stubborn about the role of fat in cooking.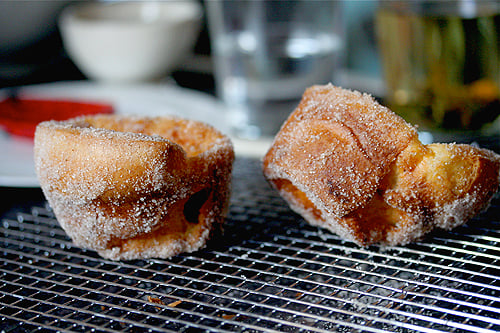 I believe fat is fine, but should be used where it makes a difference. For example, milk is better in hot chocolate than cream, as the heavy richness of the cream overwhelms the taste of the bittersweet chocolate. And I don't think anyone who tastes a scoop of my chocolate sorbet can tells me it doesn't have the intense flavor of the deepest, darkest chocolate dessert. I dare ya.
But on the other hand, if you're going to pan-fry potatoes, a spoonful of duck fat in the frying pan will produce crackly, crisp-browned potato cubes, and they're going to be a life-changing experience. So I'm happy to use it there. If you still afraid to try it, and are too concerned about eating duck fat, walk to the gym the next time you go, instead of driving there.
Last year Amanda Hesser was reminiscing with me about Maida Heatter, when she asked me to recreate Maida's popover recipe. For those that don't know who Maida Heatter is, she's responsible for writing some of the most amazing, luscious, scrumptiously adjective-worthy baking books over the last few decades. Known for carrying around cellophane-wrapped brownies in her purse, and distributing them freely, she was equally generous with recipes as she was with words.
She's such a hero to me that I adapted her unusually-good Sauerkraut Chocolate Cake for my book, The Great Book of Chocolate. And how surprised was I that after it came out, I got a letter from Miami, in that infamous distinctive handwriting of hers?
The illustrated note was brimming with her typical effusiveness. And in her recipes, few people could get away with using as many superlatives as she does. But because she's so thrilled about the cakes and cookies she's baking up, readers can't help but being swept up in the excitement, and her headnotes make generous use of words like "Fabulous!", "Delicious!" and "Divine!" And although some folks think words like that are outdated or should be avoided as food writing clichés, one can't help but being charmed by her sincerity and passion, which invite bakers to dive right into the recipes. And sometimes, you know, a cake or cookie is just simply delicious or scrumptious, and you may as well just use the right word to describe it—to heck with all those rules about food writing.
(And can we just talk about the fact that she sent a letter with no street number or address, and it still arrived? Is there anything Maida Heatter can't do?)
Since the project was to re-think one of her recipes, I gave it prime real estate in my brain (where space is, admittedly, limited), and for some reason I kept thinking of the usual savory uses for popovers. Until it finally hit me that my recipe should exploit the crackly shell of a popover and its hollow, airy interior: I was going to turn popovers into sugared, doughnut-like pastries, with that same crispy, buttery, sugared coating, but without the doughy insides.
Like a bagel or baguette, the best part of a doughnut is the crust. And since in most pastries, I pick crisp over soft and damp any day, these sugar-crusted popovers were a revelation. I'm not going to put words in Maida's mouth, but speaking for myself, I will say that they're scrumptious, yummy, and fabulously delightful.
Sugar-Crusted Popovers
Adapted from my recipe in
The New York Times
and
Maida Heatter's Great Book of Desserts
. I thought these wouldn't stay crisp for very long after they were baked and coated with the sugar. But the next morning, I was surprised when I pulled off a hunk and they're weren't bad. But they are the best the day they're made; leftovers can be stored in a container and snacked on the next day. You could freeze them in zip-top bags as well. I don't have popover tins, but found these work quite well in standard-sized muffin tins. For this recipe, feel free to use salted or unsalted butter, depending on your preference.
For the puffs:
2

tablespoons

butter

,

melted

3

large eggs

,

at room temperature

1

cup (250 ml)

whole milk

1

teaspoon

salt

1 1/2

teaspoons

sugar

1

cup (140g)

flour
For the sugar coating:
2/3

cup (130g)

sugar

1

teaspoon

ground cinnamon

1/4

cup (60g)

melted butter

Softened butter

,

for greasing the pan
Preheat the oven to 400ºF (200ºC). Liberally grease a nonstick popover pan, or a muffin pan with 1/2-cup indentations,with softened butter.

For the puffs, put the 2 tablespoons melted butter, eggs, milk, salt and sugar in a blender and blend for a few seconds.

Add the flour and whiz for about 10 seconds, just until smooth.

Divide the batter among the 9 greased molds, filling each 1/2 to 2/3rds full.

Bake for 35 minutes, or until the puffs are deep brown.

Remove from the oven, wait a few minutes until cool enough to handle, then remove the popovers from the pans and set them on a cooling rack. If they're stubborn, you may need a small knife or spatula to help pry them out.

Mix the sugar and cinnamon in a medium bowl. Thoroughly brush each popover all over with the 1/4 cup (60 g) of melted butter, then dredge each puff generously in the sugar and cinnamon mixture to coat them completely. Let cool on the wire rack.
Related Links & Recipes
The Queen of Cake (Saveur)
English Gingersnaps (Caviar & Codfish)
Robert Redford Cake (Wednesday Chef)
Chocolate Whoppers (Family Style Food)
Date-Nut Bars (Market Manila)
Date Espresso Loaf (Movable Feasts)
Maida Heatter's Book of Great Desserts (Culinate)
Pascale's Perfect Roast Potatoes (Chocolate & Zucchini)
Roast Potatoes in Duck Fat (Wrightfood)