The Malakoff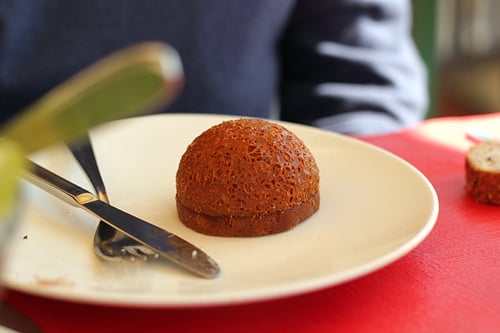 I know the Swiss are famous for their discretion and secrecy, but this is getting ridiculous. When I first saw Malakoff on a menu, I thought it was for Charlotte Malakoff, a classic (and hardly made-anymore) French dessert which is a round of chocolate mousse held together by ladyfingers.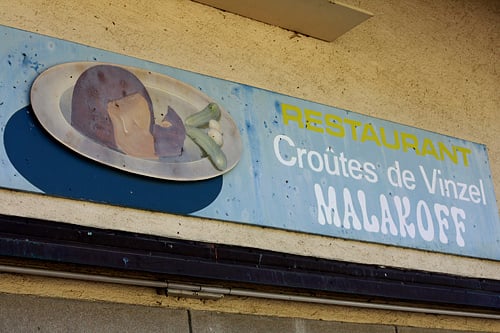 When I saw it on several menus in Switzerland, I thought it odd that it was a first course. I mean…I know the Swiss love their chocolate, but even for me a chocolate mousse cake before dinner isn't considered normal.
However they (and I) do love cheese and I learned that a Malakoff is a cheese beignet, often served with cornichons and pickled onions, perhaps a dab of mustard, and a glass of Chasselas, a mineral-rich vin blanc which is in danger of becoming my favorite apéritif (and drinking wine) of choice.
But whenever I asked anyone at a restaurant how they made it, they would tell me, "It's like a ball of fried cheese. We use Gruyère."
And that's it. If pressed for additional information or a list of ingredients, they'd laugh and say, "Of course, I can't tell you that." So I've been trying a few around the Lake Geneva region and I finally found the best.
In the small village of Vinzel, conveniently located just on the main roadway, Philip Wolfsteiner presides over this restaurant, Au Coeur de la Côte, which is in danger of becoming my favorite restaurant in the world. From the warmest of welcomes, to the free-flowing Chasselas wine, Monsieur Wolfsteiner is the model restaurateur, serving regional fare including lake-caught arctic char, perch, and crayfish. His only fault was when pressed for the secret to his famous Malakoff, he just laughed and said, "I can't tell you!"
So before sitting down to a copious multi-course lunch, one which will for sure carry me through for the next twenty four-to-thirty six hours, I got invited into the kitchen to watch the making of the Malakoffs.
After our background checks had cleared, the combination on the safe-like door of the kitchen clicked the door open and we were ushered inside by the guards. (Okay, that was a bit of an exaggeration – we actually just walked inside.) The a bowl of the cheesy mixture was sitting on the counter and the peanut oil was heating for frying. He called over the cook who was the Malakoff master, who started spreading the paste over rounds of stiff white bread.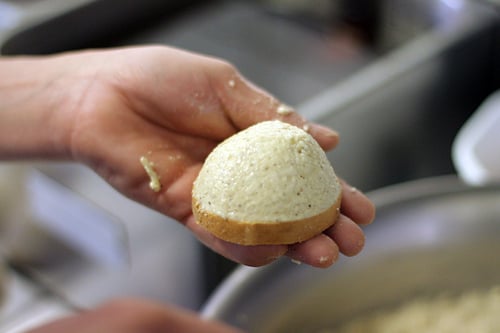 I tried to get a look into the bowl and there was definitely cheese and black pepper in there. But aside from that, I was stumped.
Each Malakoff was a perfect demi-globe, and when he dropped them into the fryer for our order, if I saw one anywhere else, I wouldn't have known what to make of the crusty brown curiosity on my plate which I was facing just a few moments later. But when cut into with a fork, the liquefied cheese comes spilling out from the warm demi-boule and when you taste that first forkful, if you're anything like us, as soon as you clean your plate, you order another one.
I'd love to recount what else we had – our meal starting with an Assiette Vaudoise (a selection of local charcuterie, including an amazing bacon), then perch and Arctic Char from Lake Geneva, a generous leafy green salad (which was more than welcome), then finishing with a tarte à la crème, which is another specialty of the region and is Swiss cream and sugar spread over a round of house made puff pastry. Once cooled, it's sliced into thin, yet dangerously wide wedges.
For all I know, that's a secret as well. And I guess I should be happy that I don't know how to make either one of them since when I get home, I see a lot of green salads in my future. And Chasselas wine. I don't have to give up everything, do I?
Au Coeur de la Côte
1844 Vinzel, Switzerland
Tél: 021/824 11 41
Closed Monday and Tuesday
Related Links

Watch a Swiss Chef Prepare Malakoffs (YouTube)
Pleasure Dome: Why Switzerland's Gruyère-filled Malakoff is a Secret Worth Sharing (Saveur, Recipe)