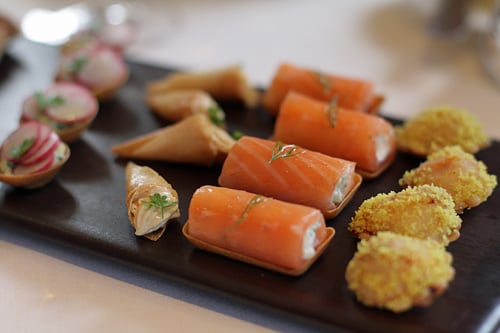 After my visit to the Vevey market with Chef Stéphane Décotterd, we headed back to Le Pont de Brent, his restaurant located above the lakeside Swiss town of Montreux. While he was laying out the fish for the day, which he had just sourced, I noticed the kitchen was unusually calm for pre-service and I didn't see anyone in the usual panic that happens in restaurant kitchens just before the customers arrive. The cooks were quietly doing tasks like peeling and slicing vegetables into tiny pieces, rolling leeks around scallops with thin wisps of black truffles in between, and baking off miniature tartlet shells.
Laid out neatly on trays, he showed me the different fish he had, from a kite-sized Turbot to a blue lobster from Brittany, with tiny black eggs stuck in between all the craws and crevasses.
The pastry chef was delicately pulling out tartlet shells so thin they looked like if she exhaled, they'd break into a million pieces. Watching someone do this kind of work always reminds me of how much goes into to making bite-sized things in restaurants.
When I baked professionally, I always told people that cookies were the hardest things to bake because each one had to be exactly right because people only got one cookie, and that one cookie had better be perfect. And when you're baking sheets of twenty or so cookies at a time, you need to watch each individual one with an eagle-eye (or two) and pull them all out at just the right moment.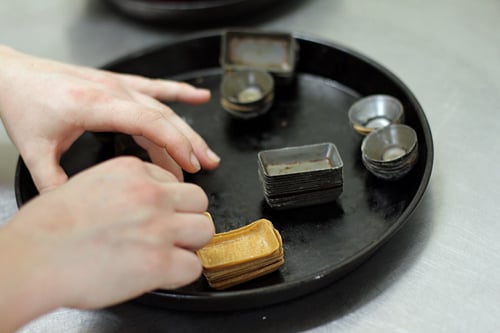 Of course with tiny little tartlets like these, the pastry needs to be rolled and pressed gently and perfectly evenly into each little pan, then baked, then unmolded, then filled. Then put on a plate without incident.
I can't tell you what it feels like to do all that work and as you set it down on the plate, getting it ready to go out to the dining room in the rush of service, and have it smash into a zillion messy bits all over everything. (Actually, yes I can.)
In general, I'm not a huge fan of "starred" restaurants. Too often the food is overwrought and fussy; presentations take precedence over taste, and unless something is the most stellar thing I've ever put in my mouth, I have a hard time swallowing the staggering prices.
The meal started a little wobbly. The marvelous raw fish the chef had sourced that morning was sliced in thin pieces and placed in fragile little tartlet shells, but buried under shavings and pieces of raw vegetables. As someone who loves the delicate flavor of raw fish – as well as raw vegetables – I would have preferred a simpler presentation that highlights the fish rather than buries it. Perhaps have the vegetables slivered into thin strips, then tossed in a lime-dressed little salad and served alongside? Or lightly pickled. (That's a tiny perch, from the lake, tied up next to it.)
Then a stunning course came out and when I took a bite, I realized that I was in for a treat. I've never had frog's legs – I don't know why, I just haven't – but Les Cuisses de grenouille poêlées en persillade, feuilleté aux asperges vertes et morilles farcies isn't just a mouthful to say, but I had to stop talking to the others at the table because I was enjoying the dish so much and didn't want to stop.
To some people, the word "foam" makes them uneasy. But I think it's time to get over it. (Maybe those people that eschew foam can turn their wrath on zigzags and swirls of reduced balsamic on square plates.) Foam, like any other kind of sauce, can lighten up a dish. And frankly, a little lightening up of the sauce in one course of a multi-course meal is a good idea.
Since I'm on a roll, I'm also one of the few people who prefers green to white asparagus. Green asparagus is a lot more available in America than it is in Europe and folks coming to Europe (and Europeans) think that white asparagus has more allure. If you like it, well then fine. But I prefer the green stalks which have more flavor. And it was nice to see that the chef like them, too, using them sliced lengthwise in "leaves" over a wild morel mushroom stuffed with brioche and a little bit of silky foie gras employed to hold everything together.
I'd seen my L'Ombre Chevalier du Lac Léman pochée au court-bouillon, mousseline aux fines herbs being pulled from the lake that morning, and it was nice to see it again, now on a gleaming platter, presented with an herb-enriched sauce, which was dribbled on the plate with almost as much artistry as was put into boning and serving it tableside.
(I love tableside service. It reminds me of those generous salad bowls on wheeled carts they used to roll up to the tables in Los Angeles back in the day, and they'd make and toss the salad right in front of you, then pile it all on to a chilled plate and hand it over.)
When the table adjacent to ours was being served L'Agneau de lait des Pyrénées, jus aux herbes, I practically threw my neck out of whack looking at those beautifully bronzed dark pieces of lamb shoulder. Just when I thought they were going to offer me up a piece (to get my to stop staring at their plates), out came our own generous pan of lamb and thanks to all the air in the foam-based sauce, I was happy to report that I had room for it. So there.
Although I loved the stuffed morels, and the fish, it was a complete pleasure to cut through the caramelized exterior of the morsels of lamb and dig out the soft meat underneath. I feel like sticking this picture in my wallet and whenever I order meat (especially lamb) in a restaurant, I'll hand it over and use that as a reference to show them that that's how I'd like my meat cooked.
Enfin, dessert was Les Fraises Garriguettes de mon enfance, a pinwheel of first-of-the-season Garriguette strawberries on a bed of Gruyère double cream, strawberry sorbet, and topped with two delicate bâtons of meringue.
"De mon enfance" refers to a memory of the chef's childhood, growing up in the region, where he no doubt ate plenty of Gruyère double cream with fruits rouges, or berries and meringues. This is a more sophisticated interpretation and was just the right dessert at the end of this meal filled with fresh, local flavors.
Full, but not overly so, I was happy when out came a silver tray of little mignardises: pistachio-honey nougat, marshmallows flavored with Chartreuse herbal liqueur (I love that stuff and almost wished they dipped the marshmallows in dark chocolate, which is a fantastic pairing), brittle-thin tuiles, and tangy pineapple financiers. I didn't try the macaron because someone told me that pie was the new macaron and I didn't want folks to get the impression that I was old-fashioned.
We managed to finish just about everything. And believe me, if I wasn't the model of politesse, I would've cleaned up both of those plates before we split. It was nice to see a chef capable of such high-caliber cooking, (especially in these days of chefs standing under spotlights, rather than manning their stoves) sending out food confidently cooked, not trying to make a statement, but simply for the sake of cooking good food. What a concept.
Much of what was served at the restaurant was bought at the market that morning. Chef Décotterd did it all without making a big fuss over it, and without pretensions, as if driving up in the mountains that morning to the butter maker was the most normal thing in the world.
The chef, who was born in the region, has only been at the helm of his restaurant Le Pont de Brent for just a few short months, but any kinks have evidently been worked out before my lunch there. He's a quiet talent and one who's taking advantage of all the wonderful vegetables, mushrooms, and fish from around Lake Geneva, and creating fine meals like this one. One day, I hope to go back.


Le Pont de Brent
1817 Brent, Switzerland
Tél: 021 964 52 30


Related Recipes and Links

Note: This meal was part of a visit to the region where I was scouting out sites for upcoming tours that I might lead. The meal was hosted by the chef and the fine folks (and excellent dining companions!) at Montreux Riviera Tourisme.