I was having a conversation a while back with someone who worked for an international hotel chain and she told me that their hotels in Europe don't have alarm clocks in the rooms because Europeans – when they take their vacations – aren't all that interested in keeping track of what time it is. We Americans, on the other hand, seem to have a need to know.
Last Tuesday morning I was invited to the market in Vevey to meet and shop with celebrated chef Stéphane Décotterd of Le Pont de Brent. I guess I'm now European because when my alarm went off at 5:45am, I didn't really want to know what time it was either.
Our rendez-vous was planned for the unsettling hour of 6:50am, which meant I had to get up at least an hour before to gulp down a cup of coffee, grab something to eat, and check what happened on Facebook, Twitter, Flickr, as well as whatever happened in my e-mail, my RSS feeder…and my blog, during my sleep.
(And people wonder what I do all day…?)
In a rare lapse of normally exceptional Swiss service, the person at the hotel who promised the night before to have coffee delivered to my room at 6am – which I asked for because the dining room didn't open until 7am and I pity anyone who meets me before I've had that obligatory first cup – didn't get the message to the morning team. Having been on the receiving end of a few too many Gallic shrugs, I decided to take matters into my own hands and waddled downstairs in my bathrobe and spongy hotel-issued slippers to talk to the folks at front desk, who jumped to attention to help and made me a beautiful platter with a perfect cup of dark, dark coffee and a flaky croissant alongside.
I'm not calling this an outdoor market, because as you can see, it pretty much is the acme of outdoor markets and to lump it in with all the others doesn't do it justice. Resting on the edge of the gentle waters of Lake Geneva, with snow-capped mountains and the Mont Blanc rising majestically in the background, I can't imagine a more spectacular location to shop.
When I questioned the wisdom of getting up so early, chef Décotterd said that he had to get there first thing so he could get all the good stuff before everyone else did. And sure enough, when we arrived, we pretty much had the market all to ourselves.
(Another thing American like is Starbucks, which has even opened a shop in this small Swiss town. I was tempted to run in and tank up on more coffee, but now that I'm European, I didn't think it would be seemly to ruin this beautiful vista with someone toting a plastic-capped paper cup of coffee.)
But looking at all the lovely fruits and vegetables from the nearby mountains and farms that everyone was unpacking from crates was more stimulating than caffeine, especially the man selling wild and cultivated mushrooms. He had two long tables with baskets of pristine mushrooms lined up, each row piled with spotless specimens. When I pointed out how clean they were, they replied, "Of course they are. This is Switzerland!"
I was in awe of the selection of vegetables available here, the likes of many we never come across back in Paris. I also learned that the Swiss don't usually call dandelions pissenlits (bed wetters) like they do back in France, but use the more gentile dents des lions, which when said with a French accent, sounds close to 'dandelions.'
There were colorful Chiogga beets ringed with white and magenta colors, slender green leaves with a mild garlic scent called l'ail à l'Ours (bear's garlic), morel mushrooms (which they chef loaded up on), leaves of colorful Swiss chard which reassured me to know that they actually do have Swiss chard in Switzerland, and teeny ratte potatoes that fit in the palm of your hand. Even Europeans (and the fastidious Swiss), who normally wouldn't think of eating a potato without skinning it first, resist the urge to remove the skins of these little fellas.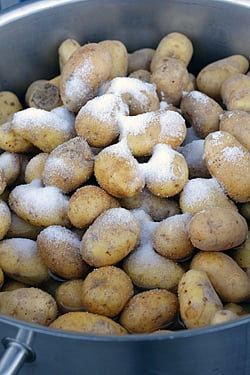 As we left, the vendors and people who make the roast chickens and (unskinned) potatoes were just firing up their spits, but we didn't have time to wait, so we headed toward the car.
After we finished our shopping, we drove to visit the fishmonger whose boat (not boats, plural) was arriving from the lake.
The fisherman sets out every morning at 4am and returns a few hours later, hopefully his nets filled with plenty of fish culled from the cool water of the lake.
I don't know if today's haul was good or not, but tangled up in the delicate nets were small Féra (whitefish), Ombles Chevaliers ("dark knights", or Arctic Char), Lotte (monkfish), and a few enormous Brochet, which when the fishmonger lifted up, released it's contents on the dock. "You will have to Photoshop that out", he joked, then laughed heartily. All I could say was I'll bet he was happy he was wearing rubber boots. And tall ones at that.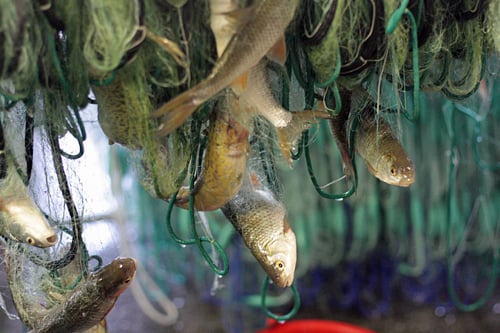 Since it was almost lunchtime, the chef needed to head back to the restaurant. But he said, "Would you like to go get the butter with me?" He may as well have said, "Do you want to stay in Switzerland for the rest of your life and shop at that market every week?" So we headed up to the mountains to the laiterie for the daily butter which get set on the tables at his restaurant.
The drive took a lot longer than I thought, and when I saw that we made the trip for just thirty or so rounds of butter, I was surprised that he spent the time to make the journey up into the mountains just for butter.
So I knew I was in for a treat when we drove back to the restaurant, to prepare for lunch. He headed to the kitchen, I, to the dining room.

To find out about the meal the chef made, click to read: Le Pont de Brent.


The Vevey Market takes place on Tuesday and Saturday mornings.


Related Posts