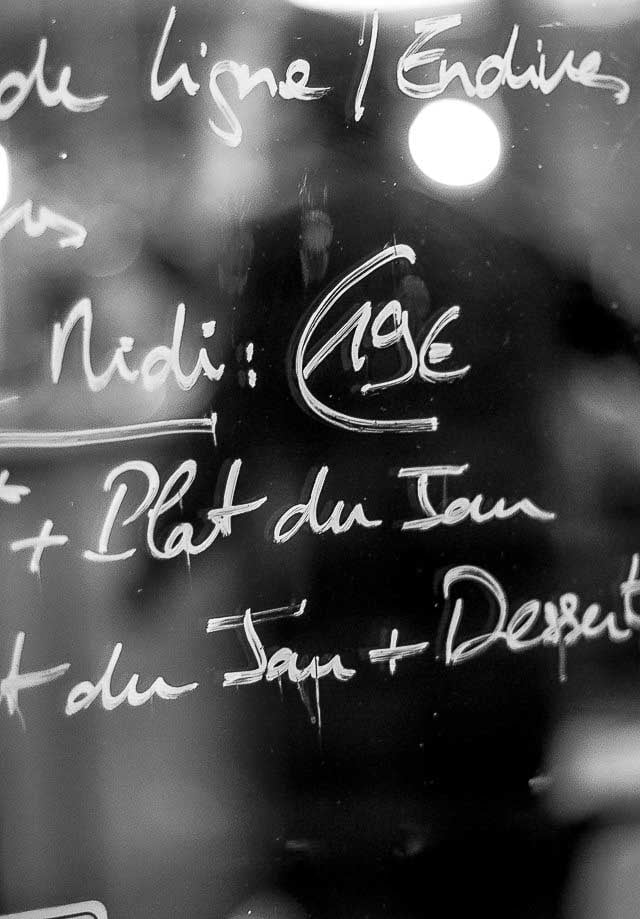 One of the most confusing things for visitors to Paris is figuring out the tip system. Unlike the United States where tips are expected (and considered part of the wages paid), in France by law, service compris is always included in the price, wherever you eat or drink. Waiters are paid a living wage, similar to what someone who works in a store or bakery is paid. (That said, Paris is an expensive city to live in so waiters, and people who work in similarly paid jobs, work hard to make ends meet.) However in the last few years, it's become common to leave something after a meal or drink, to leave extra for the pourboire, which roughly means "for something to drink." But it's never expected and should only given for good or attentive service.
There is no fixed amount but if you wish to leave a tip for good service, most round the check up – such as if the check is €18, you can leave €1-2, or for a €1,20 coffee, you can leave €1,50. But when in doubt, around 5% is considered fine, or up to 10% if you've had exceptional treatment.
Other circumstances where a tip is common: In restaurants if you have a baby or children that require special attention, if you don't speak the language and the server is particularly patient and helpful, or if you stand up and spill red wine all over the place and broken a couple of glasses as well.
If you do want to leave a tip for the server, don't add it to your credit card slip: leave the bills or coins on the tray where the check was presented, or on the table.
Lastly: Don't feel obligated to overtip. In all but the fanciest of restaurants, leaving more than 5-10% is generally not done, even though it may be customary and considered impolite to leave less than 15% in your country.
So here's a little guide based on my observations and experiences dining and getting around Paris:
Cafés
If you have a drink, although not necessary, often people leave the change. If the bill is 3.80€, you can leave 4€. 5€ (unless you've accidentally smashed the table in half or something) is excessive.
Simply round it up the nearest whole figure if you want. At the bar, if a coffee is 1.20€, you can leave an extra 10-20 centimes behind if you want.
Meals & Restaurants
In normal restaurants, including cafés, one can leave €1 to €2 for every €20. So if the check is €80, you can leave anywhere from €2-€4. Think of it as a gesture, not an obligation. Once again, it's not necessary but is appreciated for good service. And I think this equation works out just about right.
In nicer restaurants, such as 3-star tables, where the service is exemplary, a tip of €20 is fine to leave. It's normal to tip the coat check person €1. When in doubt, look at French diners and see what they leave as a gratuity.
Coat Check
In simple restaurants, if the waiter grabs your coats and puts in on the hook, there's no need to give anything. But in a nicer restaurant, especially if there's a coat check, €1 per coat is expected.
Taxis
Like restaurants, tipping in a taxi isn't necessary, although you can give a little extra, rounding up the fare or giving an extra euro for especially good service. If coming from the airport and the driver's helped you with luggage and the like, 5% is fine to give him or her.
Conversely, if they take you on a tour of Paris, ie: the longest route possible, I don't give them anything unless they were doing it to avoid traffic or a demonstration blocking the streets.
Concierges
If your concierge at the hotel goes out of their way to make you a host of restaurant reservations, especially at hard-to-get places, it's a nice gesture to give them something for their efforts. While a box of chocolates or a bottle of good wine is welcome, a monetary gesture of gratitude is a good way to show your appreciation.
If they make a phone call or two to get you into a local bistro, it's not necessary. If you give them a list of places that you'd like them to book you at, I do recommend a little something, especially if you plan to go back to that hotel. Trust me, they'll remember you. And getting you into a nicer place that's normally booked is quite a feat—depending on the level of hotel you're staying at or restaurant you've requested, 5, 10, or 20€ is appreciated.
Hotel Porters
A tip of €1 – €2 per bag is appreciated, unless the bag is extra-heavy, in which case you can be more generous.
Theatres
And if you go to the theatre, it's almost mandatory to tip the usher at least €1 per person for showing you to your seat.
Haircuts
A 10% gratuity is fine to give the person who cuts your hair.
Food Delivery Services
€2 is considered standard, but some leave people give the delivery person an additional euro or two.
Related Posts
Wikipedia's Guide To Tipping in France and elsewhere.
ParisMarais has a few tips
Magellin's World Tipping Guide
Fodors' Foodie Guide
About.com on Tipping in France
Heather's notes at Secrets of Paris
Two Great Dining Guides to Paris