Sometimes when I'm dining with others, the conversation has a way of drifting towards organ meats. Which we Americans, in general, tend to avoid. I guess it makes us an easy target and since I don't like them much either, you may as well paint a bulls-eye on my forehead…
"You Americans!" I hear, "You are afraid to eat anything."
But by now, I've gotten pretty good at this.
So I respond, "Well, do you eat dog?"
To which they responded with appreciable horror.
"Well, some people from other cultures eat dogs and cats. Do you eat them?"
Touché.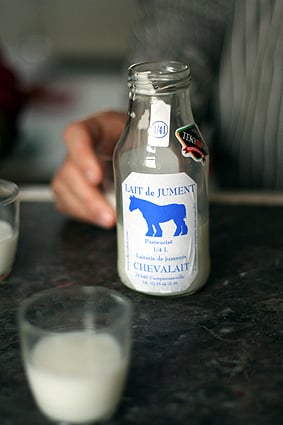 I never understand why people feel they have to convince you to eat something you don't want. What's it to them? Take squid, for example.
They're repulsive, vile, hideously ugly creatures who deserve to die a fiery death…preferably breaded and deep-fried. With dipping sauce. I was terrorized by one once in my youth and never forgot that horrible, horrible day: My sister and her friends chased me around the house with the Marine World brochure, open to the double-page center spread of a giant squid. I hid under the bed, but when they tossed the wide-open book under there with me, no amount of counseling later in life would get me over that psycho-trauma. I can still smell the dusty carpet, which I was hugging in fear for my life, and taste my salty tears to this very day whenever I see any and all tentacled beasts. I'm sure you can understand that being presented with a pile of them on a plate holds zero appeal for me. Can't you?
Still, people insist, telling me, "But you haven't tried my fried squid" or "At (insert cheap ethnic restaurant name here), they have the best clay pot/deep-fried/sautéed squid in the world. You just gotta try it. You don't know what you're missing!"
Well, actually. If I refuse to eat it—what I don't know, I can't possibly miss. Now can I?
Anyhow. A few months ago I was at Le Grand Épicerie, Paris' most exclusive supermarket. Due to the hefty prices and the fact it's not in my neighborhood, it ain't my usual go-to supermarket. But there I was, shopping for chocolate and thought I'd pick up some milk. How much more could it be there than elsewhere?
So I walked over to the milk and was ready to grab a bottle when I noticed the price. 12€.Whoa Nelly!
12€ for a liter of milk? – That's about $15 per quart!
Then I noticed a picture of a little filly on the label; It was lait de Jument, horse milk. Then I really had reason to say 'Whoa Nelly.' Who'd a thunk it?
Since I posted a few weeks back about hamburgers made of horse meat, I've been thinking that it would make an interesting story about cooking my first piece of it. But every time I passed a chevaline, or horse butcher (and stop squirming: all of it here comes from North America), one look at the juicy, bloody-red slabs of meat made me think again. There's only so much I'll do for my readers. Getting me to eat Salted Butter Caramel Ice Cream is one thing. Frying up a thick, rare slab of horse flesh is another.
But last time I was at Le Grand Épicerie, I noticed smaller bottles of Lait de Jument and thought it was time to give it a try. I can't be an American wuss forever. Can I? So I brought home a little bottle. Then I chickened out.
Luckily for me, shortly afterwards the doorbell rang. And when I opened it, there was my friend Brett, visiting from San Francisco. Seizing the opportunity, I dragged him in and started lining up the shot glasses. Because we all know that he eats (and actually, gulp, likes…) squid, I figured horse milk was a no-brainer. So I uncapped the lid and started pouring.
We sniffed, then we swallowed. Then we looked at each other to see our reactions.
Not bad, we agreed. Not as shocking as we'd thought. We detected a light, hazelnut-like taste. The consistency was slightly watery, like reconstituted powdered milk, if you've ever had that. The bottle said it was a "good substitute for mother's milk", which was nice to know in case I ever get another craving for that. (Although I haven't in the last 47 years, so I think I'm finally over it.)
The best part is now I have an ever better defense when defending some of my all-American eating habits. Just the mention of drinking horse milk to my French friends makes their face curl up in disbelief and a little bit of disgust. Yet it's available right in their own backyard.


Related Links
–Plus d'information sur Lait de Jument.
-Not a pretty pour. (I drank that?)
-But it may make you pretty.