Back in my intrepid youth, when my hair dipped below my ears (when I had hair, that is…), I flirted with vegetarianism.
I should probably say it was more than a passing fancy; I was a veg-head for about six years and even worked in a vegetarian restaurant. At Cabbagetown Café in Ithaca, New York, we'd ladle up bowls of Cashew Chili or curious soups, like the one that a co-worker would insist on enriching with generous -and nutrictious – dollop of peanut butter.
And don't get me started on the bizarre customers we'd get. We had one regular, whose name we didn't know (so we just called her 'Beyond') who would sit in the dining room and order only a bowl of brown rice. Then she'd spend hours in the dining room writing in her journal, in the teeny-tiniest letters imaginable, eating her rice grain-by-grain.
And we never knew what our long-haired baker would come up with. He once made a lovely-looking, golden brown-crusted pie for dessert. When I cut it open that evening to serve the first wedge to a customer, I'd discovered that he filled it with sweet black beans and an alarming amount of cumin.
(Unfortunately, it, um, accidentially fell into the garbage before I could serve it.)
Eventually I started eating meat again because I got tired of being served pizza smothered with soggy vegetables and was constantly dreaming about diving into a big, soft, overstuffed corned beef sandwich. When I told my 'alternative' doctor about that, he said, "You know, if you're craving something, that means your body needs it. So you should probably go ahead and have it."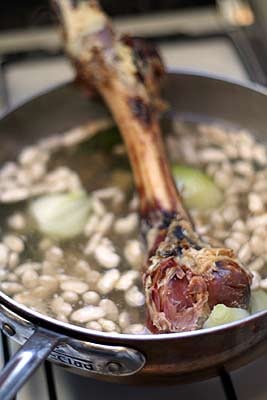 With that advice, I left his office and made a beeline to the nearest Jewish deli, and ordered a big, honkin' mound of hot corned beef barely contained by two sharp-crusted pieces of caraway-flecked rye bread with a smear of hot mustard. And from that day on, my vegetarianism was kaput.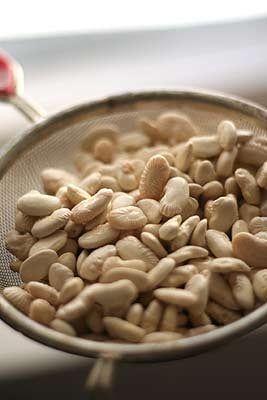 But you don't need to be a vegetarian to love beans as much as I do. The top bean for bean-lovers, the holy grail of beans, are the haricots Tarbais, grown in the southwest region of France near the Spanish border. Planted in May, then harvested between August and October, haricots Tarbais are hand-picked and commonly used in cassoulet, that rich casserole baked with confit de canard, meaty Toulouse sausage, sometimes mutton, and topped with oily-crisp breadcrumbs, then baked until dense, rich, and savory.
There are lots of variations on cassoulet, of course, but I often cook beans just as a simple side dish. And since it was time to kick out my roommate, the drunken French sailor, I picked up a sack of beans and headed towards the kitchen. Although I was sorry to see him go, he wore out his welcome (and everything I owned was starting to smell like pork.) So I figured I'd give him one last hurrah before he got the heave-ho, and I used him to flavor a pot of delectable haricots Tarbais.
Haricots Tarbais
Four servings

Although many say these beans will cook in one hour, I often find they'll take longer, especially if yours aren't as fresh. In Paris, the water is very mineralized, so cooks add a pinch of baking soda to the water or use bottled. You'll have to be the judge, unless you want to fly me to come to visit and check your beans myself. Just cook them until tender and to your liking, adding more liquid if necessary.

When cooking any dried beans, salt should be added after they're pretty well cooked, since it inhibits the bean's ability to soften and absorb water. Since haricots Tarbais might not be easily found where you are, use any dried white beans (haricots blancs), adjusting the cooking time accordingly.

1. Rinse 8 ounces (225 gr) haricots Tarbais and soak them overnight covered with plenty of water.

2. The next day, drain the beans, and add them to a stockpot along with:

6 cups (1.5 liters) water
pinch of baking soda (see headnote)

3. Add any (or all) of the following to the pot:

1 bay leaf
a few branches fresh thyme or savory (or a pinch of dried)
1 small onion, peeled and halved
2 cloves garlic, peeled
1-2 whole cloves
1 carrot, peeled and diced
1-2 pieces of thick-cut bacon (potrine fumée), diced in big pieces
(or add a big 'ol ham bone, if you've got one)

4. Bring to a boil, then reduce to a simmer. Cook partially-covered for about 1 hour, or up to 2 hours, until the beans are tender. Add salt to taste during the last 30 minutes of cooking.

If using a ham bone, as I did, pull any bits of meat off the bone and add them to the beans. The beans will turn a darker shade as they're cooked, as mine did.

Serve warm, drained of most of their liquid (which makes a nice base for soup), alongside braised or roasted meats, or poultry.

Or drain, and use to make a bean salad. To avoid the thin, papery skin peeling off the cooked beans, toss them while warm in a decent-sized spoonful of olive oil right after they're drained.



Note: Haricots Tarbais aren't easily available in the US, but Rancho Gordo has started growing and drying the beans.