Beans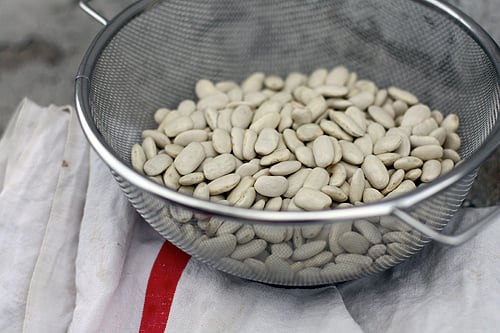 It wasn't until I went to college when I learned that not all moms were good cooks. Or that mothers did laundry. Like her mother, my mother worked, but still cooked dinner every night when she got home. Sometimes it was as simple as pork ribs brushed with soy sauce and baked, or shrimp stuffed with seasoned bread crumbs. Although not as 'fancy', my favorite were English muffin pizzas we made in the GE toaster oven which called for a spoonful of tomato sauce, a few drips of olive oil, mozzarella, and a dusting of dried oregano.
There likely are people out there that would have a kiniption and race to the internet to send my mother a link to prove that what she was making us wasn't really pizza. That one had to have a special pizza stone to make authentic pizza, you had to make the dough from scratch and the tomatoes had to be from your garden instead of the can of Hunt's, which all didn't really matter anyways because if you didn't have a wood-fired oven, you didn't have the right to call it pizza in the first place. But back then, it was just about getting dinner on the table and feeding us. That was all she had to prove.
(The only time I ever had frozen dinners was when my parents went out and left me alone, and I was mesmerized by TV dinners, which were new. I was particularly fond of the one with fried chicken, as well as the roast turkey dinner, where you peeled back the foil from the cobbler midway during baking to crisp it up. My life changed when they introduced boxes of frozen fried chicken, so we bought just that since the stuffing and mashed potatoes were unnecessary accompaniments.)
My mother didn't cook anything fancy, but it always tasted good. And when I went to college, the first thing I remember is how few guys in my dorm knew how to do their own laundry; their mothers had always done it for them. My mother was no fool, and taught me and my sister how to do all that stuff so she wouldn't have to do it all herself.

I was also really surprised when other guys in my dorm told me how terrible their mother's cooking was. I guess I lucked out. And I'm sure none of them ever had a mother who would put on a skirt that she tie-dyed, pull on a pair of cowboy boots, and grab her Louis Vuitton handbag to drive to a farm in Vermont and shear sheep, then clean and spin the wool all weekend with a bunch of hippies.
One thing she cooked infrequently was a big roast beef with potatoes and lima beans. We never had fresh, dried, or canned limas, but she would buy boxes of the frozen beans at the Stop & Shop supermarket and roast them in the beef fat until they were darkly caramelized and very, very crisp on the outside. But just inside the hard shell, they were soft and creamy inside. I think each box held nearly a pound of limas and she'd figure one box per person, since that what each of us would eat. So today, I think it's odd when people say to me, "I can't stand lima beans." When guests came for dinner and waved away just the thought of lima beans, my mother would say, with a dash of cheerful sarcasm—"That's okay. More for us!"
The British have a reputation for cooking thing in beef fat and while I've never tried to recreate my mother's lima beans, when I got my hands on copy of the new book Plenty from Ottolenghi in London, each and every recipe looked like something I wanted to make immediately. But I landed on the page for Fried Butterbeans with Feta, Sorrel and Sumac and decided that was something I needed to make today.
So I rinsed some white beans to get them ready for cooking, then went to the market to gather ingredients to make the recipe. I was able to find almost everything, except sumac. So after I stop at the spice market tomorrow, I'll get to it and post it on the site later this week.
Since I couldn't cook today, I went online to catch up on e-email and messages, and realized that it was Mother's Day in America. My mother passed away over a decade ago and what was especially sad was that she'd spent her whole life working and raising a family, but I don't think she ever really got to do what she wanted. Her generation was bound by a few constraints that have since been lifted. (She got sent home from work one day for wearing culottes; women were only allowed to wear skirts.) I don't think she would've packed up everything and moved abroad like I did, but I have a feeling she wanted to do more with her life than she did before she was gone.
Eventually she did get over the fact that her son wasn't going to be a doctor. And she did teach me how to tie-dye, bought me a pair of Frye boots, and wove me a poncho that I never wore because I think it made more of a 'statement' than I was willing to make when I was a teenager. But I never forgave her for selling my 1970s Gucci belt or my collection of mint-condition Beatles paraphernalia at a garage sale—and I never let her forget it, either. I do wish I had some of those other things that she did make for me, including that poncho, instead of just being left with a basket of beans to remind me of her.
Because today is Mother's Day, and just for her, I would slip that poncho over my head and yank on a pair of Frye boots with their heavy stitching, and walk down the street of Paris, not caring what anyone else thought of me. True, I wouldn't have that Beatle's wallet that a family friend brought me back, direct from Liverpool.
Nor do I have the vintage Gucci belt with the oversized buckle with the interlocking Gs, similar to the one I recently saw on eBay for over a thousand dollars. Which, I'm pretty sure was mine. But I do have a basket of beans, which no one is going to take away from me.