One of my downfalls is that I do not have a photographic memory. Sometimes I go out to eat and the next day, I have less of a recollection of what I ate (and drank) than some of my esteemed colleagues who write about restaurants so eloquently do. (My memory is gradually been replaced by the camera on my phone.) In this case, as soon as I got home, I wrote up some notes from the meal and quotes from the chef, which some rather concerted efforts to find on my computer failed to turn up.
That said, all the meals that I've had at Chez Dumonet, a spot-on classic Parisian bistro, have been memorable – regardless of the evolving ways that I have of preserving them. The memories last long after that feeling of being absolutely stuffed have diminished — the next few days after a meal here are invariably "salad days."
Fortunately, not much changes at Chez Dumonet, which is sometimes still affectionately called Joséphine. For those who want a place that is carrying on the traditions of the Parisian bistro, you can't do better than Chez Dumonet. The only concessions they've made to modern times (and waistlines) are offering half-portions of certain dishes, which are massive enough to make you wish le doggy bag was more popular in Paris. (I, personally, do not mind rewarmed bœuf bourguignon the next day for lunch.)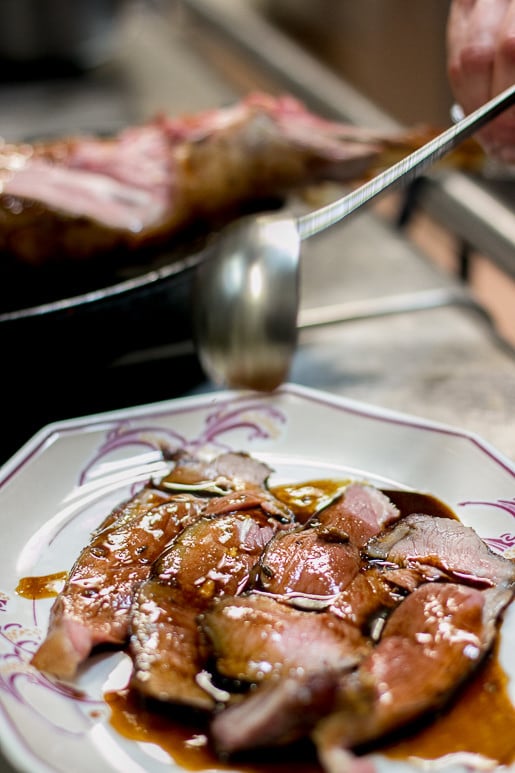 Chef/owner Jean-Christian Dumonet kept the nickname Joséphine, which people continue to use, the name of the beloved restaurant that he took well over a decade ago. He told me that it was previously a bougnat, a place that sold heating coal, as well as acting as a neighborhood café.
It's evolved to what it is today. And judging from the packed dining room at lunch, with the cooks working like madmen in the kitchen and diners of all ages crowded into the dining room, it doesn't seem like it's going to be changing to anything else in the near future.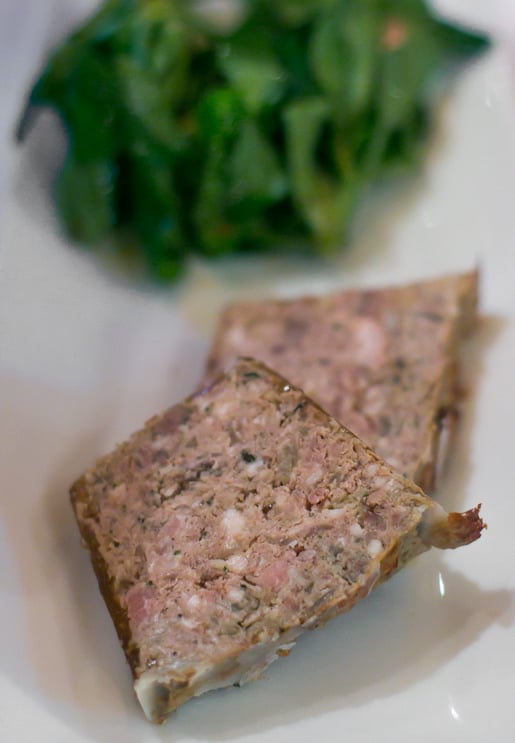 You could start with a few slabs of the meaty housemade terrine, but I usually go with the herring, which comes to the table in a large earthenware dish, the neatly fileted fish marinating (or swimming) in a generous pool of olive oil, with bay leaves and thyme.
It's a "help yourself" kind of dish. But it's best not to overdo it because the main courses that are coming up will fill any holes in your appetite.
Although I was eyeing the pigeon with crisp potato cakes that the chef was turning out in the kitchen, I have a very hard time ordering anything else at Chez Dumonet, other than the exceptional duck confit. It is – and probably always will be – the best version in Paris.
Served with potatoes cooked in duck fat, which are appropriately showered with coarse salt while they're cooking. (And I thank them for cooking potatoes with enough salt – no amount of salt you add at the table will cling to the potatoes as well as the salt that's added during cooking) It's a dish that I would cross Paris to get to more often.
This is the kind of food that is a more occasional indulgence, rather than a daily delight. But judging from the banter between the sharp waiters and the jovial clients, many are obvious regulars.
My French dining companion, Camille, couldn't resist the steak tartar, which is one of those dishes that I also like a lot, but tends to be served in too-large portions for me.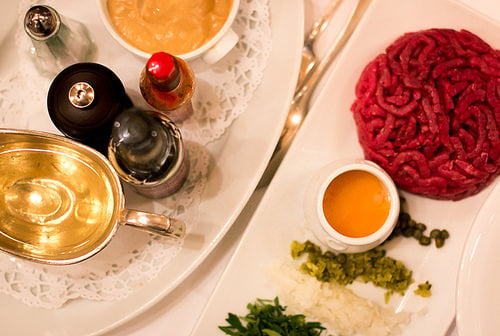 Here, that's no exception. But I was happy to help her finish off the tremendous portion. (Although she was doing pretty well attacking it, on her own…) Made tableside, the waiter mixes up an egg yolk with capers, shallots, Dijon mustard, cornichons, and Worcestershire sauce, along with the hefty mound of ground beef, then will ask if you want it pimenté (spicy), holding the bottle of Tabasco at the ready.
I often warn people to only order this dish at a place you absolutely trust. And if you're woman – or man – enough to like this dish, you can invite me, and I'll help you polish it off if you're not up for the task.
I'm not man enough to eat a whole portion, but when it comes to dessert, all bets are off. Le must is the Grand Marnier Soufflé, which comes out free-form style, rather than a straight-sided tower, baked to creamy perfection in an oversized porcelain urn with a browned, crusty top. A petit glass of Grand Marnier is presented alongside, in case you want to add more, and in some cases, the waiter will bring over the whole bottle of orange-flavored liqueur and leave it on the table.
When I asked if they left the bottle over for everyone, he said non, that it was only for certain customers that they liked, with the hint of a wink. (So either it was me, or it was because I was with a French woman with a hearty appetite, obviously enjoying her meal.) But note that the soufflé needs to be ordered at the beginning of the meal. So if you want one, and want to remain on the waiter's good side – where you always want to be in Paris – be sure to put your order in early.
As we were finishing up, the chef came by to make sure that we didn't leave behind the sugary sides baked on to the soufflé dish, after we ate the insides. We assured him not to worry…we were fully intending on getting to those.
(And sorry, but no picture of the towering soufflé before we dove in. When someone brings you a hot soufflé right from the oven, you don't do anything else but grab a spoon and dive in. Especially if you're dining with someone who has already grabbed her spoon, ready to get a jump on you!)
Another dessert that shouldn't be missed is the mille-feuille, two sheets of puff pastry filled with rich, voluptuous whipped cream. I first had it over ten years ago and still remember how remarkably buttery it was – even without any notes. I liked it so much that I asked to go into the kitchen and see how they did it. The pastry chef showed me sheets of puff pastry sugared and baked until crisp and caramelized, then cooled and filled with sweetened whipped cream. Any tables in the dining room that aren't eating the soufflé for dessert are invariably sharing a mille-fuille, including some older gentleman finishing off a leisurely group meal with glasses of Cognac, who offered us tastes.
The prices at Chez Dumonet put the bistro north of the budget category, which the chef told me was because of the quality of ingredients and the cost of having skilled cooks in the kitchen. It's hard to argue with that, especially because you can probably skip the next few meals after dining at Chez Dumonet, as you won't leave hungry.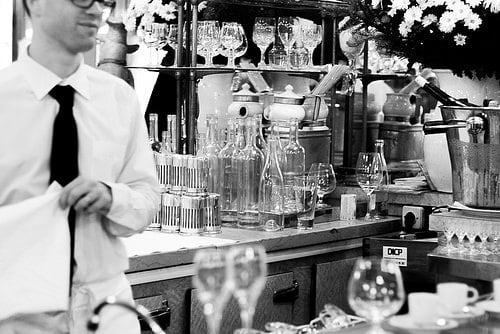 Chez Dumonet
117, rue du Cherche Midi (6th)
Tél: 01 45 48 52 40
Métro: Duroc or Falguière
(Open Monday through Friday, lunch and Dinner. Closed weekends.)