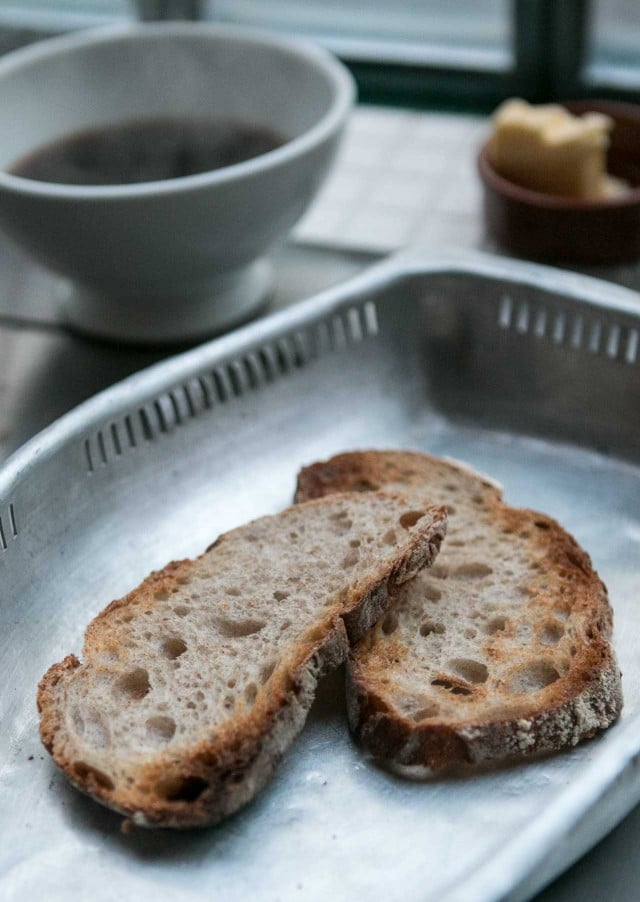 The French are known for their fine cuisine. Their lavish lunches and sumptuous dinners are legendary. But breakfast, or le petit déjeuner, might seem to get short shrift, to the dismay of travelers coming from places where breakfast is a more elaborate affair. I remember as a tourist in France, I felt so French having a baguette or croissant for breakfast, smearing jam and butter on either, enjoying it with a frothy café au lait (that, sadly, I learned wasn't a bottomless cup…) accompanied by the tiniest glass of orange juice that I'd ever seen. But by Day #3, I started craving a scrambled eggs and hash browns, and – mais oui – a side of crisp bacon.
I was never really a huge breakfast eater, though. No steak and eggs for me, or corned beef hash and huevos rancheros. Usually I saved those for weekend brunch. After a night of being a line cook in a very busy restaurant, breakfast was a quick cup of dark coffee and maybe a half-bagel or some other carb. As the years of eating the diet of a line cook (which is everything you can manage to stuff in your mouth in the shortest amount of time), to get back into reasonable shape, I joined a workout group and the instructor came around one day, and asked each of us what we had for breakfast. Most of us got yelled at for not eating enough, including me.
So now my breakfast consists of coffee, juice, and toast, then I have a fruit salad around mid-morning, although I remember Romain's French father being astounded to see me eating between meals. "C'est formidable!" he said, watching me eat a bowl of fresh fruit one morning around 10am, as if I was some sort of radical for stuffing my craw between the prescribed meal times.
Another thing that might raise eyebrows is that I now put an ice cube in my glass of orange juice, which I had in Portugal and found to be an extra-refreshing way to wake up. Romain is an anomaly and has taken to ice, too. The French aren't generally fond of ice, or cool drinks: a reader wrote to me once to tell me her French in-laws microwaved their orange juice in the morning, because it was too cold coming out of the refrigerator. That may be changing though; two neighbors came over the other day to use my kitchen and when they learned that my refrigerator had an ice maker, they spent the afternoon refilling their water glasses with it.
And now that the Spritz has become the drink of choice amongst les bobos, the Parisian version of hipsters, who seem to be taking more to les glaçons in the Italian apéritif that's replaced the mojito in cafés, making ice more acceptable. Even Picard, the French frozen food store sells bags of it, which interestingly, they're advertising with the tagline, "How many cubes are you putting in your orange juice?" I never thought I'd be a trend-setter in France, especially with my awkward fashion sense which means I am the only man in Paris who wears socks with his sneakers.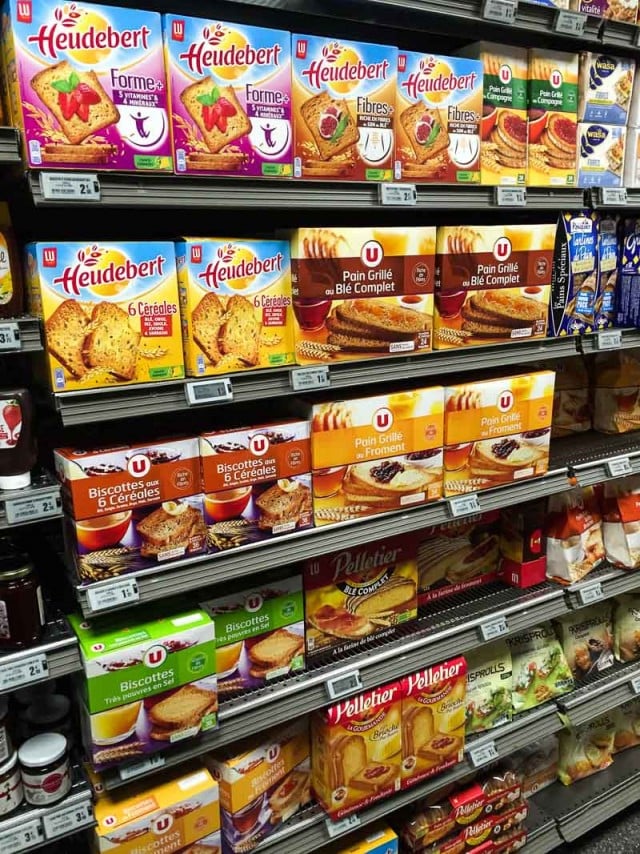 One thing the French don't seem to mind cold is toast, as evidenced by this aisle of boxes of toast sold at my local supermarket. I don't know who wants to eat bread that could double as a ginger grater, but from the space it takes up, it's obviously pretty popular.
Perhaps it's because a number of people have warned me about potential dangers of eating pain chaud, or warm bread, which they say will give you a brioche, or a pot-belly. Which room temperature bread apparently doesn't. Which may be one reason why it's better to eat cold bread. Yet no one's been ever to explain the logic of why warm bread will give you a brioche (pot-belly), but cold doesn't. So until someone shows me evidence from a trusted medical or scientific source that says otherwise, I am going to continue to eat warm bread whenever I can.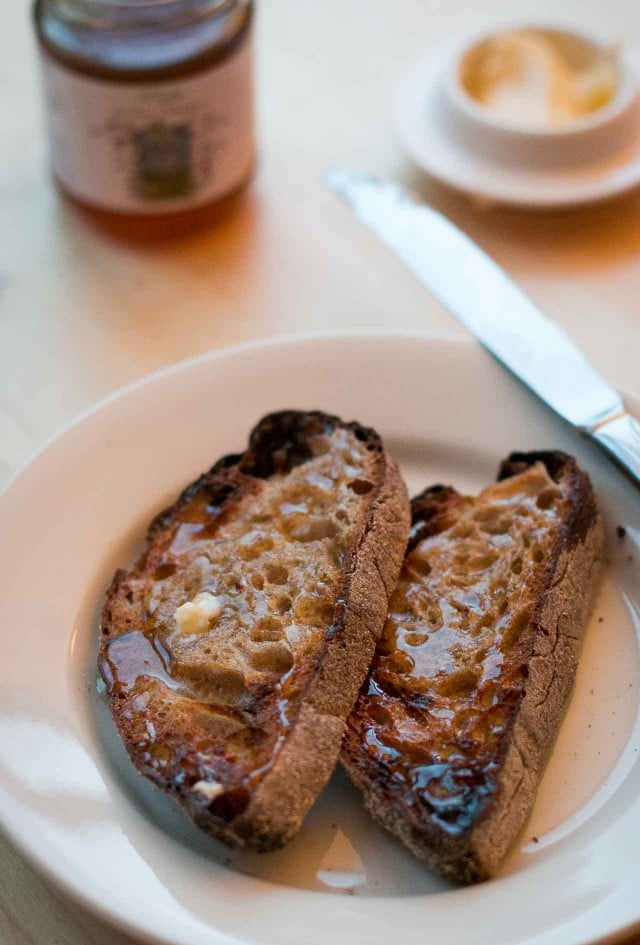 (Curiously, just last week I learned that eating the mie, the interior, of bread will also make you fat, but the crust won't. I couldn't find any info on that one either.)
Sometimes Romain will get up earlier than me and make the toast, leaving it on my plate until I make my way to the table. He doesn't realize the urgency I have for spreading the butter on toast while it's still warm. I insist that when I spread salted butter on it, it melts into little golden, frothy pools, filling in all the holes and creating shiny rivulets of melted butter. I will vault over whatever is in my way to make sure that my toast is still warm when I spread the butter on it. His wonderful parents make their toast the night before and leave it out on their breakfast tray, so I guess I should be glad he's not doing that. But I'm a little concerned that it's only a matter of time…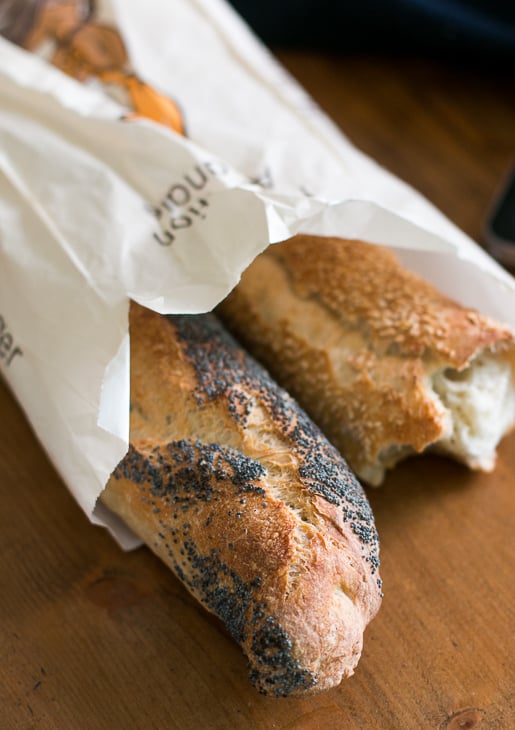 The French will sometimes dip their cold, buttered toast with jam in their morning, which is sort of a roundabout way of warming it up, I guess. But that makes me wonder why it's interdit to drink coffee with dessert after a meal (it's enjoyed after) when buttered toast with jam has the same ingredients – flour, butter, fruit, sugar – as dessert, which is usually made with the same combination of ingredients: flour, butter, fruit, and sugar.
But chacun à son goût, as they say, or "to each their own taste," and I'm happy to let everyone enjoy their food the way they want to. I've been skirting the issue lately with having a fresh baguette for breakfast, which doesn't need to get toasted and I don't need to go on a morning rampage if it's not warm when the butter hits it. (So I'm getting a few more minutes of sleep in the morning.) And I don't have to worry about getting a brioche, although I do have to say, when I sometimes pick up a brioche instead of a baguette, I do prefer that toasted.