I've lived in Paris for nearly ten years, which some folks think is a magic kingdom in itself. And although I've been to the Louvre, Rungis, the Musée d'Orsay, and the crazy-giant Tati store at Barbès, I've not been to Disneyland Paris – until now. I'd been to the one in southern California as a kid, back when Disneyland featured things we never dreamed of even seeing. Although my memory doesn't go all that far back, things like telephones that didn't have cords (or dials!) and home computers, (like mine, with a broken iiiiiiiiiiiiii key) were just nuggets in someone's imagination.
Back then, at Disneyland, IIIIIIIIII was toting an instamatic cameras with 4-sided flashcubes and if you accidentially dropped a gum wrapper, someone was right behind you to sweep it up. And way-back-when, there really were "E tickets". Now if you say to someone that something is an e-ticket, whereas it used to mean that you were in for an interesting, thrilling, or expensive experience, nowadays it likely means you're going to be stuck in a grim airport for a few hours.
In the Disneyland of days of yore, many of the stands were sponsored (when being sponsored wasn't considered such a bad thing – and when I heard Kim Kardashian gets $10,000 per tweet, I'm thinking that perhaps that's not such a bad idea, since I did the math on the 20,898 tweets I've posted), and I munched out at the Frito-Lay pavilion, Carnation was whipping up yummy malted milk shakes, and my parents had to practically call security to get me away from the Welch's grape juice stand. But I think security is a bit more lax these days as no one seemed to heed the no-smoking rule in the park in Paris, and I didn't see a single person getting reprimanded for it.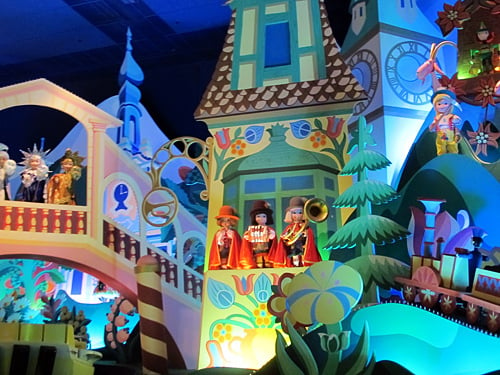 Located about thirty minutes from Paris, this year Disneyland Paris celebrates its twenty year anniversary. It was also a friend's anniversaire, who is a big fan, so I told my friend Heather that I'd take her there for the big day. Our friends Bryan and Jane came along, because it's more fun with a group. (Which came in handy, later…) And off we headed to the park with the October skies threatening – and succeeding at various times – to drench us with rain.
In spite of the overcast weather, the mitigating factor of going off-season is the short lines. Although there were certainly people in both parks, the main park and Walt Disney Studios park, some rides you could simply walk right up to and get on.
But before we could do anything, it just wouldn't be France if there wasn't some sort of paperwork snafu.
We hit the ground running, but needed a bit of sugaring up for the rides. Since Haribo candies were plastering the candy shops, I was certain there would be oursons guimauve amongst all the gummi bears and sour worms and jars of cotton candy. But in spite of my running around like the Mad Hatter at a tea party, there were only chocolate-covered marshmallow bears if you bought them via a tin gift box (€20).
I'm no cheapskate and my friends kept waving the box around to taunt me, but I didn't feel like carrying that box the entire day. If it was cardboard, well, I could have polished them off in a few minutes and tossed the box. However I may not be cheap, yet I am frugal, and cannot bear to throw away a perfectly good tin box. Even if it means carrying it on a ride and risk bonking myself on the head with it in The twilight Zone Tower of Terror, which was perhaps the best 2 minutes of the last 10 years of my life, excluding the time spent writing those 20,000+ non-profit tweets.
This ride was built first in the Paris theme park*, which is interesting because it's got a Twilight Zone theme to it. I know that Le Quatrième Dimension was broadcast in France, but I don't know how Rod Serling's narrative played dubbed in French, with another voice, fared. (Perhaps it was subtitled, but English-language television shows and films on tv here tend to be "VF" – version Française – or dubbed.) But I can't imagine using another voice for Mr. Serling. Thankfully, at the park, they used his actual voice, thanks to a bit of electronic wizardry.
I didn't take any pictures once they snapped us in to the tower because the ride allegedly goes faster than the speed of gravity. And it sure felt like that when we dropped what was probably eight stories, then the doors opened to a haunted hallway before closing again, and zooming us back up to another floor.
Thankfully, all the candies we had eaten were jellied, so they stuck pretty tightly to our insides – although one member of our crew was still a little jittery after Crush's Coaster, a tummy-churning, spinning and twirling ride through something that I can't remember because my brain got scrambled in there. And because most of it was pitch black. Thankfully, I kept everything in because I was not interested in seeing my morning pain au chocolat again in a less-pleasant state.
However man, or men, and les femmes, cannot live by gummi candies alone. So we hit the snack areas. There were some American(ish) treats…
Some Mickey meringues…
And some Mickey marshmallows…
However I was still throwing a tantrum that would have embarrassed a three-year old about the lack of chocolate-covered marshmallow bears in the park, and I didn't think a couple of chocolate-dipped ears would be quite the same thing. (And I'm a bit scared of pink marshmallows in the bags sold in France and always pick those out. And the pale green ones, too.)
However France was better represented by…
Although I'm not quite sure this cultural mash-up works…
I haven't kept tabs on what's happening in the American potato chip market, but in France, there is everything from oyster-flavored chips, to roast chicken, to some with salted butter caramel flavor. Where oh where is that Frito pavilion?
It's a bit of folly building a theme park in a city that's known for terminally gray skies with no shortage of rain. But at least they have the good sense to sell plastic rain ponchos (€9), albeit you would think since they're in Paris, they would at least make them a tad more fashion-forward. Since it was October, one of the notoriously iffy months for good weather, however, we were rewarded with unbelievably short waiting times for some of the rides. And in one day, we hit almost all of them. Many we just walked right on to. (Averting a few other tantrums from yours-truly.)
Some were really fun. But others, like the Pirates of the Caribbean, should probably be retired or at least re-imagined by the imagineers. I remember how exciting it was when it opened. But with the amazing effects that could be realized now, it was a bit triste to see animatronic figures gesticulating back and forth with robotic movements: In some, you could see the mechanics that operated them poking through. And worse, as your boat enters the ride, the skull and crossbones doesn't utter the words "Abandon hope all ye who enter here", perhaps because no one could figure out the translation of "ye" into French. (Or crossbones.) And the scariest thing about the Haunted Mansion was that I remember when it opened, it was an e-ticket with a 2 hour wait – and now it's empty.
But Space Mountain totally rocked it as we corkscrewed through space on a roller-coaster. And we flew around like madmen, and women, in the Mad Hatter's Tea Cups. And Dumbo was available to take us up, up, and away.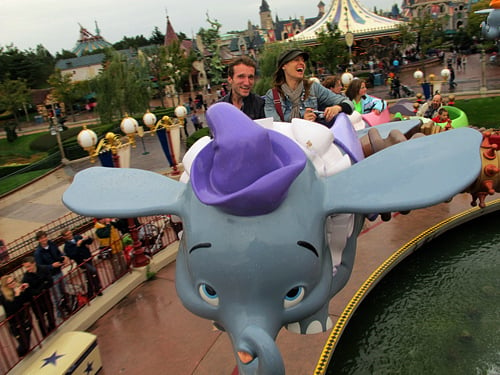 Being an expert at all things Disneyland Paris-related, Heather had made reservations at Walt's: An American Restaurant. It has a whopping 216 positive reviews on the American Trip Advisor site, and almost as many on the British one.
So for lunch we sat down for lunch at Walt's, which is an American restaurant, and I had a Caesar Salad.
And in a touch I'm sure quite a few parents appreciate…
…wine is served in the Disney restaurants. C'est obligatoire!
Two of my friends had the fall asparagus salad, because it's asparagus season – well, somewhere. And we all had steaks with potatoes that were just okay.
Dessert was a "French Toast" (aka Pain perdu) which was imaginatively garnished with scribbles of chocolate, a raspberry, and a fresh mint leaf.
Refreshed and fed, and hydrated with Sauvignon blanc, we hit the rides again, teetering between a sugar high from all the gummi candies (why were all the coffee stands closed – when you need them the most?!) and the vin blanc from Walt's.
A few other observations about Disneyland Paris:
-The regular food options in the park are pretty uninteresting and while there are some take-away style restaurants, the only one that was opened featured two things: hot dogs and chicken nuggets. I'm not a huge fan of hot dogs (personally, I prefer all the toppings, like sauerkraut and relish, to the bread and meat part), but they did have little packets of mustard, ketchup and, for some reason, mayonnaise. Do people really squirt emulsified egg yolks and oil on hot dogs?
The bun was pretty awful and when you're in a country famous for its bread, it's hard to chomp down on mushy, undersalted buns. C'mon, folks. If you're going to build a great American theme park, do decent American food. As a few places in Paris have discovered, if you make a good or great American food, people will come. Hot dogs ain't all that hard.
-Park employees aren't as ebullient as their American counterparts, but they are a nice, international bunch. (Although oddly, I only saw one Disney character roaming the park that day and not once did I spot Mickey.) And I think we were the only Americans in the whole place. But the folks who worked there were a good bunch of folks and many are from other countries in Europe.
-Surprisingly, there wasn't a lot of line-jumping. We were four, so were able to form a wall to prevent it from happening when we did see folks trying to wiggle ahead of us. Which usually happens when you turn a corner in line, with the wide arc of space next to you, which makes the perfect opening from someone to slip in there, then summon the rest of the family to join them. (Yes, really.)
-Disneyland Paris is not as relentlessly "happy" like the Disney parks in America. Maybe it was the weather, but it wasn't as pristine as I remembered it either. And one of the pumpkins in the main display had molded through completely on one side, which I was surprised no one noticed. But points to them for using real pumpkins.
-There's a dearth of les toilettes – or perhaps because this is, after all, Disneyland Paris, they're nearly impossible to find*. A few signs would help. Because some of those rides really shake things up, ya know.
-If you do go, buy tickets in advance online. According to the website, tickets currently are €84 and Heather said that 70% of the park attendees simply walk up to the gate and buy their tickets that way. I got mine on Vente-Privée (€30ea) although Francilien was tickets were selling that week for €35 if you bought them a few days in advance. (Prices subject to change.)
We closed the place and because since I didn't see Goofy all day, I guess we needed to go a little goofy ourselves. And at my age, staying awake past 8pm is getting "goofy." (And speaking of old, who else discusses orthopedic hosiery in line at Disneyland? I'll bet Kim Kardashian doesn't, which is probably why she gets the big bucks.) The closing show was nothing short of spectacular. Truly, after ten hours of traipsing around the park, looking for chocolate-covered marshmallow bears, I was pretty much kaput. So while my friends did some last-minute shopping, I took a breather on a concrete slab while the parents next to me chain-smoked, while holding their kids on their laps, waiting for the show to begin.
For the 20th anniversary, they had prepared a spectacle, Disney Dreams, which was actually spectacular. Under dark skies, animation and images were projected on Sleeping Beauty's castle with curtains of water and lasers. Quasimoto climbed around the towers to the top, the entire castle "fell" and rose back up, chimney sweeps from Mary Poppins stepped-in-time across the tower, which become the roofs of London, and a swirl of fantastic images really wowed me (something a tin of chocolate-covered marshmallows would have done – but I'm almost over that..) The catalog of Disney images from their rich history of animation reminded me of the long tradition of talent from Disney. A video doesn't do it justice because when you see it live, you forget you are looking at a castle, and just see the magic of Disney.
*I was talking to a French friend who had visited the park last year about this at dinner, how hard the restrooms were to find. I asked him if he had that problem, and he looked a bit confused, and said, "I never used them." Astonished, I followed up – "Wait. You spent an entire day at Disneyland and never once used a restroom?" "I never had to go" he answered.
And thinking about it, the restrooms were nearly empty every time I went in there (which was a lot, because of all the post-ride excitement, as well as a touch of Sauvignon blanc). I keep forgetting that Europeans don't use restrooms to the extent that Americans and others do. I once heard a shopping center had been built in Japan, but was considered "too-European" for the Japanese, which the writer said was a keyword for meaning there was a dearth of restrooms.
*Heather linked to the video in her Secrets of Paris newsletter and noted that the more interesting parts begin at the 7 minute mark. As a video, it doesn't capture the show in the same spirit. But for "cynics", as she says, (she cited "normally cynical Parisians" in her newsletter…and I think she was referring to me…) it was quite a jaw-dropping show.