Eating Around Queens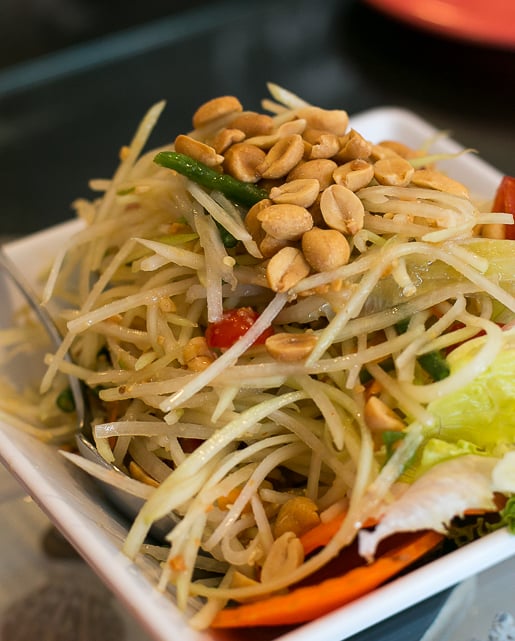 One of the things about discovering new places to eat in an unknown city is that you spend a lot of time getting around, figuring out how to get from Point A to Point B, then to Point C, and so forth. Sometimes people are kind enough to suggest places that sound good. But when you look at the map, they're an hour or more away. While the New York subway does go everywhere, when you're used to living in a compact city like Paris, where if you miss a métro, there's a very good chance that there'll be another one in the next three minutes, I've been slowly getting up to speed understanding the NY subway system, including the complex weekend closure schedule.
I had a list of restaurants that I wanted to go to, many in Queens, a borough which is known for being one of the best places to experience the multicultural cuisines that all come together in the melting pot of America. While other countries and cities do have good, or great, foods from other countries, according to NewYork.com, there are immigrants from over 100 countries and more than 138 languages are spoken within the 109 square miles of this one borough. And they all gotta eat – and so do I.
So who was happier than I when my friends Marge and David, who I met years ago on a really great trip to Ireland — she teaches cooking classes and writes about food, and David is a chef and professional recipe developer — invited me (or more like — I invited them) to show me around Queens.
I never understand how restaurant reviewers remember everything, right down to the name and vintage of the wine(s) that they had, not to mention all the sauces, what was in everything, and how they liked it, while at the same time balancing carrying on having a meal with others. I can barely make sure my toast is done in the morning close to the same time my coffee is. So it was nice they had a car and knew where they were going so that was off my mind. Plus Marge writes about food for Newsday, so it wasn't a problem snapping pictures and taking a few notes while we ate. While we weren't able to hit all the thousands of restaurants in the borough, we hit six different places in less than five hours, doing the best we, and our stomachs, could manage.
We started at The Arepa Lady, who ran a popular street cart for many years. Maria Cano, former lawyer and judge in her native Colombia, has been known for years for her arepas and is considered a must-stop in Queens. Truth be told, I'm not super wild about street food. Because I worked in restaurants for decades and sitting down to a meal at an actual table and chair was a luxury, I have an aversion to eating while standing up, and like to sit down. So the small restaurant was perfect.
A few people took me to task on Instagram when I labeled this arepa de choclo as an arepa (I told them to take it up with the owner as it was listed on the menu under the heading Arepas, which I guess mistakenly made me assume it was an arepa) – so now when I dine out and plan to tweet or post a picture on Instagram, I have learned my lesson and cross-check everything before sending my tweets and Instagrams to a copy editor, then a proofreader, then a translator, before hitting the "Publish" button.
Back at the table, I put away the smartphone, and we dug into fried plantains with a light-tasting guacamole…
…as well as an arepa de queso, an excellent soft mound of masa (cornmeal) with stretchy mozzarella under a shower of finely crumbled queso, a dry Colombian cheese.
We managed to get through all the arepas, or whatever you want to call them, and headed to our next spot: Phayul Restaurant.
I've never had Tibetan food, and walking up the tight staircase past eyebrow threading salons and jewelry shops, it felt like going to some sort of speakeasy. But arriving in the compact restaurant, most tables were filled with groups eating big bowls of steaming noodles, dumplings, and other dishes that I wasn't familiar with. Which was pretty exciting.
Taking a look in the kitchen, and watching the wise-looking cooks calmly blazing the foods in fiery woks before plating them up, I really wanted to take their picture, but was still smarting from my online scolding and wasn't up to risking any more wrath. So sat down, and let David and Marge take over the ordering.
I'm not a huge fan of thick, jellied noodles (these were made of mung bean flour) because the texture is a little off-putting to me, but also because the dense noodles don't absorb the flavors of the broth. So it wasn't my favorite dish of the day.
But the tongue with red peppers was terrific, even if you don't think you like tongue…(I never minded it until my dad took me to a deli and I saw a big, whole tongue in the showcase, with taste buds and all on it, ready to be made into sandwiches.)
…and we had momo, Tibetan dumplings, these ones filled with mashed potatoes. They didn't have any of the reputed spiciness I've heard about in Tibetan cuisine, but I think it's a place I need to go back to so I can explore more of the menu and try the salted butter tea, and watch the cooks do their thing, which was pretty fascinating to me.
By the time we hit Chao Thai, I was ready for some caffeine and ordered a Thai iced coffee. Thai cuisine is something not well-represented in France, perhaps due to its spiciness, but Romain told me it's his favorite cuisine. So while the new wave of Korean restaurants in Paris remain timid in the seasoning and spicing department, I think if Thai restaurants are the next wave, maybe give people a taste of the beauty of Thai cuisine, with all the chiles, herbs, and seasonings that make it a favorite amongst others, too.
That said, when I lived in San Francisco, I thought the Thai food in the restaurants there was great. That was until I went to Thailand. After that trip, I wasn't able to eat Thai food anywhere else. The food was incredible and was like the difference between eating a baguette in Paris versus a baguette in Manhattan. You can get a close approximation, but it's just not the same thing. (I bought a baguette at a bakery in NYC where the baker had worked for a French boulanger, which looked promising in the basket on the counter, but when I pulled off the quignon – the tip – to eat on the way home, I discovered that the beautiful baguette was, ugh, heavily sweetened.)
The jury is undecided whether SriPraPhai or Chao Thai has the best Thai food in Queens. And since we had a serious list of places to visit during our afternoon, here we were. I was very happy to be fueled by the icy Thai coffee, while we dove into the Som Tom (green papaya salad).
The green papaya was freshly shredded, and like a good Caesar Salad, all the ingredients and seasonings were well-balanced. But I ate something in it that had a very odd flavor, which none of my tablemates picked up on or got, which left a funny taste in my mouth. (It might have been some odd piece of papaya detritus.) However when I ate the leftovers a day later, that taste was gone and the salad was really good. Go figure.
Deep-fried tidbits of tofu with a sweet chile sauce came out with crisp, crunchy outsides, and spongy insides.
And beef larb with lime and chiles was spicy and moist, great spooned up with sticky rice.
The green curry with eggplant and a lot of bamboo shoots could have used more shrimp paste as a background flavor, but pacing ourselves, we knew not to finish everything as we didn't want to overdo it, because our next stop was for Chinese dumplings.
If you're expecting atmosphere, or a restroom (especially if you've had a large Thai iced coffee beforehand…gottago…gottago…gottago…), White Bear isn't the place to find them. Some say these are the best dumplings in Flushing and/or one of the top 7 dumplings in Queens, and we ordered the famed #6 – a dozen wontons with spicy chile sauce.
We weren't losing our minds over them, perhaps because we'd been eating so much. So I need to go back and give them another try.
After hitting the restrooms at a nearby shopping center (one of the great things about America, in addition to the exciting multicultural cuisine, is that there are bathrooms that you are free to use practically everywhere – with the exception of Manhattan), we hit our last stops, which included a Greek grill in Astoria, that was a fun finish, especially with an ice-cold carafe of retsina to polish off the day.
A few days later I found myself heading back toward Flushing, this time via the subway. After an hour and fifteen-minute ride, I exited at the last stop on the 7 line in Flushing to meet my friend Ann at Galaxy Dumplings.
Ann used to live in Paris, as well as in Beijing (she wrote Mastering the Art of French Eating, a charming gastronomic tale about her time in France), and I was happy to meet up with her at this modern dumpling house, located on the second floor of a nondescript, gray shopping center. The restaurant opens out onto the small mall, with a large semi-circular table that faces outside. Individual booths line the wall behind it.
Unlike other dumpling houses, there are no dumpling carts rolling through the aisles that you pick and choose from. And my Chinese "sister" in San Francisco told me that the Chinese food in Flushing is Northern Chinese, not the Southern Chinese that I'm accustomed to from San Francisco. So leave my expectations, like my heart, in San Francisco.
I was also upbraided online recently for not having dined with Chinese people. Even though I worked in a Chinese restaurant and spent 2-3 years eating with my co-workers, as well as my makeshift Chinese family in San Francisco, I would say that's not necessarily the case. But I'm always happy to get more experience : )
Ann, who is Chinese-American (…does that count?) and I picked several plates of dumplings from the extensive list of over a hundred on offer, mostly from their "Signature Dumplings" list.
When they brought them out, it was hard to tell which was which. They all looked pretty much the same; thick dough surrounding a ground meat filling, so I just took a snapshot of one dish and you get the idea. Eating them, it was hard to distinguish the duck meat with mushrooms from the lamb with cilantro as everything was finely ground up and boiled. But after a cold salad of mustard greens with 5-spice tofu, our dumplings landed and we managed to get through most of them.
Our favorites ere the dill and egg dumplings, with had a scrambled egg filling and plenty of fresh dill chopped and added at the last minute. It was so bright and fresh that I wish they had done that with the cilantro in the lamb dumplings.
We also had pork and chive pan-fried dumplings, which is made by frying dumplings then adding a slurry of corn starch and water to make a crisp skirt. I liked them a lot, although I wasn't so sure about Ann.
We were also kind of dumpling'd out, so passed on the peanut tang yuan and other dumplings, including the ones filled with red bean paste or pumpkin, and on the way out of the shopping center, reconnected via France with a stop at Tous les Jours, a French-inspired Korean bakery and café. Most of the pastries were of the puffy variety, and I suspected their French breads were on the sweet side, so we stuck with the honey brioche with a clever beehive shape.
Alas, it was a bit on the sec side, in spite of the moist honey center. But no matter, it was a fun exploration of Queens and Flushing, catch up with some friends – and with a bit of encouragement from one of Flushing Queens' most prominent (and most fabulous) ex-residents…
@davidlebovitz of course! Yay flushing! #FlushingRULES

— Fran Drescher (@frandrescher) March 18, 2015
The Arepa Lady
77-02AA Roosevelt Avenue
(347) 730-6124
Phayul Restaurant
37-65 74th Street
(646) 915-5188
Chao Thai
95-03 Whitney Avenue
(718) 424-4999
White Bear
135-02 Roosevelt Avenue
(718) 961-2322
Dumpling Galaxy
42-35 Main Street
(718) 461-0808
Tous les Jours
42-35 Main Street
(718) 358-0288