Food Blogger Camp, part 1
Yesterday was the best day of my life. Okay, it was the best day of the year. And since the year is only a couple of weeks old, there's probably going to be a few other contenders in the next fifty weeks. But still, yesterday would be pretty hard to beat.
To any 'normal' person, they might think that lazing in the sun for a few hours was bliss. But for me, it's all-you-can-eat tortillas. And I've been doing my best to make the buffet here at Club Med in Ixtapa live up to that designation.
It's nice to know that even after living in France for a number of years, I still haven't lost my uncanny ability, like many Americans, to be able to pile our plates to the max of whatever we feel like shoveling in our craws.
And it's also nice to know that one certain American hasn't lost his ability to be a bad influence on his foreign counterparts. Ever since Romain discovered crisp bacon strips, his hand has been a constant presence hovering over the overloaded dish of beggin' strips at the buffet. Mine's been in there, too. Although I use the provided tongs. (So not all American-style behavior can be taught, I guess.)
Diana has been hitting the food lines, too, And she's certainly doing her darnest to show off her dancer past by the pool late at night, which caught me totally off-guard when I caught her rockin' the dance line. ¡Vamanos, girl!
But it hasn't been all play (and all handmade tortillas) and no work. This is Food Blogger Camp, and we're trading tips and talking about how to dial up our blogs and make them more fun for everyone. I spoke yesterday with Jaden Hair (whose 4-year old son gave me my first tattoo! Pictures to come…) about cookbook writing and we've heard from a few other interesting voices around the web, focusing on food.
Words are one, thing. But you can't eat 'ands' and 'ifs", so we also learned tricks of the trade from Matt Armendariz on how he gets all those stunning food shots on his blog. He gets help from his partner, Adam Pearson, who showed us how a professional food stylist works, and who knew that we'd be making lists of things like museum wax and tweezers to put on our to-buy list when we get home? (Although with the mounds of moisturizer we're going to be needing as well.)
But I'm going to save his chat for another post, since I need to hit the beach again. With temperatures dipping to -8º back home in Paris, and the sun blazing away and the cool surf beckoning an arm's-length away from my room, I need to get myself back to the beach. Er, back to work.
(For those of you suffering in a winter climate elsewhere, you are welcome to download that photo and use it as a dartboard. But please, be careful where you aim. Thanks.)
If you want to know why Michael Ruhlman is, well Michael Ruhlman, he works during meals. While I was satiating myself with chocolate sprinkles (again) and ice cream, he was working hard on his next project. Although I didn't see the screen. So for all I know, he could've been reading Field & Stream, or Penthouse Forum.
But he gets a break, too, and can read whatever he wants because he kicked off the week with a great presentation on finding your voice as a writer, explaining how he gets his work done, and what it means to be a writer.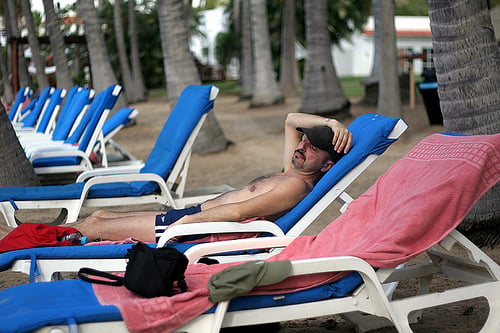 So even though the week's been a blast, we're only half-done. But before I slather on the sunscreen and hit the waves, you probably want to know what made the other day so special to me?
At the end of a long day, where it's necessary to avoid the mid-day sun (I think we passed the equator, which was the third left, just after the airport), we all took advantage of the mellow temperature and pounding surf to head out into the ocean en mass and loll in the sometimes turbulent waves to discuss important topics, like search engine optimization and photo editing programs.
Yes, it's nice to eat all the Mexican food, and super-fresh sushi caught right outside, you want. And to drink margaritas and micheladas to wash it all down. (And a few Lebovitz Isles as well, between open-air seminars on food blogging.) But if there's anything better than drifting out in the open sea, letting waves take you where they want, surrounded by wonderful friends, old and new, I don't know what it is. And that's one skill that doesn't require a seminar to master.