France Reopens to Americans (and Others)
[UPDATE 1: As of September 12, 2021, U.S. citizens must be vaccinated before they can enter France. If you are not vaccinated, you must have a "compelling reason" for coming to France, such as diplomats, students, and health care workers, who may be able to come with a  negative Covid test and must quarantine upon arrival. More here.]
[UPDATE 2: France is now requiring people who want to go to museums, and other public facilities, take trains, and dine indoors at cafés and restaurants, have proof of vaccine, or a pass sanitaire. You can find information here on how to covert a vaccine certificate to a code compatible with the pass sanitaire.]
[UPDATE 3: The European Union has launched a Re-Open EU website with information about Covid measures in place for travel to the various countries in the European Union.]
After over a year, France is opening its borders to most travelers, to a group that includes North Americans. I wrote about some of the developments in my June newsletter but some points have been clarified in the last few days. France announced a "color system" in which your requirements for entry will depend on what country you are from. There are three color groups; Red, Orange, and Green (more here and here) but for the Orange group, which includes North Americans, if you are fully vaccinated, you can come to France. If you aren't fully vaccinated, you must have a compelling reason to come, and the requirements are stricter, plus you'll need to quarantine for 7 days and have a PCR test after arrival.
The type of proof of vaccination has yet to be confirmed but you should print out what you have or bring your vaccination card, along with any other documents you have that relate to being vaccinated. Later this month, France will offer a "health pass" of some sort, which has yet to be determined. (More on that below.)
UPDATE: As of June 17, 2021, masks are still mandatory on public transit and in other places, such as museums and government buildings but they are no longer required when outside, and the curfew will be lifted June 20th.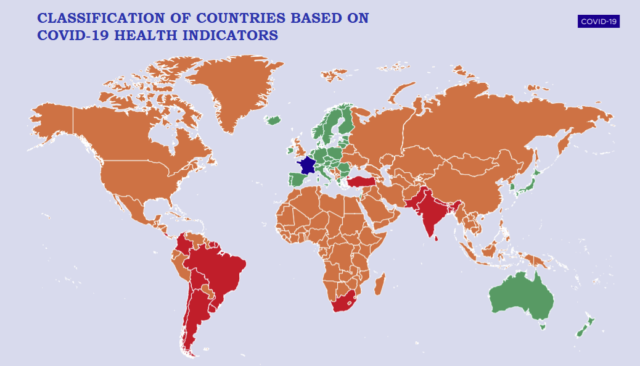 According to the US Embassy in France, here are the current requirements for Americans and others in Orange zones:
"Proof of vaccination (currently only the Pfizer, Moderna, AstraZeneca, and Johnson & Johnson vaccines are accepted). Travelers must also be fully vaccinated, which occurs two weeks after the second dose of Pfizer, Moderna, or AstraZeneca, and four weeks after the single dose of Johnson & Johnson; AND Either a negative COVID PCR test conducted within the 72 hours prior to departure or a negative COVID antigen test performed within the 48 hours prior to departure."
As of this writing, 18% of the population of France is fully vaccinated and 40% have received one dose, with news reports saying that 65% of people want to get it, which is up from 44% back in February. There is a much larger gap in people getting second doses in France, which are spaced out longer than they are in the U.S. so they can get a first dose into as many people as possible. Over the last two weeks there has been a 47% decrease in Covid cases in France.
Dining Out
By the time you come, you'll find the daily curfew bumped back to 11pm, museums will be open (with capacity limits and most requiring time-specific, non-refundable tickets purchased in advance to avoid overcrowding) as well as theatres and some sporting venues, and restaurants will be able to open for indoor dining at half-capacity.
Currently, café and restaurant terraces are open with certain protocols, which include distancing between tables and a maximum occupancy of six people per table. (These rules are loosely followed so if you plan to eat inside or out, you should feel comfortable being seated close to other patrons.) Also expect restaurant reservations to be a "hot commodity" so make sure to reserve in advance, and keep in mind that you may need to call the day before, or day of, to confirm. They may call you to confirm so make sure the number you give them is reachable. Otherwise, call the restaurant the day before you're coming (preferably not during hectic service hours) to confirm.
Let them know if you'd like to dine inside or out when reserving and be on time; due to reduced seating capacity, restaurants may assume you're not coming if you're overly late and give your seat away. If you can't make it, always call to cancel even if it's just 5 minutes before your reservation time, but preferably as soon as you know you won't be coming. There are always walk-ins that would love your table.
Staying in a Hotel or Apartment
Wherever you plan to stay, make sure your reservation is refundable. And while it likely won't be an issue, if for some reason you need to stay additional days (i.e.; in case results of a PCR test don't come back fast enough or if another travel issue arises), you should pad your travel budget to include the possibility of a few additional nights. Short-term rental apartments may offer less flexibility than a hotel if you need to add a few days to your stay, so keep that in mind when planning your trip.
If renting an apartment or staying in a hotel, the extended café terraces and relaxation of protocols have created a noise issue and younger Parisians are celebrating hard (and talking rather loudly) inside and outside. Hence all pharmacies carry a selection of earplugs, although you may want to bring your favorite brand, and I recommend downloading an app that includes soundscapes or some other noise blocker. (I use Calm, although Headspace and Relax Melodies and Insight Timer are others.)
Although not a guarantee, ask if they have any rooms not overlooking the street or sidewalk when booking, especially now that it's warmer when you'll probably want to keep the windows open. But note that courtyards can also be noisy since the earlier closing hours have prompted people to "bring the party home," and those can last into the wee hours.
__________________________________________________
Coming & Going
A government-sanctioned "Covid Pass" will be introduced in France presumably later in June, although it's not clear what it'll look like. The French government is requesting that people download the TousAntiCovid app, which is available in French and English, although it has a few kinks. One is that you may not be able to upload the QR code from a U.S. vaccination site.
If your home country requires a PCR test taken within 72 hours of returning, you might wish to avoid a Monday or Tuesday departure since, at present, there are no labs open in Paris on Sunday and most are closed Saturday, with just a few open Saturday morning. (I did manage to find one open Saturday afternoon here and got my results back in time for a Tuesday flight, but Monday would have been tough.) But there are labs that are now open 7 days a week, such as this one. But the pharmacies that offer antigenic tests are usually open Saturdays.
France has announced it will offer free Covid test to arrivals (which has been rescinded.) Many pharmacies in France have tents set up outside for rapid Covid antigen tests (with results in 15 minutes) and you can use the Doctolib site to find and make an appointment at a lab for a PCR test here and here (in French) and most mairies (city halls) in Paris offer free testing, too. At present, most of that information is in French but I suspect that will evolve as more travelers come, and there may be testing facilities aimed at international travelers.
UPDATE: The Paris airports are offering testing on departure with a 48hr return time for results for PCR tests and 1-2hr return time for antigenic tests (both subject to change.)
Most airlines will send you a list of requirements for your destination and it's important to read and understand those. Note that the rules are still evolving and may differ from what's mentioned above, so check with the embassy or another official website for the latest requirements.
IMPORTANT: For any documents that may be required to travel, it's best to download and print them out and bring them with you. Electronic documents may not be accepted or readable (such as QR codes, etc), and a paper document (preferably with some sort of official stamp on it) is generally the gold standard in France.
If you have a health issue while in France, there are some tips I wrote about how to get care here. Pharmacists in France are well-equipped to handle minor health issues and to offer advice, or direct you to where you can get further help. Embassy websites also list a few doctors that speak English and The American Hospital is another option as a place to get English-speaking care. (On the Doctolib website, which many people in France use to make medical appointments, it lists what languages the doctor speaks in their profile.) In most cases, in pharmacies and health care facilities, there is someone who speaks English and if you have a medical need and need English-speaking assistance, don't be afraid to politely ask for it. (I've helped visitors in pharmacies and medical places and in spite of what people think, French people are usually happy to step forward and help someone in need, which I've seen on many occasions.) U.S. travelers can also enroll in STEP to get notifications and alerts about any situation that requires attention.
Lastly, check your health and travel insurance to see specifically what's covered, what is, and what isn't covered if traveling during a pandemic. Many policies don't cover that, although some have provisions that do. While people don't use them as much as they used to, a good travel agent can help you plan your trip, make sure the details of your trip are taken care of, and can offer help with reorganizing your travel arrangement if any unexpected issues arise. As is the case anywhere – Soyez prudent, or be careful. Hopefully the worst of this is behind us!