Fresh Grape Sherbet Recipe
I'm really fortunate to have two friends, Mort and Jeanette, who live on a boat in the Seine. When Paris gets crazy, as it does in September when everyone returns from their vacations, it's a lovely respite to have a glass of wine on the deck and watch the world leisurely float by. It's a great escape from a bit of the madness of la rentrée, when everyone comes back to Paris in the fall and as tans fade, people slip back into the big-city mode. And soon, I'm back to cursing the motor-scooters and electric scooter riders who cut me off—on the sidewalk, I'm making appointments with the kinotherapist to re-align my back after losing too many games of "chicken" on the once-again crowded city sidewalks.
Anyhow, last week I was in Mort and Jeanette's neighborhood (ie: the Seine) and noticed they had a big case of grapes from their home in Provence, that were ripe for the picking, and tasting.
They weren't sure what kind of grapes they actually were, but they had an intense, spicy flavor, and the skins were a gorgeous inky-purple. I sat there, plucking them off the stems and using my newest grape-seeding technique: forcing them through my diastema, then spitting the pips into the Seine.
When they asked if I wanted some to take home, as soon as I answered, "Yes!" – they were loading up a couple of bags for me. Or perhaps that was a subtle hint that they wanted their seed-spitting guest to leave.
Indeed, that's not a very efficient (or attractive) way to stem and seeds grapes and at home, I used my hands. But the best way to stem grapes quickly is to put the bunches in the bowl of a standing electric mixer, attach the dough hook, then turn the speed on to low. The hook will pull off the stems, which can then easily be lifted out. That is, if you didn't put your dough hook away since you didn't use it very often, then forgot where you put it…ahem…
Since I can't find my dough hook, maybe next time, I'll just bring them to le cinema with me. It'll give me something to do while watching the film. And if I don't know where to spit the seeds, I'll just look for the flashing lights. And aim in that direction.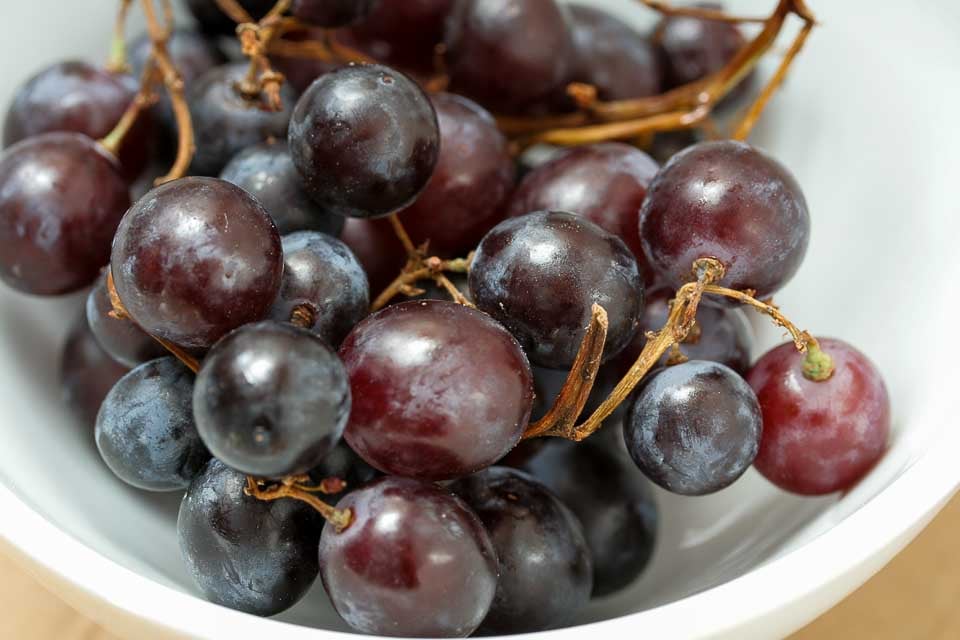 | | |
| --- | --- |
| Fresh Grape Sherbet | Print Recipe |
Technically, this is a sorbet since it contains no dairy, and sherbet is a term applied to fruit ices, which sometimes contain some milk or eggs. No matter what you call it, it's very refreshing and uses only pure fruit, and is lightly-sweetened. Because it has so little sugar, once churned, it can get rather firm if left in the freezer. If it does, simply leave it out of the freezer until it becomes scoop-able again.
2 1/4
pounds (1kg)
fresh, flavorful grapes
(such as Muscat, Zinfandel, Concord or a wine-making variety), rinsed and stemmed
3
tablespoons (45g)
sugar
optional: 4-6
tablespoons (60-90ml)
rosé wine
1. In a large non-reactive pot, add the grapes along with the water. Cover, stirring from time to time, and cook until the grapes are soft.
2. Remove from heat and pass the grapes through a food mill with the attachment with the smallest holes. If you don't have a food mill, press them through a fine-mesh strainer, which will take a bit of force. Different grapes will yield differing amounts of juice.
(I got 3 cups, 750ml, of juice from mine, which is good to know if you want to make this with high-quality bottled grape juice.)
3. Add the sugar, corn syrup and rosé, if using, and stir until the sugar is dissolved. Chill thoroughly, then freeze in your ice cream maker according to the manufacturer's directions.
Note: If you wish to omit the corn syrup, you can substitute an equal amount of mild-flavored honey or an additional 3 tablespoons (45g) of sugar.
Related Links
The Perfect Scoop (Amazon)
Making Ice Cream Without a Machine
Concord Grape Granita (Ms. Adventures in Italy)
Grape Foccacia (A Year in Bread)
Concord Grape Pie (New York Folklore)
Grape & Raisin Bread (Baking Bites)
Tips on How to Make Ice Cream, and FAQs
Making Fresh Grape Juice (Simply Recipes)