Food Bloggers on Columbus Isle, the Bahamas
On my vacation, I loved posting updates about what I was doing, but I'm sure you can understand that I wasn't all that keen on sitting in my room slouched over my laptop. Yes, I love and missed you all.
However every relationship has its limits. And there was something more important standing between you and I:
But on the 9+ hour plane ride home, I didn't have much to do…especially since the in-flight entertainment was non-functional…so I gathered up my photos and wrote a lengthy wrap-up of the trip. And as soon as I got home, I published the story and pictures, only to check back a few minutes later and find that half the post was missing.
And no, not the part with the thong. You're not getting off that easily. I'll get to that later…
Like the inhabitants of a tropical island on LOST, my post was equally without bearings, floating out there on the internet somewhere, adrift and listless, where no one could find it. So I cobbled it back together the best I could, republished it and poof!&mdashed;vanished again. Like the folks who follow that program, I'm sure I could start some sort of conspiracy theory about why it's happening, but I think I should just move on and hope the third time's a charm.
And if I keep comparing my blog to LOST, my part better not be played by the doctor-guy, because if it was, do you think I'd be rewriting my post? I'd be staring at myself in the mirror instead.
The note arrived in January, just as winter was wearing me down, an invitation to head with some of my favorite people to the Bahamas. In the history of Gmail, I don't think anyone's ever hit the 'Reply' button so fast.
I know most of you probably think I lead the life of an international jet-setter, the reality is I spend more of my time trying to translate what a 'stay-cation' is to my French friends than actually getting out of town.
And although the lure of an invitation to a food blogger meet-up is a good enough reason to head to a warm tropical island (and, of course, the unlimited oceanside cocktails), seeing my friends Deb and Elise again, plus meeting for the very first time Jaden and Diane, were the crème au beurre on the rum-scented coconut cake.
However I did learned to steer clear of my next door neighbor, who could be a bit of a grouch if you caught him at the wrong time.
Yelling and hairy chests aside, I had the bestest neighbors that a guy could ask for during that whole week. Matt and Adam shared a porch with us, and the only thing missing was the convex mirrors to keep an eye on each other while in our respective chambres. We did overcome that little obstacle by using the island's hi-tech communication system—shouting; although using it to chat with Deb and Alex a couple of doors down probably wouldn't have gone over well with other guests in the 'hood.
Matt, when he's not rolling in the sand (there's a story there, but that's LOST, too. So I'll let you come up with your own theories) and his partner Adam, who can invoke fear and consternation with just a gentle arch of an eyebrow, were my all-time favorite neighbors. Luckily I stayed on my best behavior the entire week and steered clear of any retribution. But a few times, let me tell you—I came perilously close.
We shared both a porch and a corkscrew: the only thing missing was convex mirrors to keep an eye on each other while in our respective chambres. We overcame that silly little obstacle by using the island's hi-tech communication system—shouting; although using it to chat with Deb and Alex a couple of doors down probably wouldn't have gone over well with other guests in the 'hood.
All things considered, with all the icy tropical cocktails on offer, including the hottest drink sensation to hit the tropics, the Lebovitz Isle, remarkably, we all managed to keep ourselves in line.
The fetching Jaden and Diane gladly posed for my top-secret other website, where they've been renamed Blushing Lotus Blossom and Not-So-Ancient Chinese Secret (just in case you're trying to Google their names to find out where the site is) whose pictures I'm sure are going to fetch quite a price, believe you me.
And you're getting a look at these babes for free! So don't say I never did anything for you.
Lest anyone think there's any hint of exploitation, if anyone who even thinks about taking advantage of those Asiatic Aphrodites is going to get what's coming to them.
And then some.
I kept my bijoux de famille out of harm's way. Them girls be fierce!
But should you think they were the only lascivious lovelies lollying on the sand, you're sadly mistaken, as there's nothing more fun that getting a bunch of blogging friends on the beach with their cameras for a late afternoon set of glamorous photos while the sun sets over the Caribbean.
I simply shouldn't choose a favorite, but if there's anyone more photogenic than Elise, I don't know who it is. Captivated by her flowing locks, all our cameras were clicking away as the tide rolled in and the Caribbean breezes whipped her tresses alluringly around her sunny smile. But I should just skip trying to be poetic and just say that Elise is a total babe. And one who can make a mean batch of enchiladas, too. Which just proves that maybe you too, can meet the girl of your dreams at Club Med.
Deb looked like a ravishing Italian moving star with her dark, wavy locks while husband Alex proved as handsome as a 50's movie idol. The cutest couple in the Bahamas!
(Lucky for them Elise and I weren't a couple…otherwise we might've given those lovely lovebirds a run for their money.)
Colorful tattoos abounded and the blogger boy-o'-the-beach showed off his inked body parts with the guest chefs on the island, who invited us all out for a final evening visit to a local bar, but we all begged off since none of us could keep our eyes open past our pathetically bewitching hour 9:30pm. Although in our defense, the hotel dials the clock so you get an extra hour of daylight, which we took full advantage of.
And take advantage of that extra hour we did!
I loved having breakfast overlooking the amazingly-blue water, where the copious buffet offered a mélange of French and American treats. I skipped the croissants and other Frenchie fare and dialed in right on the goods I was looking for: spoon-sized Shredded Wheat, a heated chafing dish piled with griddled bacon (where Romain was amazed at my ability to expertly fish out all the extra-crispy bits before the other guests got to them), and toasted poppy seed bagels with cream cheese and capers.
I later learned about the famous Club Med White Chocolate Bread, on the next-to-the-last day, when it was almost too late. But I quickly made up for lost time and gobbled down as much as I could. If you ever go, you can order a loaf or two, and bring it home with you, although it's kind of dangerous stuff.
I also learned that the magic word for the week, which wasn't "mai-tai" but "Valérie." Whenever I'm in a foreign city, if there's a fish market, I always ask them where the best place to eat is. Fish folks insist on freshness and in all my years of traveling I've never been steered wrong.
Similarly, whenever I stay in a resort or spa…which, admittedly, isn't often enough…I ask a trusted employee who the best masseuse is. And in this case, I asked the wife for the resort's doctor for a recommendation, and she didn't steer me wrong.
She refused to divulge secrets about any maladies floating around, although it was abundantly clear that Club Med's days as a hedonistic free-for-all are long gone, in favor of sophistication and a more upscale vacation destination.
Except in rooms #315 and #316.
So now I'm back home in Paris, sans sun and rum, and rewriting this has given me one more chance to experience this trip, which was like a week-long dream come true. I though it would take more than a Boeing 737-200 with a non-functioning entertainment system to pull me away from the Oreos at the ice cream bar, which chef Erik Peters admitted that he shared my affection for, curiously extra-tasty when softened by the tropical humidity. But unlike the white chocolate bread, I wouldn't hold my breath for them to start marketing slightly-soggy Oreos.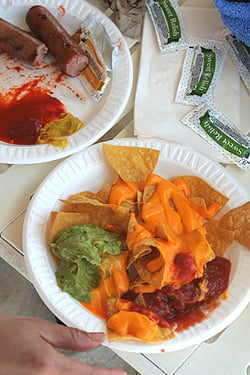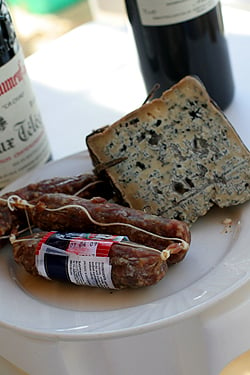 Still, we managed to eat everything from nachos to noshes that Diane smuggled in from Los Angeles. It wasn't as if we were lacking for things to eat. But after a long day hanging around on the beach, those lovely sausages and tingly Spanish blue cheese got some envious looks from other beach-goers.
And…speaking of hung, I couldn't leave you hanging without the last word on the thong, which one morning was found inexplicably on the floor of our neighbor's room. I heard a loud shriek when it was discovered and somehow, the micro-mini that became our unofficial mascot for the week cross a few continents with a simple toss over a railing.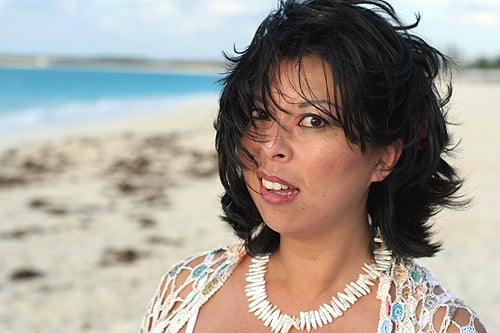 When Jaden heard we were going to do some beach shots with the aforementioned string…well, let's just say the idea didn't go over so well with her. So I let it drop, so to speak.
And if you're looking for something dangling, since the swimsuit finally went AWOL, that's not going to happen. But I will give you one final shot of a cute little fesse that I caught on the beach one day, although I'm not at liberty to tell you who it belongs to, because Matt would kill me.
I will say that waking up and finding a barely-there swimsuit on the floor deserves a bit of leniency. Although those who dare to vacation with me ain't going to get it. Still, in spite of having me along, it was a magical week and thanks to those who shared it with me.
I previously wrote something special about everyone I went with, but in reviewing my notes and photos, I think right here Elise says it best…
And be sure to check out the sites and stories of the entire gang:
Jubulent Jaden of Steamy Kitchen
Enchanting Elise of Simply Recipes
Debonair Deb of Smitten Kitchen
Dashing Diane of White on Rice Couple
Matt of Matt Bites, the gluteus minimus himself, whose snapped the shot of me letting down my guard on the beach.