Joe Coffee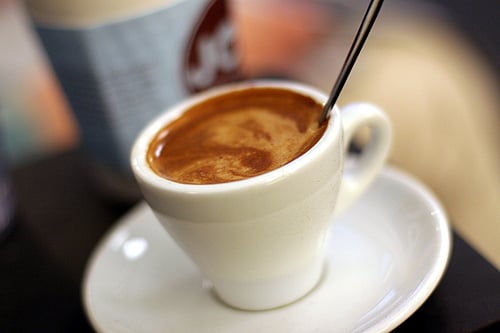 We've been doing quite a bit of shopping here in New York. Romain has been here before, but never with an 'almost' local. (I grew up next door.) Sure, he's been all the museums, but he's never been to places as uniquely American as Bed, Bath & Beyond, TJ Maxx, and Old Navy, where we saw the woman who played Janice on The Sopranos loading up on bargains. I guess now that the show is over, she's watching her finances, too.
He was absolutely bewildered that one could buy a shirt for $10 or pay just $25 for a pair of sneakers, which, in euros, cost a third of that. We've both been loading up on Levi's at Dave's for $32, or €20. And my once-empty suitcases are now bulging at the seams. Everything is so cheap here, and no tax, either—God bless America!
Oddly, the same jeans I bought in France cost €72 ($100), and that was when they were on sale.(Although I didn't get the same personal attention that I did in Paris, which, arguably, is worth the extra cost—at least at my age.) After all that bargain hunting, what could plus obligatoire than a cup of good, strong coffee?
So we stopped in at Joe Coffee. Although I've always found their espresso a bit murky, Romain's declared his espresso macchiato, "Le meilleur café de ma vie," the best coffee of his life. I took a sip of his, and indeed, it was amazing.
I don't quite know what to write about French coffee that I haven't written about before, but after he was done, he wondered why he couldn't get coffee like back home. So now he's hooked, and so am I.
And not just on the coffee, but the bargains. We're going to need an intervention to get us to leave.
Joe Coffee
405 West 23rd Street
New York City
(212) 206-0669
(Other locations throughout Manhattan)