Paris Gastronomic Adventure: October 18-25, 2009
Just announced—an all-new tour this fall! For one delicious week we'll be feasting and tasting the best of France.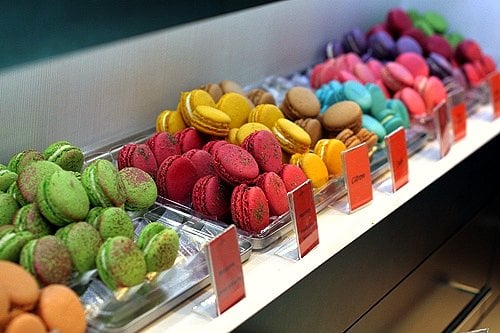 From extraordinary chocolate shops, to magnificent fromageries and bustling bouchons, this one-week adventure will be unforgettable! The itinerary is different than my Paris Chocolate Tours, so those of you who've traveled with me before, if you're interested in coming along, we'd love to have you.
For this trip, we'll be focusing on some of the other tasty aspects of Paris, including…
…visiting the best candy and pastry kitchens, and watch them dipping chocolates, piping macarons, and swirling sugar into edible confections.

…taking a market tour and having a hands-on cooking class from Paule Caillat in her professionally-equipped kitchen
…partying on Mort Rosenblum's wooden houseboat in the Seine under the twinkling lights of the Eiffel Tower
…tasting wine in a private wine cave with my hip sommelier Oliver Magny
…dining at the hottest underground supper club in Paris
…participating in a tasting of cheeses as well as Spanish hams and charcuterie, ending with the best Italian gelato
… pulling up to the table with Alec Lobrano from Gourmet magazine, who will give you a personally-autographed copy of his delicious book, Hungry for Paris
…and we'll spend a special day in the culinary capital of Lyon, and visit (and taste) the best this city has to offer including an exclusive behind-the-scenes tour of Bernachon bean-to-bar chocolate maker.
You'll be spending six nights in a deluxe 4-star Paris Left Bank hotel with all breakfasts, five lunches, four dinners, first-class train travel, plus guides and transit included. This trip is limited to 9 guests. (Note: There are just 5 spaces left.)
For more information please check my Tours page. Previous tours have sold out quickly and this one is sure to do so as well. To sign up, or if you have additional inquiries, please contact Jeanette Hermann.
Update: This tour is now full. If you wish to be put on the waiting list in case of a cancellation, send an e-mail to the address above.