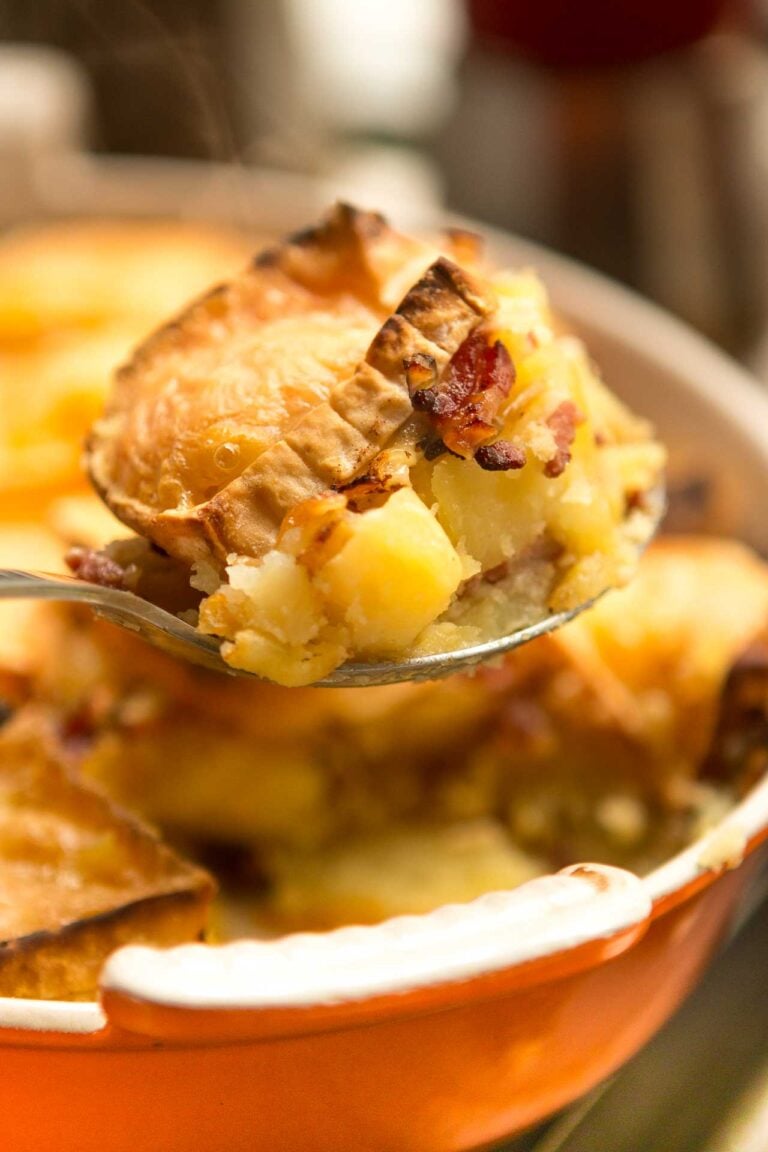 One French dish I've not made is Tartiflette. It's one of those things that you tuck into after a day of skiing down alps, which I did once with a family of expert skiers, realizing too late that my intermediate-level of skiing was no match for my friends, who pointed their skis straight down the top of the alps and took off. I tried my best to keep up, but in spite of the spectacular scenery (and dizzying heights), I realized my talents were better in the kitchen than on slopes, especially compared to a French family of élite-level skiers.
If you go to street fairs, markets, or village festivals, and other down-to-earth places in France, you'll find it made in huge vats and sold in barquettes (containers) for people to take home and reheat, or to enjoy at communal wooden tables with glasses of crisp white wine from the Savoie.
But Tartiflette easy to make at home. And when I saw a recipe in Chez Lesley, a terrific new cookbook from my friend Lesley Chesterman I decided it was time to make it. Lesley spent years as the dining critic for the Montreal Gazette before embarking upon writing her book, which could not have come out at a better time, when we're all looking for sturdy classics. Lesley's original career path was to be a ballet dancer. But when she realized that wasn't going to happen, due to an injury, she decided to become a pastry chef, training in Montreal (where she's from), and then, in France. A reality check (getting a bad case of the measles in France, being in a bad car accident, and working like a dog as a baker), Lesley pivoted to become a food writer and restaurant critic.
I met Lesley some twenty years ago in Montreal, when she took me and a friend to a local sugar shack, where menu items feature maple syrup tapped from the trees just outside. For someone like me, who loves maple syrup, it was heaven. They even had pitchers of maple syrup on the tables, in case you wanted to add more to what was already served. (Which I did!) So my memories of Lesley have always been sweet.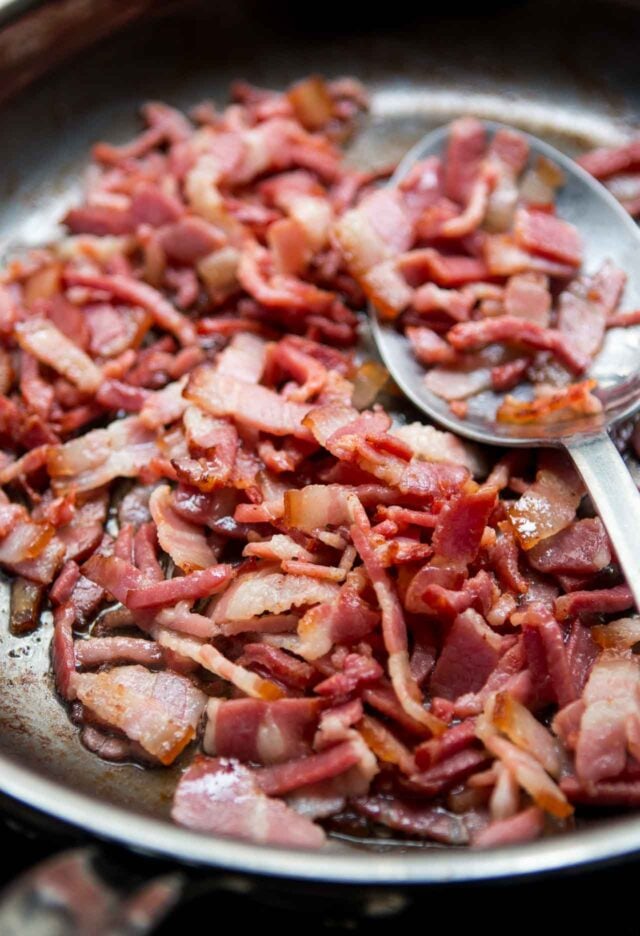 Lesley spent a lot of time eating fancy food in her career as a dining critic, but what she wanted to do after she left her post was to write was a book of recipes anyone would feel comfortable making at home. Her book, Chez Lesley, written in French, reflects that with the basics covered; crème caramel, crème brûlée, maple-pecan sablés (French butter cookies, with a nod to her Canadian roots), cinnamon brioche, and a chocolate "mégamousse," served in an oversized bowl, as they do in restaurants in France. The savory side is equally represented with international favorites like Flammekueke (Alsatian flatbread topped with smoked bacon and cream), Soupe a l'oignon (French onion soup), and an "express" Bolognese. In other words, all the things you want to eat, with easy, do-able recipes.
Since winter is upon us, and snow is predicted this weekend, it seemed the time was right to make Tartiflette. While it's considered a traditional French dish, according to the Reblochon website, Tartiflette is based on yet another dish from the Savoie, called Péla. Péla is made with fried potatoes and Tartiflette – I guess in a nod to being healthier – generally uses boiled or steamed potatoes.
One thing you do want to use thicker-cut bacon batons typically used in French cooking called lardons, or alumettes if they're thinner. You can buy thick-cut bacon and just cut it into batons or strips. But if that's not possible, just cut your bacon strips into larger pieces before cooking. I had a few types and thickness of bacon on hand so I mixed 'em up for this one. But it's all good. It's bacon.
Speaking of "on hand," I'm still in the "use what's you've got" mode. Reblochon is a semi-soft cheese that's used for Tartiflette, but you'll see folks using other semi-soft cheeses. (Reblochon is apparently illegal in the U.S.) There are even unnamed cheeses (above) in France that are meant to be used for Tartiflette, but don't have an official appellation. In her recipe, Lesley uses Oka, a cheese that's widely available in Canada, because she said Reblochon is "insanely expensive" where she lives.
As delicious as cheeses like cheddar, Emmenthal, Comté, and Gruyère are, they won't melt the same way as a semi-soft cheese will. I used Fromager d'Affinois which I had in the back of my refrigerator due to a cooking project I worked on a month or so ago. It didn't quite get as melty and gooey as softer cheeses do, but it tasted great. I'm also one of those people who prefers crisp cheese to runny, so it wasn't a problem.
Don't get hung on a specific type of potato. If in doubt, do what the French do and hit your local market and ask the vendor which is best. You want a potato that's more for risollée (for frying) rather than for purée (mashed potatoes). Yellow potatoes, like waxy Yukon golds, are generally a good bet. In France, Roseval, Monalisa, or Belle de Fontenay are possible choices. French botanist Henry de Vilmorin cataloged 631 varieties of potatoes in France back in 1881. So there are plenty to choose from!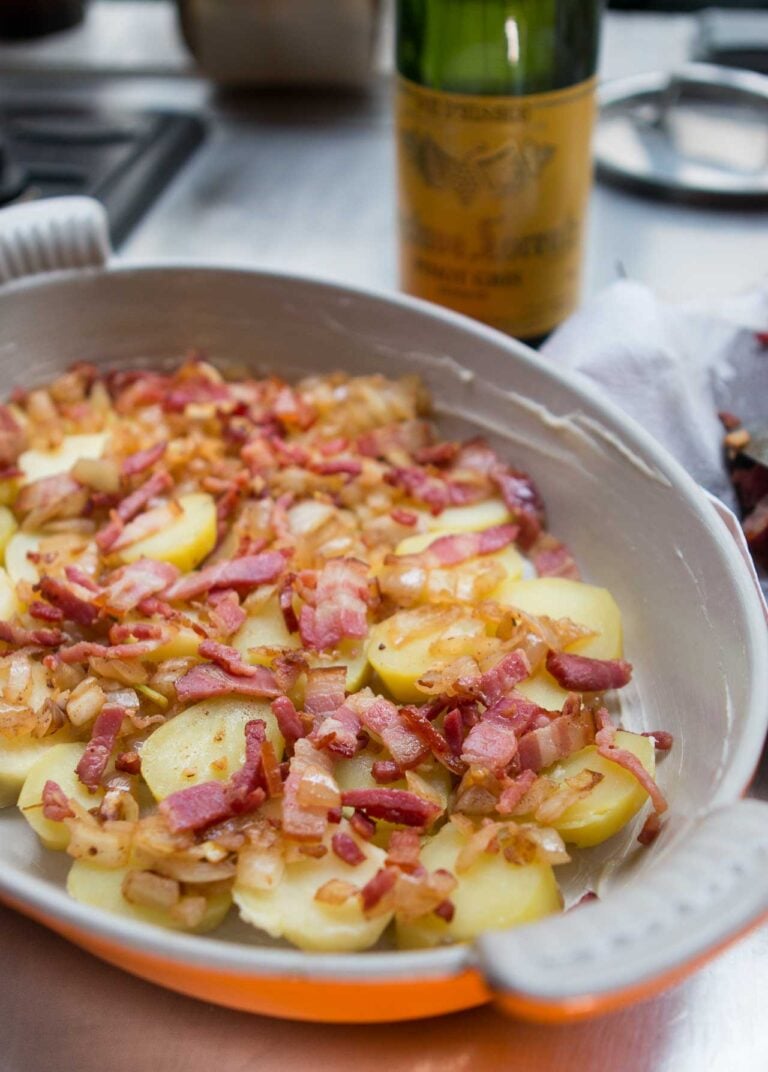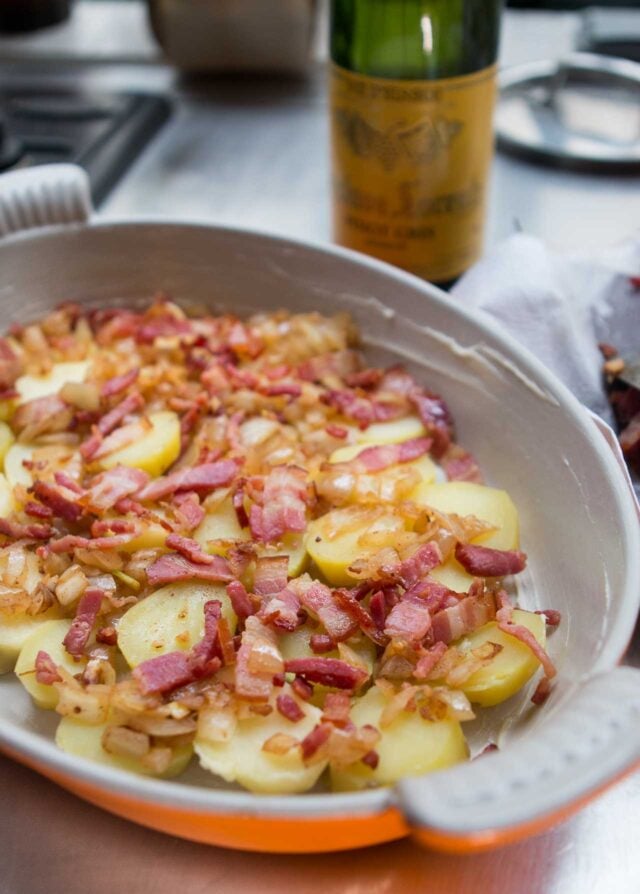 Lesley's version is heavy on the bacon (those Canadians!) and French people don't usually don't prefer crisp bacon. Here, the idea isn't to petrify the bacon, but to cook it and keep it moist. Tartiflette is one of those French dishes that's deceptively simple, with just a few ingredients, but deeply satisfying. I serve it with a big winter salad of sturdy, assertive greens that might include escarole, frisée, kale, radicchio, watercress, or Belgian endive.
Tartiflette
Adapted from Chez Lesley by Lesley Chesterman
The traditional cheese to use is Reblochon, which can be hard to get (and expensive) outside of France. Any semi-soft cheese with a brie- or camembert-like texture, that melts well, will work. Lesley used Oka. Reblochon is often cut in half horizontally and the pieces are placed on top of the potatoes, rind side up, and baked. Whatever semi-soft cheese you use, leave the rind on. To make it vegetarian, omit the bacon. If avoiding pork, use smoked turkey bacon.
2 1/2

pounds (1,1kg)

potatoes

,

peeled

salt

12

ounces (350g)

lardons

,

(thick-cut bacon cut crosswise into batons)

1

large

onion

,

peeled and diced

1

clove

garlic

,

peeled and minced

3

tablespoons

dry white wine or vermouth

freshly ground black pepper

1/4

cup (60ml)

heavy cream

1

pound (450g)

Reblochon or another semi-soft cheese

,

sliced about 1/2- to 3/4-inch thick (1,5-2cm)
Butter a 2-quart (2l) gratin or baking dish. Bring a large pot of lightly salted water to a boil. Add the potatoes and cook the potatoes at a low boil until a paring knife inserted into the center meets no resistance, about 12 to 15 minutes. You want them fully cooked through but avoid overcooking them. Drain the potatoes and set aside.

Preheat the oven to 425ºF (220ºC). Put the bacon pieces in a cold skillet. Bring the heat up to medium-high and cook, stirring frequently, until the bacon pieces are almost crisp. (If necessary, add a bit of olive oil if your bacon doesn't have quite enough fat to keep it from sticking.) Drain the bacon onto a paper towel-covered plate.

Remove most of the bacon fat from the pan, leaving a few teaspoons remaining for frying the onion. Add the onion and garlic to the pan and cook, stirring frequently, until the onions are completely cooked and translucent, about 5 to 7 minutes. Turn off the heat and add the wine or vermouth to deglaze the pan, scraping the bottom of the pan to release any browned bits.

Slice the potatoes and 1/2 - 3/4-inch (1,5-2cm) slices and lay half of them in a single layer in the baking dish. Season very lightly with salt (the cheese and bacon will add a fair amount of salt) and freshly ground black pepper. Strew half of the onion mixture over the potatoes and half of the bacon.

Arrange the remaining half of the potatoes in a single layer in the baking dish, season with salt and pepper, then finish with the remaining onions and bacon. Dribble the cream over the top, then cover with the slices of cheese in a single layer. Bake on the middle rack of the oven until the cheese is melted and starting to brown, about 30 minutes. Serve hot.
Notes
Do ahead: You can assemble the Tartiflette, minus the cheese (which may dry out) and refrigerate it until ready to bake. Bring to room temperature before baking.
Fun fact: The Tartiflette recipe from the official Reblochon website says, "You can add...white wine...and a dash of crème fraîche (cream)..." so those are variable and according to them, aren't required in Tartiflette. Just in case you're wondering.