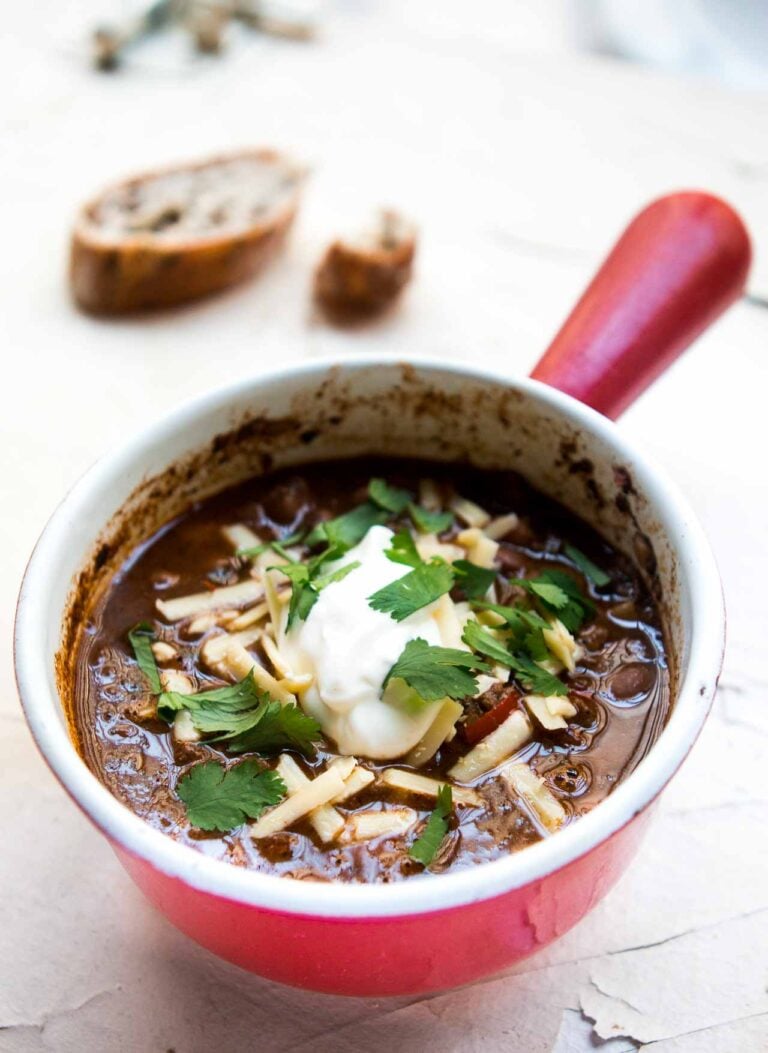 I decided this year I was going to make peace with my slow cooker. I was surprised by how much I didn't take to it, which I've documented here and there. Like bread machines, Instant Pots, Thermomix, and cast irons skillets, someone wrote about the latter on my Facebook page, "It's just a PAN…" (in all-caps), they certainly have their fans. I do like my cast iron skillet very much, but my life doesn't change radically when I reach for mine. Although wouldn't it be great if that was all it took? 😀
My appliance company gave me the slow cooker after I hounded them for three years to get reimbursed for a dishwasher repair charge they said they'd reimburse me for. I was happy to have finally settled that debt and move on with my life, but am still unclear as to why it took three years for them to tell me they couldn't send me a check for reimbursement. Since I already had a grille-pain (toaster), a robot (food processor), and a boulloire (hot water kettle), I went with the slow cooker, which I've been determined to fall in love with.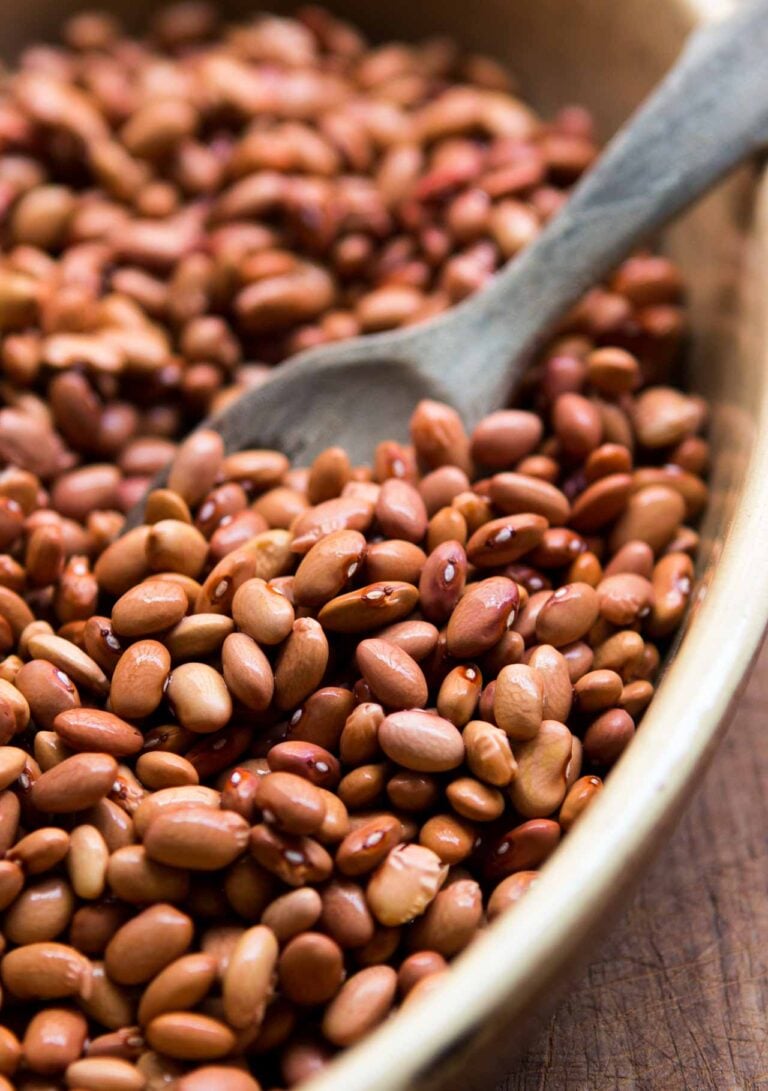 In the spirit of trying to make peace with the world, as a tumultuous 2020 comes to a close, I did find three things my slow cooker does very well: Rice, chicken stock, and apple butter. The rice came out so well I gave away my rice cooker. As for stock, the extra-long simmering really drew out the flavors; I simply dropped everything in the magic pot, turned it on, and returned a few hours later to a pot of rich, warm, fragrant stock.
The apple butter, however, wasn't popular with my Frenchman, who wouldn't eat it since the color and texture reminded him of something less-appetizing. He also wouldn't eat the pork shoulder I slow-cooked, which I thought was a foolproof cut of meat, but he said it was trop sec (dry), and after trying to pretend it wasn't dry – because I didn't want to admit he was right – I finally caved.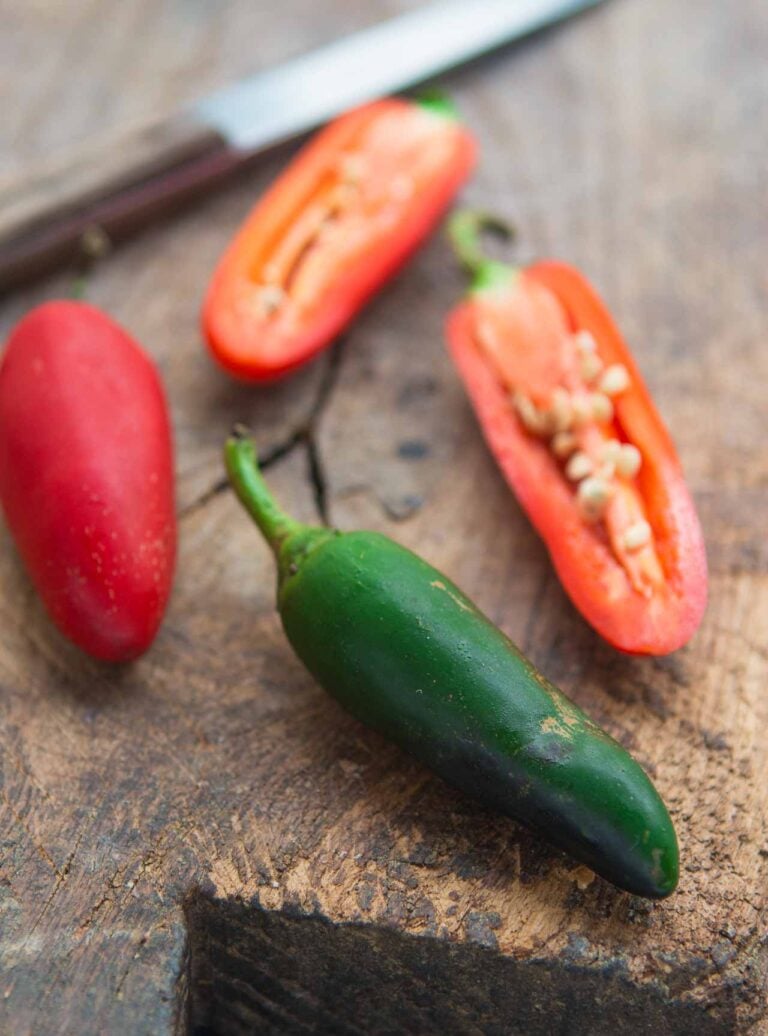 Another vow I made in 2020 was to go through my kitchen and refrigerator and use what I've got, I had some unmarked heirloom dried beans on hand and wanted to use them. Dried beans in France are usually quite hard to cook. The water is calcium-rich and even using bottled water or baking soda doesn't necessarily soften tough beans. I try to buy them from a local source so they're fresh, but couldn't recall where my beans were from as I'd transferred them to a jar. So I decided to make a dish that benefits from a long, leisurely cooking time, and that (sometimes, controversially) uses beans. And that would be chili.
Re: Beans in chili. We all know sugar isn't traditionally used in cornbread, although the argument that adding a teaspoon of sugar to a batter makes it "cake" is questionable as I've not seen a cake recipe that calls for a teaspoon of sugar. (If you know of one, let me know because I get asked for low-sugar desserts all the time.) People were surprised to hear that cooked vegetables don't belong on a traditional Salade Niçoise. But especially this year, due to the pandemic, I saw people in other parts of the globe walking miles just to get a cup of rice to feed their family, or watching their food supply get decimated by insects. It made me appreciate my stocked refrigerator and kitchen cabinets – and chocolate stash – even more, and the fact that I can walk a block or two and get pretty much everything I want to eat. So while all that stuff makes for interesting debates, I am very grateful to have food and the luxury of choices.
(In To Bean or Not to Bean; Jumping into the Chili Debate talks about the origin and evolution of chili if you want to take a deeper dive into that discussion.)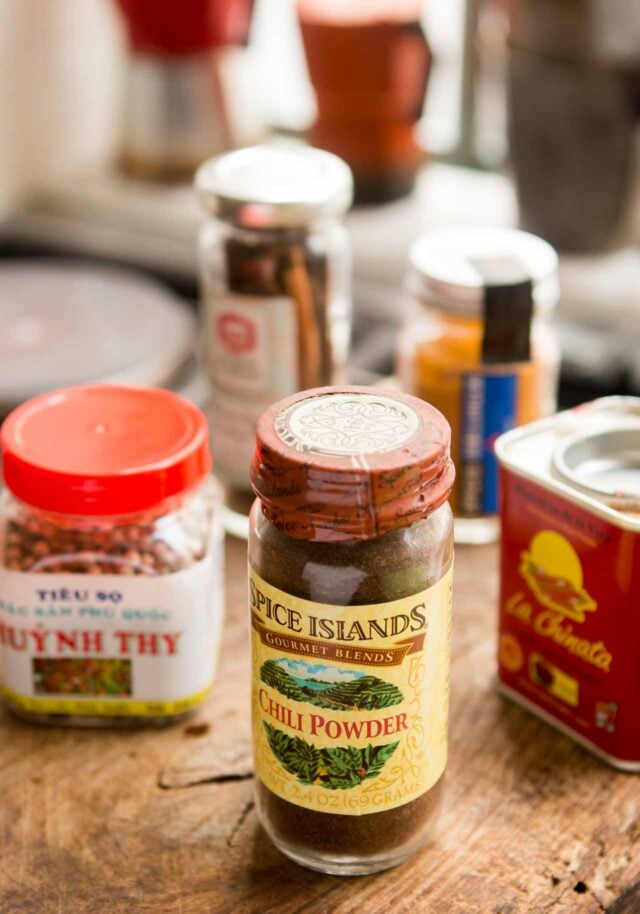 Anyhow, let's make dinner, shall we?
French people like chili although chili powder isn't widely available. I was fortunate to find that I had a jar of it in my international spice cabinet. (There are so many interesting spices and seasonings in there!) Ground beef, of course, is available, as are most of the other ingredients. Curiously, I was at the market and one of the producteur stands (people who grow the food they sell) had a wooden box of fresh chilis (shown above), which looked awfully similar to jalapeños, although they couldn't recall the name of them. So I used those, as well as this coffee salt I was gifted, in the spirit of using things up.
In this LA Times piece by esteemed food writer Russ Parsons, "Don't soak your dried beans! Now even the cool kids agree," he tested various methods of cooking dried beans and found presoaking unnecessary, And Joe Yonan, food editor of The Washington Post and author of Cool Beans: The Ultimate Guide to the World's Most Versatile Plant-Based Protein, with 125 Recipes says that '…soaking beans is not required, and the flavor is best if you don't soak.' (I paraphrased him there.) I'm the first to admit that old habits die hard, but I didn't presoak the beans and the world kept turning.
Whatever beans I had worked beautifully in the chili, although I did make it again with supermarket dried beans*, which required more time in the slow cooker than the ones I had used the first time. So feel free to cook them longer if necessary.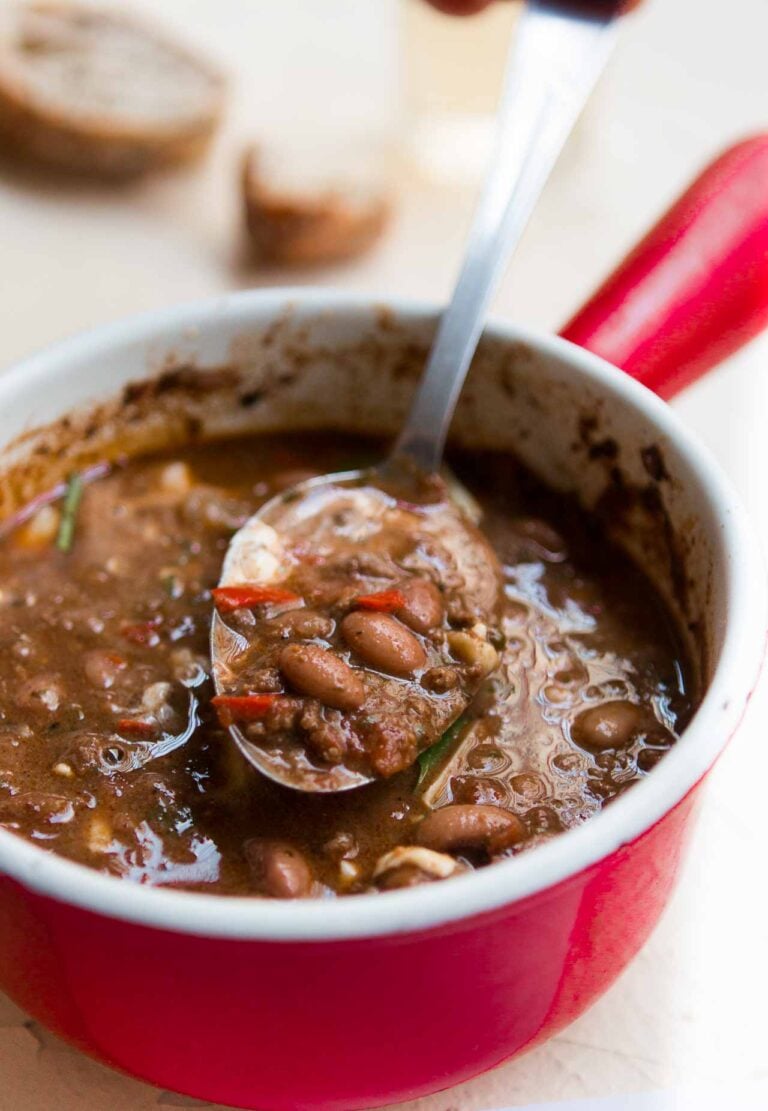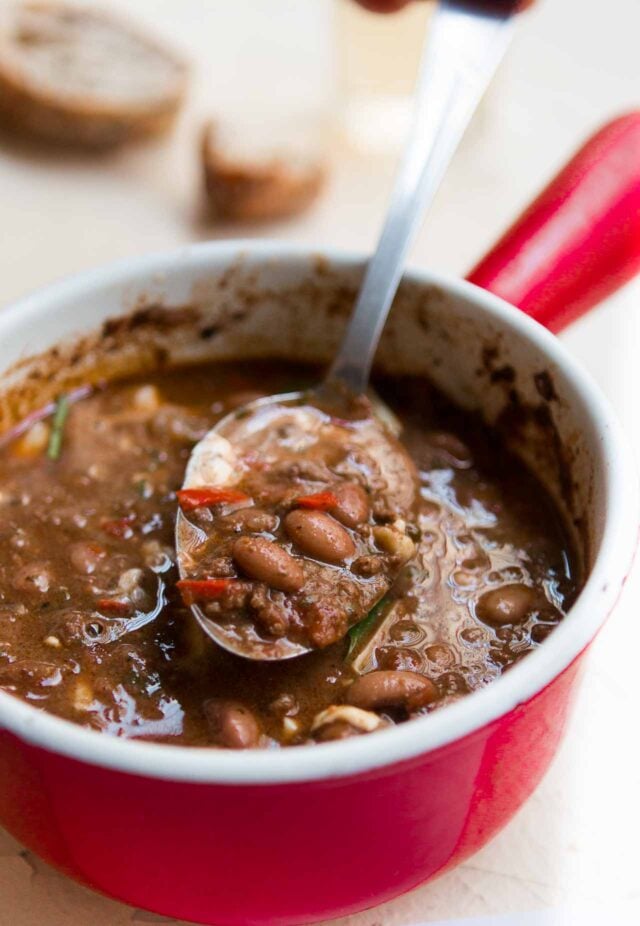 Slow-Cooker Chili
Adapted from Anna Painter via Food & Wine
Making your own chili powder is possible and recipes abound online. I fiddled with the original chili recipe, adding some chocolate for richness, but not enough to make it sweet. You could swap out ground chicken or turkey for the beef. If so, use ground dark meat as white meat is too lean.
My slow cooker has a sauté option, so I made it all in the machine. But if yours doesn't, make it through step #2 in a wide skillet.
1

tablespoon

vegetable oil

1

onion

,

peeled and diced

1

bell pepper

,

diced

3

jalapeños

,

diced (seeded and ribs removed, if you want it milder)

4

cloves

garlic

,

peeled and minced

2

tablespoons

chili powder

1

tablespoon

ground cumin

2

teaspoons

dried oregano

,

preferably Mexican

1

pound (450g)

ground beef

,

preferably 15% fat

2 1/2

teaspoons

kosher or sea salt

,

(if using Morton kosher salt, reduce the amount by half)

1

teaspoon

freshly ground black pepper

two

14-ounce (400ml each) cans

diced tomatoes

small bunch (2 1/2 ounces, 80g)

fresh cilantro leaves and stems

,

chopped

1

pound (450g)

dried beans*

6 1/2

cups (1,5l)

water

,

or 4 1/2 cups (1l) water and 2 cups (500ml) beer

1 1/2

ounces (45g)

unsweetened chocolate
Heat the oil over medium-high heat or on the sauté function, if your machine has one. (See headnote.) Add the diced onion and pepper and cook, stirring occasionally, until cooked through and translucent, about 5 minutes. Add the garlic and jalapeños and cook 2 minutes more, stirring occasionally, then stir in the chile powder, cumin, and oregano, stirring and cooking for 30 seconds or so, until fragrant.

Add the ground meat, along with the salt, pepper, diced tomatoes, and cilantro, and stir until everything is well-combined.

Add the water (or water and beer), the dried beans, and chocolate to the slow cooker. Stir well, then set the heat to 200ºF (95ºC). Depending on your machine, check the manual (or the manufacturer's website) that came with your machine to find out if that's low or high. On my machine it's called "Simmer."

Cook the chile for 7 hours, until the beans are tender. Taste, and season with additional salt if necessary, before serving.
Notes
Unsweetened chocolate has no sugar in it and it called 100% pâte de cacao in France, which is available at G. Detou, although I'm seeing it more and more in French supermarkets. You can also use high-percentage chocolate, such as Lindt 90% to 99%, or omit it. 
Serving: Serve hot with bowls of grated cheese, sour cream, and chopped cilantro for garnish. 
*Dried Bean Note: It's noted that a slow cooker is not recommended for cooking kidney beans. Since I called for "dried beans" in the recipe, avoid using kidney beans unless they are boiled first. Choose another variety, such as pinto beans, which are similar to the ones I used, shown in the photo in the post.