A socially distanced Christmas in France
Hello, Emily here – ready to celebrate the holidays! We were supposed to be spending this Christmas on the beach in Australia (where I am originally from) but with travel not possible, we'll be spending it at home in Paris. Holiday traditions in France are so different from Australia (the weather for a start – it was 39ºC/102ºF in Brisbane the last time we spent the holidays there) and I've had a wonderful time discovering French holiday customs over the past few years. The food, the wine, the decorations, the language. Oh, and did I mention the food?!
This year we're in semi-lockdown and with most of the activities on my Things to do in Paris at Christmas list off-limits it's the perfect time to finally try all those creative projects that I never get around to. The Christmas carols are on repeat, we are staying home en famille (with our family), counting our blessings, and beginning to get festive.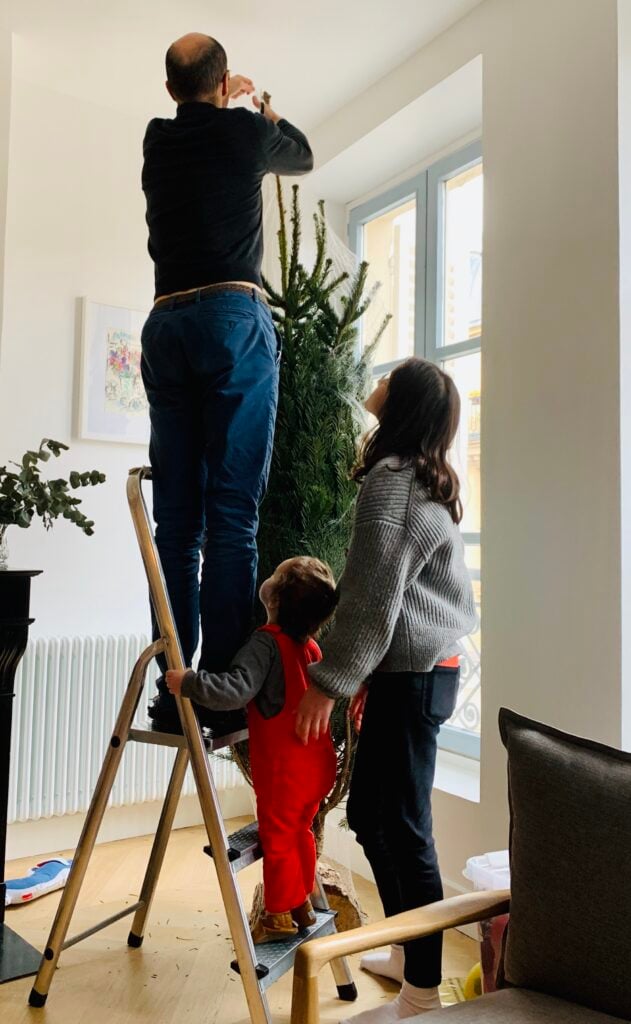 Last weekend I simmered some spiced vin-chaud (mulled wine) while we decorated our Sapin de Noël (Christmas tree). The smell of cardamom, cloves and oranges wafted through the apartment as we unpacked our decorations, each one holding sentimental memories. I added some new ones to represent our 2020; a paintbrush and wrench, to remind us that we did a full renovation, during a pandemic, while I was heavily pregnant, and a personalized ornament for our baby girl who we welcomed in July (mid-renovation – it was a lot!). My daughter and I picked the biggest tree we could find and now it sits, quietly dropping its needles on the floor, by our window so the neighbors can enjoy it as well. We are taking bets on who will attack it first – the toddler or Noisette, our dog.
We've cracked open the chocolate advent calendars and light an advent candle in the evenings. Each year I also print out a selection of photos of especially funny and memorable moments from the year, my daughter decorates some envelopes they go into and at breakfast my husband opens them day-by-day. They hang along a strand of tinsel until at least the end of January and then we bundle them all up and they go into a memory box, along with the ones from previous years. 
I have a list of Christmas baking projects lined up; Spicy gingerbread men, pistachio and almond nougat made with wild honey (done!), ice-cream (for the first time, I'm starting with vanilla) and finally getting the hang of my Nanna's golden dumplings, that are my family's traditional dessert at every birthday and Christmas in Australia (recipe below). I have steamed a Christmas pudding, mastered a decent croissant (which took me four attempts) and am shaking and stirring my way through Drinking French. Having been without a fully working kitchen for a good part of 2020, I'm so happy to be able to cook for my loved ones.
I taught my daughter how to knit herself a scarf, our homemade wreath is on the door (we used eucalyptus leaves for a touch of Australia), and now it's time to plan and prepare our Christmas menu. Everything I've learned about Christmas traditions in France has come from my French mother-in-law, who effortlessly keeps the fête (party) going for days when we visit. This year, I'm in charge, and upon dutifully doing my research, I've discovered that traditions vary widely between regions and families.
Here is our family's version of a French Christmas!
Le Réveillon De Noël (Christmas Eve) in France is my favorite. There are platters of smoked salmon, oysters, prawns and bulots (little sea snails) all washed down with cold, crisp champagne. The anticipation in the air is electric and the kids don't stray very far from the tree, waiting for permission to open some of the beautifully wrapped gifts. We do small family presents on Christmas Eve and Père Noël (Santa) visits overnight, leaving gifts for sage (well-behaved) children to find on Christmas morning. Sometimes Père Noël leaves gifts when families are at Mass on Christmas Eve, some children leave shoes out instead of stockings, and poor Père Noël never gets cookies but might get some whiskey if he's lucky.
I have pre-ordered a seafood platter from our local fishmonger, who always does an impressive presentation with crushed ice, seaweed, and lemon wedges. It will be collected late afternoon on the 24th and stored in the bathtub until we are ready to eat. To make enough space on the table we put our platter on an upturned vase, so it sits at eye level. There will be homemade shallot vinegar in little ramekins and a loaf of dark rye bread to accompany it, smeared with salted French butter. Perhaps we will have a small dessert, but this night is usually a light introduction as the main event is yet to come.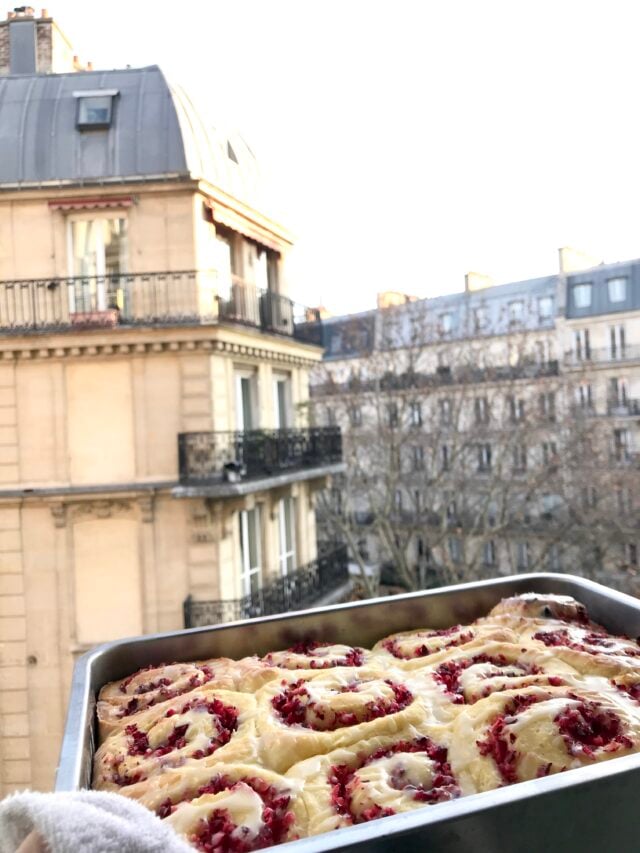 On Christmas morning (even at the in-laws) I wake up early to pop a tray of cranberry and orange buns (that I have been proofing in the fridge overnight) in the oven. In the time it takes to warm up the coffee machine and set the table, we have fresh breakfast bread ready, with colorful glazed icing. The kids also have hot chocolate, which leads to sticky handprints everywhere as they discover what Père Noël has left for them, but we don't mind (as much) because it's Christmas!
My mother-in-law always cooks a chapon (a rooster, traditional in France) for lunch on Christmas Day. This will be my first time cooking one and I think I will stuff it with brioche, chestnuts, dried figs, fresh thyme and maybe a touch of lemon zest. I'm imagining it roasted on top of thinly sliced potatoes that will cook in the fat from the bird, then sprinkled with truffle salt. Some still-crunchy green beans (the French prefer them very well cooked) will go alongside nicely, as well as roasted sweet chestnuts and a gravy made from chicken stock I made and froze in advance, that'll be reduced down with a splash of port until it's silky and thick.
Now does all this need an appetizer beforehand? Of course! Foie gras on toasted brioche (I tend to burn the first batch of brioche toasts every time I make this) with a dollop of onion confit, a few token salad greens, and pomegranate seeds scattered on the plate for a pop of color.
Following the main course there will be a selection of French cheeses: A small, hard goat cheese, which is my daughter's favorite, tomme de savoie (a mild, semi-firm cow's milk cheese) wrapped in dried alpine flowers, comté (a mild cheese made from unpasteurized cow milk) aged for 36 months (it develops little crunchy crystals when it is aged this long) and a rich creamy brie, all on fresh baguette. This cheese course cannot be rushed so it's best to have a cold, already-prepared dessert so there is no stress on timings.
I'm planning to make a simple Bûche de Noël and use all my tricks to make it look fancier than it is (I've already bought some sparklers to light and stick in it as I present it to the table). We may also order something from the local patisserie as their treats look too good to pass by.
Boxing Day (December 26th) is one of my favorite days in Australia (usually spent eating leftovers at the beach, with more champagne) but in France I have found it is not a 'thing,' nor a public holiday. This year it falls on a Saturday so we will definitely be continuing the festivities and I've pulled out the Raclette set from our storage under the stairs in preparation. Raclette is a Swiss dish, also very popular in France, where you heat cheese and scrape off the melted part onto ham, potatoes and cornichons (tiny pickles). I laughed at my husband when I first saw he had an electric raclette set but had to eat my words since we use it quite a few times each winter and I LOVE it. I have pre-ordered both my cheese and my ham at the local market and will go by on the morning of the 26th to pick them (and other provisions) up.
Here are some other things I am doing this year.
I have a wonderful WhatsApp group chat with some fellow Australian ladies here in Paris and this year we are doing a postal Secret Santa. The group has been a place for us to share, vent, encourage, and be reassured over the past year. Even separated under lockdown, we wanted to celebrate together. I plan to gift French-themed decor and ornaments.
My brother and future sister-in-law were meant to be visiting us a few weeks ago from the UK but with the renewed lockdown and all travel cancelled, it didn't happen. They were feeling down so I sent them a bottle of wine to arrive when they would have been visiting and they said "it was the nicest thing anyone has done for us in a long while." Knowing someone was thinking about you and wanted to do something solely to brighten your day is a lovely gesture, indeed. I also plan to bake some easily postable treats and send them to the people in Paris who I would usually invite over for our annual Christmas drinks.
Every year I buy so many holiday cards to send out and on December 24th most of them go into The Drawer (you know the one…) for next year. So this year, I've actually sent some, in the hope of bringing people a little joy in the post. Nothing like a good old-fashioned tradition to bring a sense of normalcy and connection this year. These ones can even be personalized for an extra touch and these are perfect if you just want to say bonjour. In France, Christmas cards are not very common and traditionally they send cartes de voeux (best wishes cards) in January, for the new year.
With three small kids, the only way I will be awake at midnight on New Year's Eve is if the baby needs a feed. But I have set aside some time early in the evening on the 31st for the whole family to get dressed up and take some time together to reflect on the year, the challenges it has brought, and how it has made us stronger. Put on your best outfit, pour a nice glass of chilled champagne (maybe I'll try a French Manhattan) and get ready to welcome 2021 and all that it may bring!
As 2020 draws to a close, although I am far from (my original) home and family, I plan to celebrate as much as possible this festive season and invite you all to embrace the spirit with me. My hope is that in making an effort, the rituals will bring extra meaning to the occasion, and any excuse to open a bottle of champagne – comme les français – is very welcome!
I know it is tempting to just hunker down and let the holidays pass by this year but I hope you will try and make them special. It is important, even in tough times, to punctuate the year with celebrations, no matter how different they may be in 2020. Please let me know in the comments below or on Instagram (@thereal_emilyinparis) how you plan to spend the festive season.
Happy holidays to you all! – Emily
Nanna's Golden Dumplings
Serves around 6 (in our household).
For the sauce
2

cups

water (470g)

1

cup

sugar (250g)

2

tbsp

butter (40g)

2

tbsp

golden syrup (50g)

pinch

salt
Set the oven to 160C/320F

Rub the flour and butter together until they resemble breadcrumbs

Mix through the milk and egg and roll into golf ball sized balls, then place into a baking dish (mine is 23x33 cms/9x13 inches but yours doesn't need to be exactly this size)

In a saucepan, melt together the water, sugar, butter, golden syrup and salt until it just boils

Pour over the dumplings and bake until golden brown, approximately 25 minutes