Slow-Cooked Chipotle Pork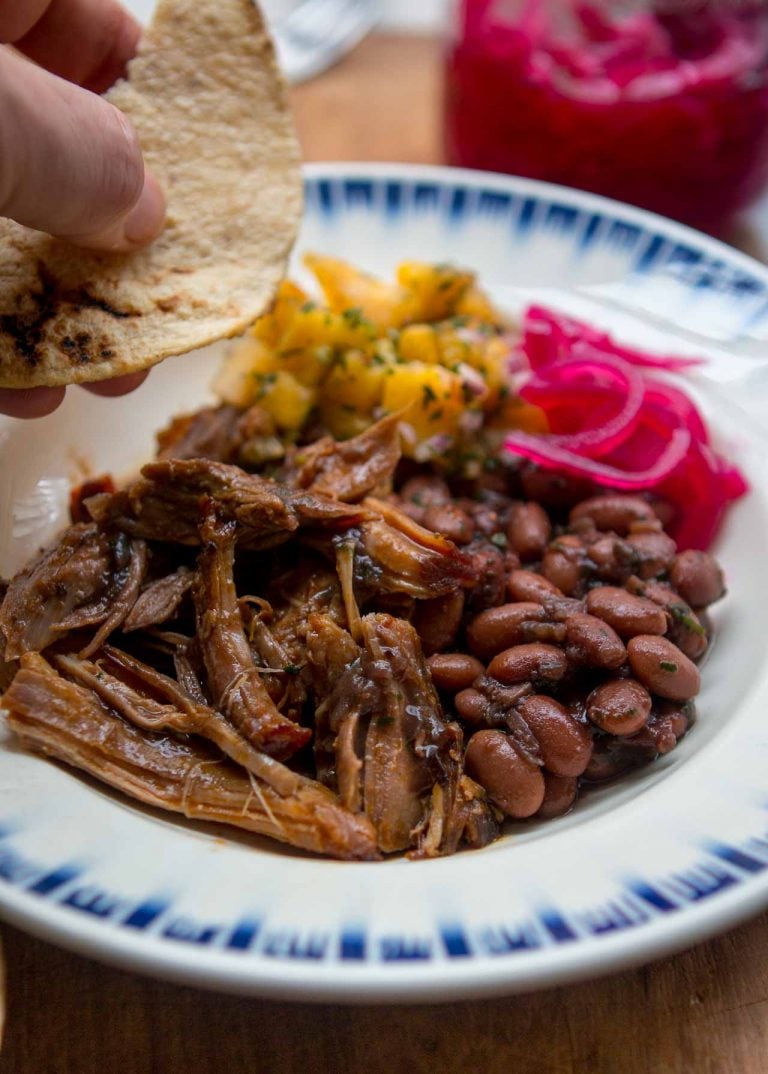 I was recently tagged in a debate on Twitter, where some of the people objected to having to scroll down a post to get to the recipe, because they didn't like scrolling. (Which was odd, since unless I'm doing it wrong, don't you need to scroll to use Twitter?) The discussion also tapped into a few people's dislike of a longer headnote before a recipe in cookbook. Personally I don't find it all that much trouble to avert my eyes down when reading a book. Nonetheless, I'm going to get right to this Slow-Cooked Chipotle Pork recipe.
I tend not to pay all that much attention to search-engine "best practices" – if I did, I wouldn't have recipes for things like Plum Kernel Ice Cream, wine made with peach leaves, and a rather obscure French recipe for crumbled buckwheat dumplings, since I'm pretty sure that none of those types of recipes rank in the top few hundreds of thousands of recipes that people are searching for. But the SEO (search engine) experts say you should always mention the recipe as much as you can in your post, in this case, a Slow-Cooked Chipotle Pork recipe, in order for it to have "juice." So I'll get right to explaining how I made this Slow-Cooked Chipotle Pork recipe, for those who like Slow-Cooked Chipotle Pork, and for those who don't know if they like Slow-Cooked Chipotle Pork but think they might. Here's a recipe for Slow-Cooked Chipotle Pork, aka #slowcooked #pork #chipotle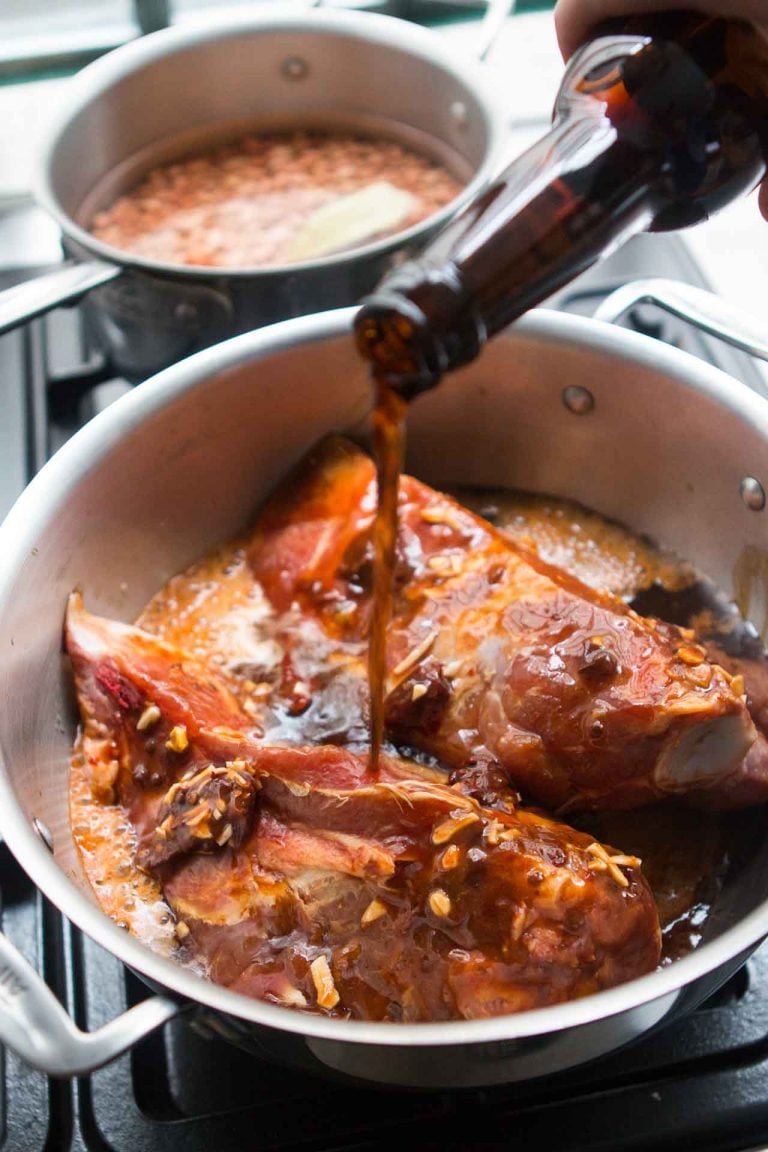 You will have to indulge me by scrolling through a few pictures here and there. The one showing the Pickled Red Onions that I made (above), to go with the Slow-Roasted Chipotle Pork recipe, was so bright and beautiful that I couldn't resist sharing it.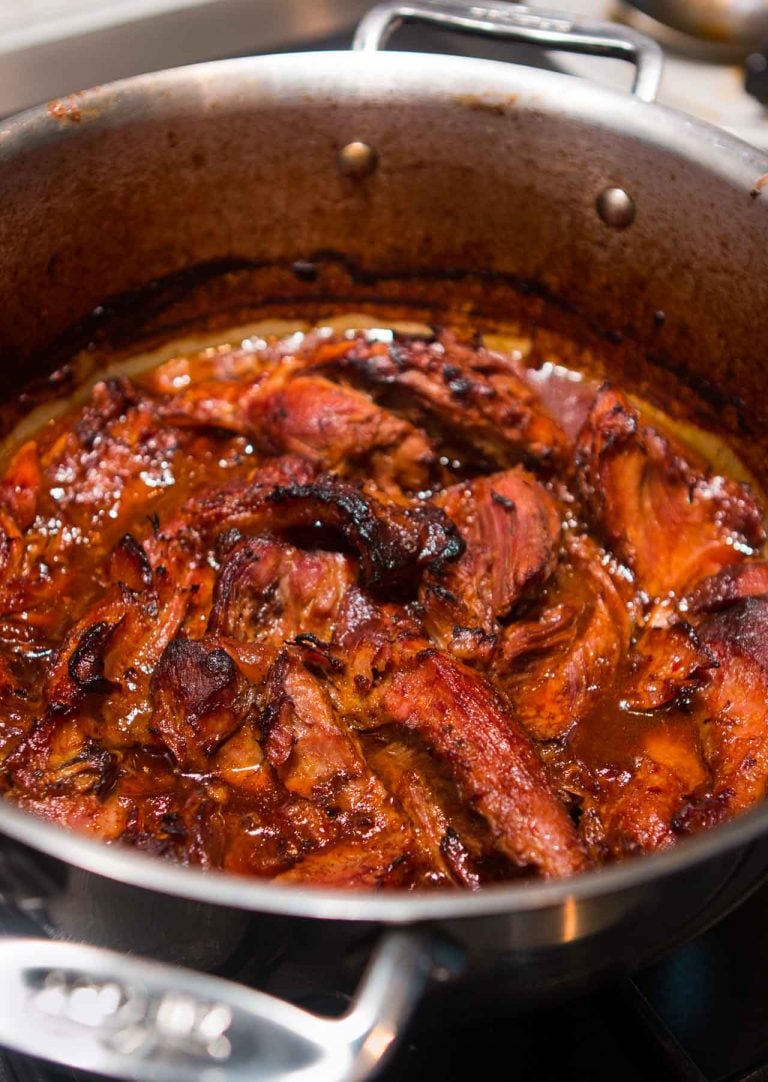 Aside from causing untold thumb damage, another challenging thing about being a food blogger is that you want to show your food in the best light. But at 9pm, in the middle of winter, when you're putting dinner on the table, the harsh light provided by your hood fan doesn't exactly show food in its best light.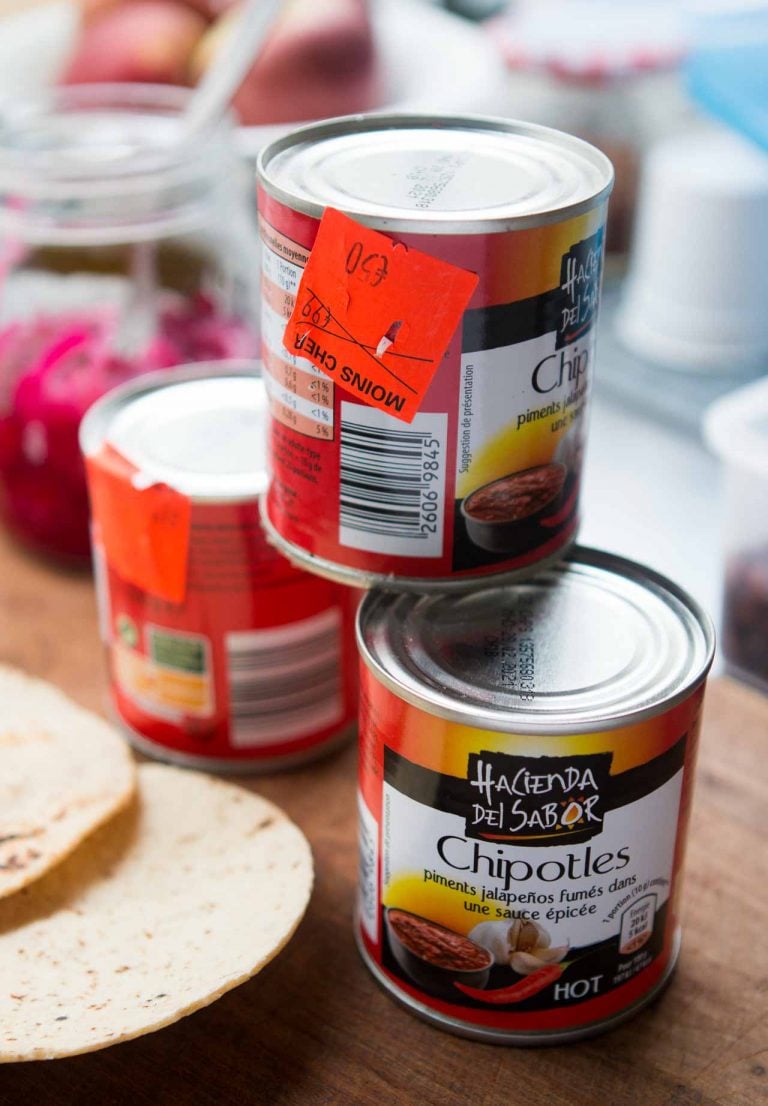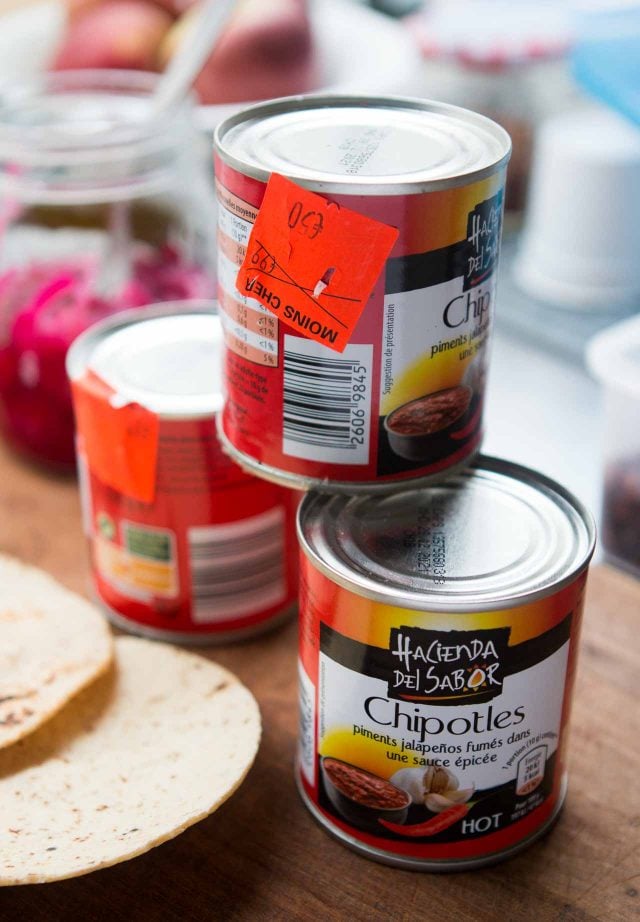 Since I'm here to help, in case you're wondering where I got the chipotles for the slow-roasted chipotle pork, as they're not something you can pick up at any old French supermarché, when I was Chablis last summer, we went to an Aldi store near where our friend's live. I can't resist peeking into discount bins and was surprised to find a few tins of chipotles tumbling around in there.
The label said they were MOINS CHER (less expensive) at €50, but I deduced they weren't (or couldn't really be) fifty bucks, but actually 50 centimes, or 50¢. They're not that rare in France. Another thing that doesn't happen as often as I'd like here, is that I was relieved the discount price actually rang up at the register and I didn't need to spend 10 minutes convincing the cashier otherwise. Another score!
Okay, back to the recipe…for Slow-Cooked Chipotle Pork. When I was at the market this week I picked up a palette de porc, a whole pork shoulder. The butcher was surprised I wanted the whole shebang and kept telling me that he was okay cutting it in half for me. I assured him that I wanted the whole thing, but let him to cut it in half since I figured it would soak up the flavorful marinade if there was more surface area. He was happy to comply, and did wrap each half separately, and put each half in a separate bag for me. Just in case, I guess.
Before I leave you with the recipe, I hope the rest of you will indulge me when I tell those who live in Paris that I've also found canned chipotle chiles at a shop in Belleville, whose façade is open to the street at 108 rue du Faubourg du Temple. They're on a shelf right next to the street, along with a variety of other tinned Mexican specialties.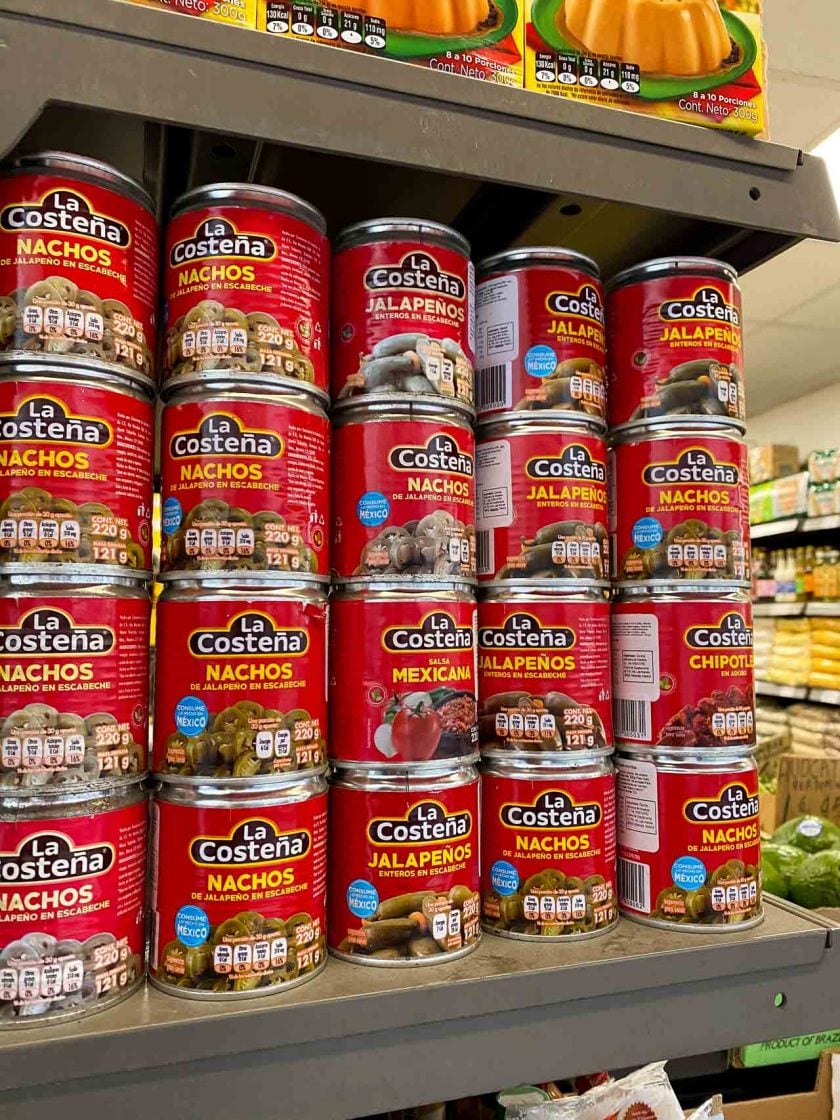 The night I made this, I served the slow-cooked chipotle pork with a pineapple salsa I made from diced pineapple, red onions, cilantro, a touch of agave nectar, a pinch of salt and another of red chile flakes. (Fresh chiles would work well in place of the dried chile flakes, if they're available.) The next day the rewarmed, mildly spiced chipotle pork found itself wrapped in some corn tortillas that I portered back from the U.S. with leftover salsa, red onions, and beans.
And that's that.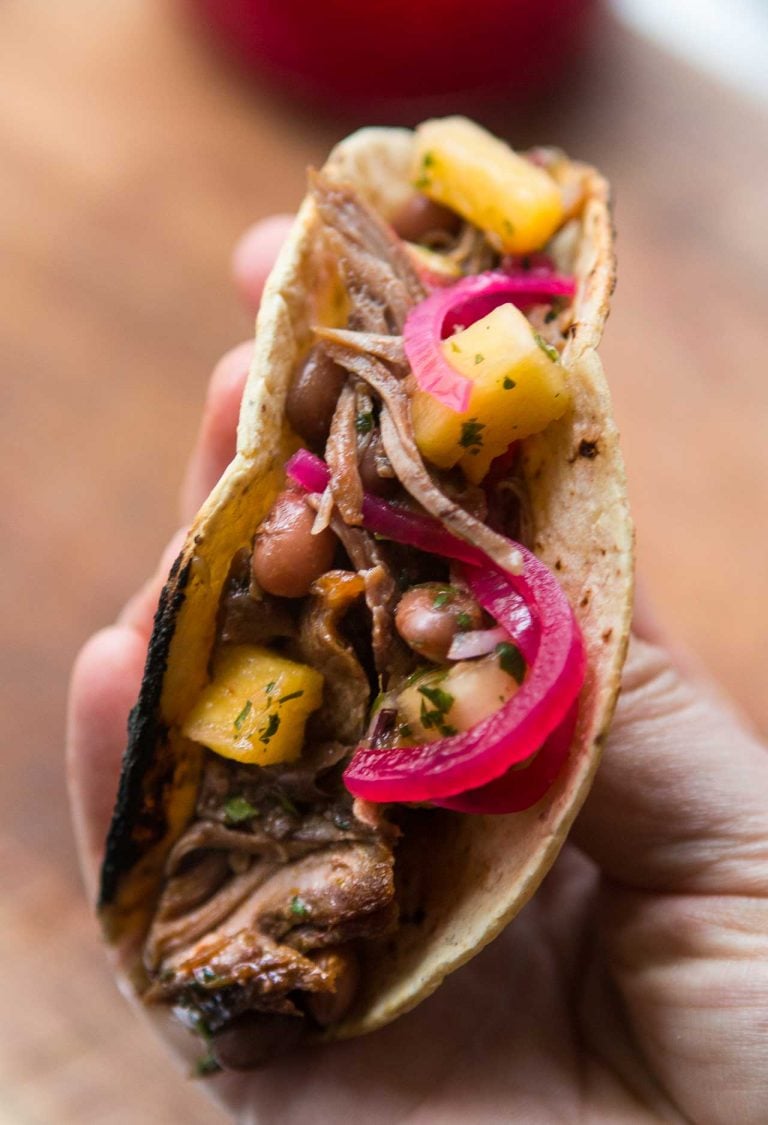 Slow-Cooked Chipotle Pork
I have one of those slow cookers and tried cooking a pork shoulder in it a while back. After seventeen hours, it was finally falling off the bone, but the meat rather dry at that point and Romain refused to eat it. (Okay, he ate it, but complained about it the whole time.) So I returned again to using my tried-and-true Dutch oven. If you want to use a machine, I'm sure this can be adapted to a slow cooker or Instant pot, although I think the last step (#6) where the sauce gets reduced and the pork gets caramelized, is a nice touch. As I've been trying to use up things I have odds and ends of, I used oyster sauce, which you can find in markets that sell ingredients for Asian cooking. But ketchup can also be used along with a splash of vinegar. You can read more about
chipotles in adobo here
. I took a few tips for this recipe from the
Pull-apart pork with honey chipotle
on the BBC Food website. This recipe could easily be cut in half. You may need to reduce the cooking time to compensate for a smaller amount of pork.
1/2

cup (125ml)

chipotle chiles in adobo sauce

,

(using the sauce and the chiles)

1/4

cup (60ml)

oyster sauce

,

(or ketchup with a splash of vinegar)

3

tablespoons

honey

2

tablespoons

mustard

,

such as Dijon

2

teaspoons

fish sauce

,

(optional)

3

cloves

garlic

,

peeled and minced

freshly ground black pepper

1

whole

pork shoulder

,

4 pounds (2kg), cut in half by your butcher, if possible, trimmed of excess fat

1

bottle

beer

,

(or 1 1/2 cups/375ml water)
Mix the chipotles in adobo, oyster sauce, honey, mustard, fish sauce (if using), garlic and several generous turns from a peppermill of freshly ground pepper in a large bowl or zip-top marinating bag. Add the pork shoulder and massage the marinade into the meat. Cover (or close the bag) and refrigerate for at least 2 hours, or overnight.

To bake the pork shoulder, remove it from the refrigerator 1 hour before cooking.

Preheat the oven to 325ºF (165ºC.)

Place the pork shoulder in a Dutch oven or similar pot with a lid and pour any marinade over them. Add the beer, cover, and bake in the oven for about 3 hours, turning the pieces of pork over every 45 minutes.

When the meat is tender (depending on your pork shoulder, it may take a little more time than 3 hours), remove the pot from the oven. Increase the heat of the oven to 400ºF (200ºC.)

Use tongs to pull the meat off the bones, and discard the bones. Put the pot back in the oven, uncovered, and roast until the sauce is thickened reduced to your liking, turning the pork pieces a few times while roasting. When the pork pieces are gently caramelized, about 30-40 minutes, remove from the oven and serve.
Notes
Notes
-I've covered where to get tortillas in France in the Note at the end of the Pozole recipe.
-I didn't use a recipe to make the beans, but made them by rinsing and soaking some good-quality dried beans for a few hours. I then cooked them in a pot of water with a bay leaf and about 1/2 teaspoon baking soda (due to hard water issues, that dried beans don't like), until the beans were almost tender. At that point, I added some finely diced red onion and smoked salt to the pot. When the beans were tender, I turned off the heat and added finely chopped cilantro, tasting the beans to see if they needed any additional salt.
-Because of non-optimal lighting conditions at 9pm in the middle of winter, the pictures of the bowls containing the finished slow-cooked pork were taken the following day, when we had them for lunch. I probably should or could have rewarmed them with a splash of water or beer to make them more saucy, as they'd absorbed a lot of sauce overnight. If you're rewarming the pork, feel free to reheat it with some additional liquid.